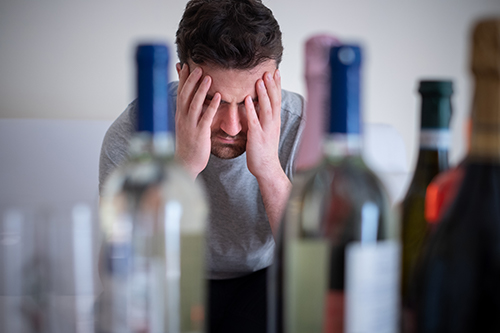 Utah state liquor stores are seeing a spike in sales during the COVID-19 pandemic. While restaurants and bars across the state limit their services and people self-quarantine at home, many are turning to alcohol for a variety of reasons. Some of it may be about stockpiling—but there can be cause for concern of substance abuse.
Why are people turning to alcohol?
We're not used to having few distractions in our daily routine, and we may find it hard being idle at home.
"Your brain just wants to feel different," says Elizabeth Howell, MD, MS, associate professor of psychiatry at University of Utah Health. "It's also how people deal with stress in a way that's not often healthy."
Alcohol is a legal drug that is easily accessible. Some believe that it decreases anxiety or helps them sleep. For health care workers who deal with many patients in the COVID-19 pandemic, alcohol may serve as a quick and easy way to bypass their feelings. In the long run, it's actually worse.
How is this affecting people who are in recovery from addiction?
Addiction is a disease of isolation. If you are isolated at home with little to no contact with loved ones, this becomes more of a risk factor for people who might relapse.
The support that people with addiction are getting has drastically changed. Support group meetings and AA meetings have all shifted online. "It's torn up the fabric of a lot of our social interactions," Howell says. "For people in recovery, that is very tricky."
How to tell if someone's drinking is a problem:
Loss of consistent control over use. Indications of this include the person drinking more than they intended or not being able to stop when they thought they could.
Craving or being compulsive about drinking, especially under stress.
Continuing to use if it's causing problems with interpersonal relationships, avoiding responsibilities, or spending more money on alcohol.
Ways to deal with alcohol addiction in quarantine
Howell says the first step is to practice accepting what the reality is. "It's a good time to learn our practice about meditation, mindfulness, and understanding what they can and can't do."
In a time where things can feel pretty lonely, we appreciate more the people we are close to and how important they are to us.
The Utah Supports Advocates for Recovery Awareness is a non-profit community organization that helps people with substance use disorders. Various support group meetings are taking place online and are available to anyone. Resources also offer guidance and education for family members and loved ones living with these challenges.
The University of Utah Health Resiliency Center is available to U of U Health employees who may be experiencing burnout, depression, or other mental health concerns.
If you or your loved one may be experiencing symptoms of addiction, please call:
UNI Warm line: 801-587-1055
UNI Crisis line: 801-587-3000