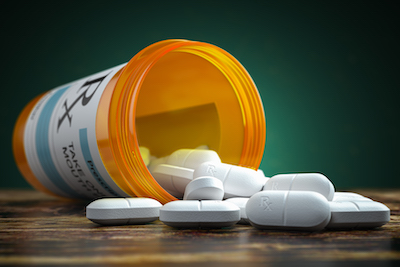 At least 48,700 people die in the U.S. each year from antibiotic resistance, according to a 2019 Centers for Disease Control (CDC) report. This means that bacteria causing some of the infections we are trying to treat have developed a resistance to antibiotics.
This is an ongoing problem that has been rising for decades, according to Emily Spivak, MD, an associate professor of medicine in the Division of Infectious Diseases at University of Utah Health. She established and serves as Co-Director of the Antimicrobial Stewardship Programs at University of Utah Health and the VA Salt Lake City Healthcare System. The Antimicrobial Stewardship Program is a multidisciplinary group trying to optimize antibiotic use, due to the growing threat of resistance.
Spivak notes that the COVID-19 pandemic increased awareness of the issue, in large part because physicians would prescribe antibiotics due to uncertainty in the early stages of the pandemic. "That led to more antibiotic resistance," she says. Additionally, the CDC reports that many antibiotic-resistant infections flourished during the pandemic when people were not visiting their health care providers regularly and medical facilities were overloaded.
How Has Antibiotic Resistance Spread?
One of the main reasons resistance to antibiotics has continued to grow is because antibiotics are often prescribed and taken when they are not needed, according to Spivak. Antibiotics kill harmful bacteria and germs but also kill the "good" bacteria and germs that help protect us from infection.
Resistance also grows when a bacteria becomes more common in communities and spreads from person to person. This can happen in hospitals without appropriate precautions, which Spivak presumes may have happened during the COVID-19 pandemic. "More antibiotic use coupled with overcrowded hospitals limited our ability at times to control the spread of or prevent infections," she says.
A complicating factor in treating antibiotic-resistant infections has to do with the reduced development of new antibiotics. It takes 10 to 20 years to develop new antibiotics and can cost millions of dollars. Because of this, Spivak says it may be difficult for pharmaceutical companies to recoup their costs as antibiotics are taken for relatively short periods of time—unlike other drugs that may require a person to take them over long, continuous periods of time, like blood pressure and cholesterol medications.
How to Help Stop Antibiotic Resistance
"How fast antibiotic resistance happens is up to us," Spivak says. "Antibiotics have no role whatsoever in the treatment of a virus. The common cold, the flu, and COVID-19 are all driven by viruses. Yet around 50 percent of adults with those diagnoses in a clinic will get an antibiotic." She believes patients should keep an open mind and communicate with their doctor about their symptoms and the best treatment for them.
"The antibiotic not only does nothing for the virus, but it doesn't clear out your sinuses, decrease mucous production, or ease the pain in your throat," Spivak says. "We need to have realistic expectations. These viruses need to run their course—you need to rest and take a break if you can."
Other advice:
Get your flu and COVID-19 vaccines as well as any others recommended by your health care provider.
Wear a mask in crowded public spaces.
Wash your hands frequently.
Use antibiotics only if you really need them and follow the instructions for taking the medication carefully.
By staying as healthy as possible and listening to our doctor's advice, we can all help prevent antibiotic resistance.