Hours & Address
Address
5126 W. Daybreak Parkway
South Jordan, UT 84009
Get Directions
Massage therapy uses touch to help relax muscles. Massage can lower stress and help you feel calmer. Massage affects your whole body, especially your muscles, bones, and circulation; as well as your lymphatic and nervous systems.
What Are the Benefits of Massage Therapy?
Massage can help your body function at its best and improve overall health and wellness. It has many specific therapeutic effects, including the following:
helps your muscle tissue repair itself
improves circulation and lymphatic systems
lowers stress and anxiety
helps joint mobility and flexibility
creates a sense of well-being
reduces muscle stiffness and soreness
relaxes overly tight and stretched muscles (called hypertonic muscles)
stimulates the nervous system and increases body awareness
improves your circulatory and lymphatic systems and boosts your immune system
softens and reduces scar tissue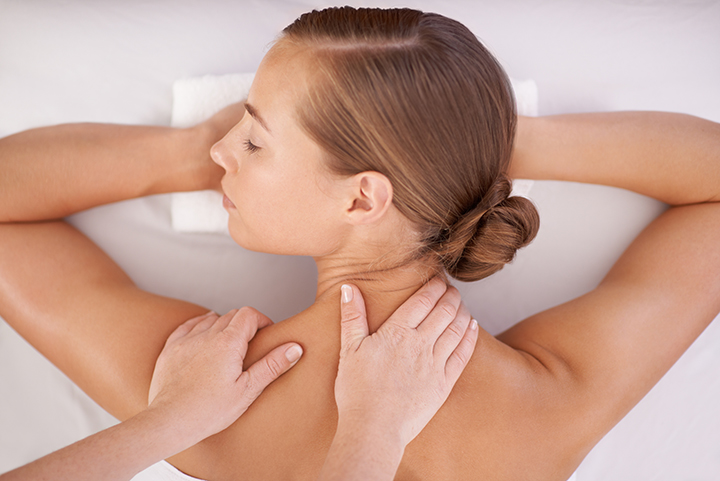 At the South Jordan Health Center, we offer several different types of massage that focus on your individual needs.
We also have add-on options to better customize and enhance your wellness experience. Aromatherapy is also available per request during any massage at no extra cost. Aromatherapy uses essential oils to promote healing and create a feeling of well-being and relaxation.
The following is a list of our offered services:
Clinical massage—a customized massage designed to ease discomfort and pain caused by overuse, inflammation, and other chronic issues. Clinical massage uses a variety of techniques.
60 minutes: $65
90 minutes: $90
Localized massage—this type of massage focuses on individual conditions in one or two areas of your body. Massage therapists use a combination of both firm and manipulative movements to break down tension, release adhesions (internal scar tissue), and ease pain and discomfort.
30 minutes: $35
Huntsman Cancer Institute patients get special prices. Ask about pricing.
Prenatal massage—this massage helps pregnant women reduce stress and improve their relaxation and overall wellness.
Oncology massage—this type of massage safely works on patients who have complications from cancer and cancer treatment. This massage is designed to relieve depression, anxiety, pain, fatigue, and nausea. It can also help cancer patients feel more relaxed, rejuvenated, and improve their quality of life.
Huntsman Cancer Institute patients get special prices. Ask about pricing.
Craniosacral therapy—your massage therapist will use a gentle, light touch to examine the membranes and movement of the fluids in and around your central nervous system. Relieving tension in the central nervous system eliminates pain and boosts your health and immunity. It is designed to reduce your stress levels, ease neck and back pain, and provide migraine headache relief.
Zero balancing massage—your massage therapist will evaluate and balance key areas throughout your body after listening to your goals. They will have you sit then lie down face up while fully clothed. This treatment usually lasts 30 to 45 minutes and releases deep tension in your bones, joints, and soft tissues. After, you may feel lighter, freer, energized, and more in tune with yourself.
Add-On Services
Cryotherapy—during cryotherapy, your massage therapist will place cold marble stones in specific areas along your neck, face, and scalp. Your massage therapist will also use essential oils, which may help reduce inflammation and excess blood flow that can cause built-up pressure. For some patients, cryotherapy is a good treatment for headaches and migraine pain.
Hot stone—placing hot stones directly on your body may help relax and soothe your muscles, letting your therapist access deeper muscle layers. (We only offer 90-minute treatments for hot stones). This treatment must be booked in advance; it cannot be added at time of check-in.
NOTE: Add-on services cannot be scheduled online. You must call to have these services added on to your appointment.
How to Schedule a Massage Appointment
We offer massage appointments Monday—Saturday. To schedule a massage, please call us at 801-213-4500.
Will My Insurance Cover a Massage?
We do not bill insurance for these services. You must pay for your massage at the time of your appointment.