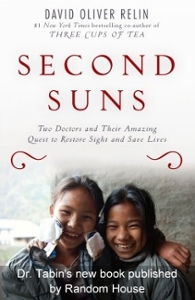 SALT LAKE CITY (June 5, 2013) – "Second Suns," the new book written by New York Times bestselling author David Oliver Relin, set for release June 18, chronicles the ongoing efforts of Dr. Geoffrey Tabin, co-director of International Ophthalmology at the University of Utah's John A. Moran Eye Center, as he and his colleague Dr. Sanduk Ruit traverse the globe helping to cure preventable blindness.
Tabin and Ruit founded the Himalayan Cataract Project (HCP) and have dedicated their time and efforts to no less than eliminating preventable blindness in the world. Using a revolutionary 10-minute surgery costing about $20, and a system that includes building self-sustaining hospitals in emerging nations and training local doctors who then train other local and international doctors in this surgical process, they are responsible for restoring sight to more than 1 million individuals in some of the world's most isolated and impoverished nations, including those in the Himalayas and Sub-Saharan Africa.
"We are thrilled that this book will bring to people's attention the amazing work being carried out by Dr. Tabin," said Dr. Randall Olson, CEO of the Moran Eye Center and Chair of the Department of Ophthalmology and Visual Sciences at the University of Utah. "I've said it before and I'll say it again, I know of no person who has done more to help cure preventable blindness in emerging nations than Dr. Geoff Tabin. We are extremely proud to have him as part of the Moran Eye Center team, and know he is changing not only lives, but villages and countries with his efforts. His story and his life's work fit perfectly with the Moran Eye Center's history and vision that no person - regardless of their means or nationality - should be without hope, understanding and treatment."
The Moran Eye Center spends more than $1 million a year funding international sight-restoring medical missions, including some of those featured in "Second Suns." Moran specialists also provide much needed professional development and training in Salt Lake City. Doctors from around the world are brought to the Moran Eye Center to observe and train with Moran ophthalmology specialists where they learn advanced techniques for restoring sight. They in-turn go back to their home countries and perform these surgeries and teach local physicians the same sight-restoring skills.
Additionally, several times a year teams of Moran doctors and nurses hold eye surgery camps in especially remote locations of the world, working with local professionals to restore sight to patients in the area. Upcoming field training missions for the Moran Eye Center include trips to Ghana, Haiti, Honduras, Guam, Bolivia, Nepal, and South Sudan.
"Ninety percent of cataract blindness occurs in developing countries where such a curable affliction can actually lower the life expectancy by one-third," said Tabin. "When I first came to work with Dr. Ruit in 1995, there was an estimated backlog of 200,000 people in Nepal alone who were blind. Thanks to the pioneering work of the Moran Eye Center, the Himalayan Cataract Project, and a growing list of partners, I'm proud to say that for the first time in history we are witnessing the number of individuals with blinding eye diseases go down each year wherever our system is in place."
Members of the media interested in learning more about Dr. Tabin, the Moran Eye Center and these international missions may contact Jeff DuBois at jeff@methodcommunications.com or 801.461.9789.
About Moran Eye Center
The Moran Eye Center is the largest eye care and vision research center in the Intermountain West and is part of the University of Utah Hospitals and Clinics. With collaborators from around the world, research advancements at the center provide new diagnoses, novel treatments, and creative new procedures designed to cure blinding eye diseases. Treatments and procedures at Moran focus on a wide range of eye problems, such as age-related macular degeneration, glaucoma, cataracts, cornea, and external eye diseases. The Moran Eye Center offers the latest advances in LASIK and refractive surgery as well as a full range of optometry services including contact lenses and eyeglasses.
###
Media Contact
Jeff DuBois
Moran Eye Center Public Relations
801-461-9789
jeff@methodcommunications.com