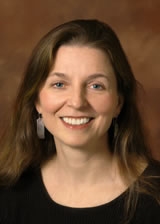 A University of Utah vitreoretinal surgeon has been selected for a prestigious post with the National Eye Institute at the National Institutes of Health.
Mary Elizabeth Hartnett, MD, was recently appointed as chairperson to the Diseases and Pathophysiology of the Visual System Study Section at the Center for Scientific Review at the National Institutes of Health.
The appointment is a prestigious position that will allow Hartnett to lead the discussions in evaluating scientific proposals to uncover new improvements and treatments in eye diseases. She will review grants that include the most innovative and cutting-edged scientific proposals developed by individual principal investigators to understand what causes various eye diseases and to test strategies to reduce or restore visual impairment and blindness.
"I see the position as Chair as an important opportunity to assure that the individual study section members who review the proposals have their recommendations taken into account fairly during the evaluations, and to give every proposal a fair evaluation," said Hartnett. "My duties are to help the study section members choose the proposals of the highest scientific quality in part by summarizing the points of the individual reviewers and leading the discussion of each proposal to seek an accurate assessment."
According to Hartnett, NIH studies drive improvement in the treatment of eye diseases and management of eye diseases that affect so many throughout the US and world: diabetic retinopathy, age-related macular degeneration, corneal ulcers and infections, uveitis, amblyopia, retinopathy of prematurity, glaucoma and many more.
Many of the improvements in glaucoma, cataract, macular degeneration and diabetic retinopathy treatments have been tested at NIH and the early understanding of mechanisms began with principal investigator initiated studies that were ranked in study sections for funding through the NIH, said Hartnett.
Randall J. Olson, MD, Professor and Chair of the Department of Ophthalmology and Visual Sciences and CEO of the John A. Moran Eye Center, said having Hartnett in a leadership role with the National Eye Institute speaks to the importance the University of Utah gives to science and improved health care for its patients and constituents.
"It's an honor that a Chairwoman from the Moran Eye Center has been chosen," said Olson. "Dr. Hartnett will undoubtedly bring skilled leadership to her post and represent the University of Utah well in a very high-profile role with the NIH."
Dr. Hartnett joined the Moran Eye Center in 2010. Her clinical interests include: vitreoretinal surgical diseases, including retinopathy of prematurity or abnormal blood vessel development in the eye of a premature baby, pediatric vitreoretinopathies, trauma, retinal detachments, and diabetic eye disease. She also has a special interest in age-related macular degeneration.