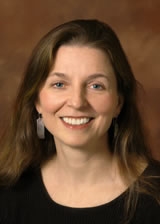 By Melinda Rogers
It's been an exciting year for University of Utah vitreoretinal surgeon Mary Elizabeth Hartnett. Earlier this summer, she was appointed as Chairperson to the Diseases and Pathophysiology of the Visual System Study Section at the Center for Scientific Review at the National Institutes of Health —a prestigious position that will allow her to participate in evaluating scientific proposals that may uncover new improvements and treatments in several eye diseases.
On top of the appointment, Dr. Hartnett is also celebrating the release of the second edition of her textbook, Pediatric Retina, which is considered to be the first of its kind and the main industry reference on pediatric retina. Dr. Hartnett slowed down for a minute to talk about her updated book as well as why she loves teaching in addition to her duties as a world-class researcher and clinician at the University of Utah's Moran Eye Center.
Q: You've been a teacher for a long time. In an industry where teaching is often overlooked or undervalued—and you could easily spend all of your time in the research lab or clinic —why is it important for you to make time to educate others?
How to make the teaching one does efficient and effective for the audience is a question I ask myself daily. I believe research is essential not only to help me provide better medical and surgical care to my patients, but also, I hope to motivate my students toward having an inquisitive mind and to search for better treatments while maintaining absolute integrity in patient care and science.
I've come to refine my methods of teaching to try to focus on audiences that I believe I can provide service to —which is one reason I decided to write a textbook on pediatric retina. The text brings together collected knowledge from colleagues worldwide, which I believe pushes all of us to be challenged in our thinking and to find truths regarding science and medical treatment.
We have to educate our students so we will continue to improve our understanding and care for our patients. But how we educate is evolving too. So we, as educators, have to be challenged to find better ways. I also hope that we can continue to evolve moving forward to provide an atlas and educational forum for physicians, surgeons, parents and patients, and scientists.
Q: You've seen a lot of research advancement working in the industry up to this point. What advancements are you hoping to see as your career continues? If there is one issue you'd like to tackle before you retire, what would that be?
From the basic science work I do, I personally would like to develop safe and effective means to treat severe retinopathy of prematurity.
I also believe an Internet-based network is a great need and would make a difference, especially for parents, and patients as they grow older. I'd like to develop a network of pediatric retina specialists and parents with a platform that would allow each to review aspects of the child's/ infant's needs and then develop a management plan. This would address the worries that a parent has when their eye care provider may not know what their child's condition is (especially with a rare disease). Rather than searching the Internet without definite information, they would have a reliable place to go in order to research the child's condition. Questions come up. Is the condition genetic - potentially affecting other family members? Or is it associated with other conditions systemically? Is it infectious or inflammatory and might it progress or affect other organ systems if not treated? Can treatment improve the condition and improve visual function? And what types of visual rehabilitation are available and needed? Sometimes, once the retinal condition is treated, vision can be improved by working with pediatric ophthalmologists for visual rehabilitation.
It's critical to work in teams and I believe in finding or creating local teams so that the infant/child's quality of life is not disrupted. My dream has been to develop a web-based network that would enable families and patients to work with physicians to develop life long management plans that address not only visual acuity and function but also quality of life. Ultimately, the patients can become the experts when it comes to chronic eye diseases that start as pediatric retinal conditions.
Q: Tell us about your new book. What goes into creating a textbook? What are you hoping students who read it gain from your work?
It's wonderful to find a need you can address. I created the first edition of Pediatric Retina about a decade ago, because at the time there was not a text to bring together everything necessary in the diagnosis, treatment (medical and surgical), management, visual rehabilitation and genetic considerations of the many rare conditions that are included in pediatric retinal diseases. It was difficult for clinicians to diagnose a rare condition in children based on a sole retinal examination. Genetic variants were also becoming important in our diagnoses. I developed the outline of what was needed for diagnosis, treatment, and visual rehabilitation for a number of infants and children with pediatric retinal conditions incorporating knowledge of then known genetic and metabolic conditions.
I also incorporated the concept of an atlas in which images of retinal disturbances (like white spots, red spots, etc.) were shown, with diagnoses, that then referred the reader to the text to help with individual patient diagnostic and management decisions. Each chapter was formatted to include a differential diagnosis. I enlisted many knowledgeable colleagues who specialize in pediatric retina to contribute, with an ultimate goal was to help the infant or child with a pediatric retina condition. Too often, an unusual appearance causes the physician and parents to go to the Internet where there can be good but also misleading information.
The first edition was successful! And since then, pediatric retinal conditions and our knowledge of these conditions have exploded. Now, the second edition includes updated and expanded genetics including dysfunctional effects from gene variants, a section on normal development and developmental ocular abnormalities with focus on angiogenesis, and a section on retinopathy of prematurity, international pediatric retina, telemedicine. The textbook really incorporates basic science and clinical understanding. The atlas also includes images from spectral domain optical coherence tomograms of infants and children.