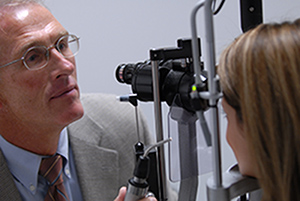 The governor's official declaration of Utah Sight Day, to be signed and presented to Moran CEO Dr. Randall J Olson at the Utah State Capitol on the inaugural Utah Sight Day, was made "In support of efforts to educate all Utah residents about the importance of getting their eyes and vision tested regularly in order to prevent vision and impairment and blindness."
"Thanks to Governor Herbert for his official recognition of this important day for all Utahns," notes Dr. Olson. "As the largest vision center in the Intermountain West, the Moran Eye Center at the University of Utah is dedicated to providing hope, understanding, and treatment for the full range of vision and eye conditions. Educating our population about the importance of regular exams is an integral part of our mission."
Awareness and Prevention
World Sight Day is an annual day of awareness organized by the International Agency for the Prevention of Blindness to focus global attention on blindness and vision impairment. This year's straightforward theme is "Get Your Eyes Checked."
Approximately 285 million people worldwide live with low vision and blindness, and out of this number about 39 million people across the world are blind. World Sight Day and Utah Sight Day aim to remind people that getting their eyes examined sometimes can make all the difference in preventing or treating vision problems before they become too severe.
Eye exams can range from a simple screening to a full dilated eye exam. Dr. William Barlow of the Moran Eye Center states that "A good start is a simple eye screening. People may be surprised to learn that most screenings take about two to four minutes and can detect near and far visual acuity, depth perception, peripheral and color vision, and signs of amblyopia. A quick non-puff tonometry measures pressure in the front of the eye. It doesn't determine glaucoma, but can indicate early signs of possible glaucoma if it's out of the normal pressure range. This is really important, as glaucoma is the leading cause of irreversible blindness in the world today but with early detection and treatment this can be prevented."
How Often and at What Ages Should You Have Your Eyes Checked?
Dr. Barlow advises that children should have vision screenings at appropriate intervals with their pediatrician or an ophthalmologist, unless a specific medical condition or a family history of childhood eye problems warrants earlier attention. "We encourage everyone to have an eye exam by the age of 40," he says, "unless you experience any changes in vision, pain, flashes of light, floaters, injury, tearing, or any other concerning eye symptom. If this happens, don't wait -- get immediate care. Comprehensive dilated eye exams become more important as you get older--when changes in vision and focus, as well as eye diseases, are more likely to develop. After age 60, we recommend annual comprehensive exams."
Community Vision Screenings
To promote optimal vision healthcare, Moran vision-screening specialists provide more than 6,000 vision screenings at health fairs and community events throughout the year. "We'd like to make every day Utah Sight Day," says Dr. Olson. "This official declaration is a great way to get the word out and to let everyone know that so many eye diseases can be either cured or their harmful effects may be reduced or delayed through early detection and timely treatment."