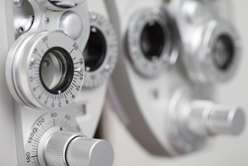 Research to Prevent Blindness (RPB), a New York-based foundation, has recently awarded a grant of $115,000 to the Department of Ophthalmology, University of Utah Health Sciences Center, to support research into the causes, treatment, and prevention of blinding diseases. This funding has been awarded based on a thorough review of criteria, including the department's research activities, laboratory environment, and clinical and scientific staff, as evaluated by RPB's renowned Scientific Advisory Panel.
The research is directed by Randall J Olson, MD, Professor and Chair, Division of Ophthalmology, and CEO of the John A. Moran Eye Center, University of Utah. The Unrestricted Grant from Research to Prevent Blindness is used for all facets of research at Moran. It provides maximum flexibility in developing and expanding eye research programs and provides opportunities for creative planning that go beyond the scope of restricted project grants. The Moran Eye Center holds one of 38 RPB Unrestricted Grants nationwide.
"Several of our researchers are also funded by individual RPB awards, making it possible for them to carry out work that has the potential to affect thousands of lives," notes Dr. Olson. "We are immensely grateful to RPB for its ongoing support of every facet of Moran's work."
For example, Moran's Wolfgang Baehr, PhD, was one of five 2014 RPB Nelson Trust Award for Retinitis Pigmentosa grantees, and is frequently described as the leading retinal biochemist and molecular biologist of our era. His multifaceted studies will apply cutting edge genetic tools to address broad mechanisms shared by many forms of RP, creating new models for therapeutic study and developing new treatments.
Since it was founded in 1960, RPB has channeled more than $345 million throughout the United States for research into all blinding eye diseases. As a result, RPB has been identified with nearly every major breakthrough in vision research in that time. For information on RPB's grant program, listing of RPB institutional and individual grantees, and findings generated by these awards, go to www.rpbusa.org.