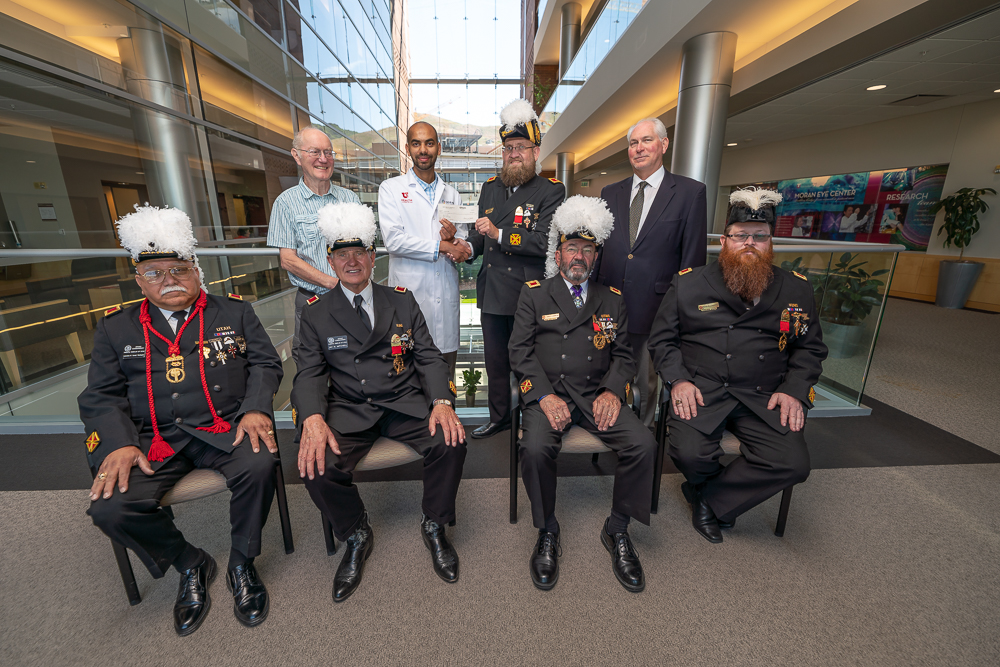 Knights Templar visited the John A. Moran Eye Center in June, 2018, to award a pediatric research grant to Ali Sharif, PhD. From Left to Right: Lawrence R. 'Gunny' Rodriguez; Moran Director of Research Wolfgang B. Baehr, PhD; Jay N. Mitchell; Ali Sharif, PhD; Jason C. Varner; Charles E. Warren; Lon Tibbits; Reed B. Fanning.
An estimated 500,000 children worldwide become blind every year.
The Knights Templar Eye Foundation (KTEF) is doing its part to change that statistic, offering Pediatric Ophthalmology Research Grants to support physicians and researchers who are beginning their academic careers. It's a key investment in the future since securing federal funding can be difficult for a new researcher, and there aren't many other eye foundations that fund solely pediatric eye research.
"The proposals are very competitive," said Jason C. Varner, KTEF state chairman. "Our mission is to improve vision through research, education, and access to care. By focusing on research, we believe we can prevent vision loss first and foremost and correct conditions early. Our philosophy is that by supporting a young researcher, we can help launch their career, and as they delve into understanding the cause of genetic disease, can eventually prevent or cure blinding diseases in infants and children. This then helps generations to come."
$65,000 to Fight Joubert Syndrome
In June, John A. Moran Eye Center retinal researcher Ali Sharif, PhD, became the Knights Templar 2018 Career-Starter Research Grant Awardee. Seven Knights Templars visited Moran to present Sharif with $65,000 to continue his research into Joubert syndrome, a devastating inherited disease affecting one in 100,000 newborns nationally.
Working in the lab of Moran's world-renowned retinal researcher Wolfgang B. Baehr, PhD, Sharif is investigating the road to understanding Leber Congenital Amaurosis (LCA) in the gene INPP5E-Joubert syndrome.
"There is no cure for Joubert syndrome," said Sharif. It's a genetic disorder that affects multiple organs very early in childhood, within the first 3 years of life."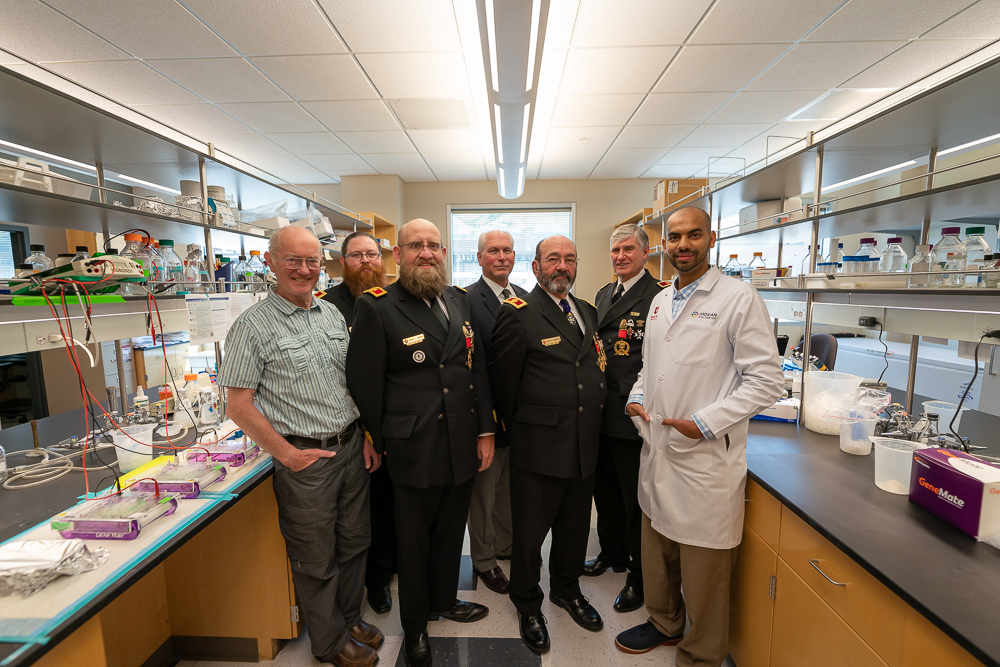 From Left to Right: Moran Director of Research Wolfgang B. Baehr, PhD; Reed B. Fanning; Jason C. Varner; Lon Tibbits; Charles E. Warren; Lawrence R. 'Gunny' Rodriguez; Jay N. Mitchell; Ali Sharif, PhD.
What to Watch For
Symptoms of Joubert syndrome can be detected immediately in newborns: parents will notice abnormal breathing patterns, very low muscle tone resulting in floppy and delayed bodily movements, twitching eyes and tongue, and the infant may have additional fingers and/or toes.
"A brain scan will confirm Joubert syndrome by showing an abnormal structure in the shape of a molar tooth, which is not supposed to be there," explained Sharif. "This presence of this tissue confirms Joubert disease. By the age of three, the child develops retinitis pigmentosa (RP), an incurable retinal disease that leads to progressive vision loss. "
Hope for the Future
The main cause of Joubert syndrome is due to mutations in a gene called INPP5E. Unfortunately, there is very little known about how INPP5E works, so it is critical to determine the role of INPP5E in photoreceptors in the eye.
"We are the first lab to generate a model that matches the human phenotype of Joubert disease. So, we hope to prevent the progression of RP and to develop a cure by gene replacement therapy," said Sharif.
Lon Tibbits, Grand Master of the Utah Freemasons expressed his personal appreciation for Moran: "A family member developed type I diabetes, and as a result, has terrible retinopathy. So, I'm a huge fan of Moran and excited to be here today to support the great work you are doing that is so critical to the future of eye care."
About KTEF
The Knights Templar Eye Foundation, incorporated in 1956, is a charity sponsored by the Grand Encampment of Knights Templar.
They support clinical or basic research on conditions that can or may eventually be treated or prevented, such as amblyopia, congenital cataract, congenital glaucoma, retinopathy of prematurity, ocular malformations, congenital nystagmus, and other hereditary eye diseases such as retinal dystrophies and retinoblastoma.
To date, the KTEF has expended over $148 million on research, patient care, and education and has awarded over $24 million research grants to those working in the fields of pediatric ophthalmology and ophthalmic genetics.