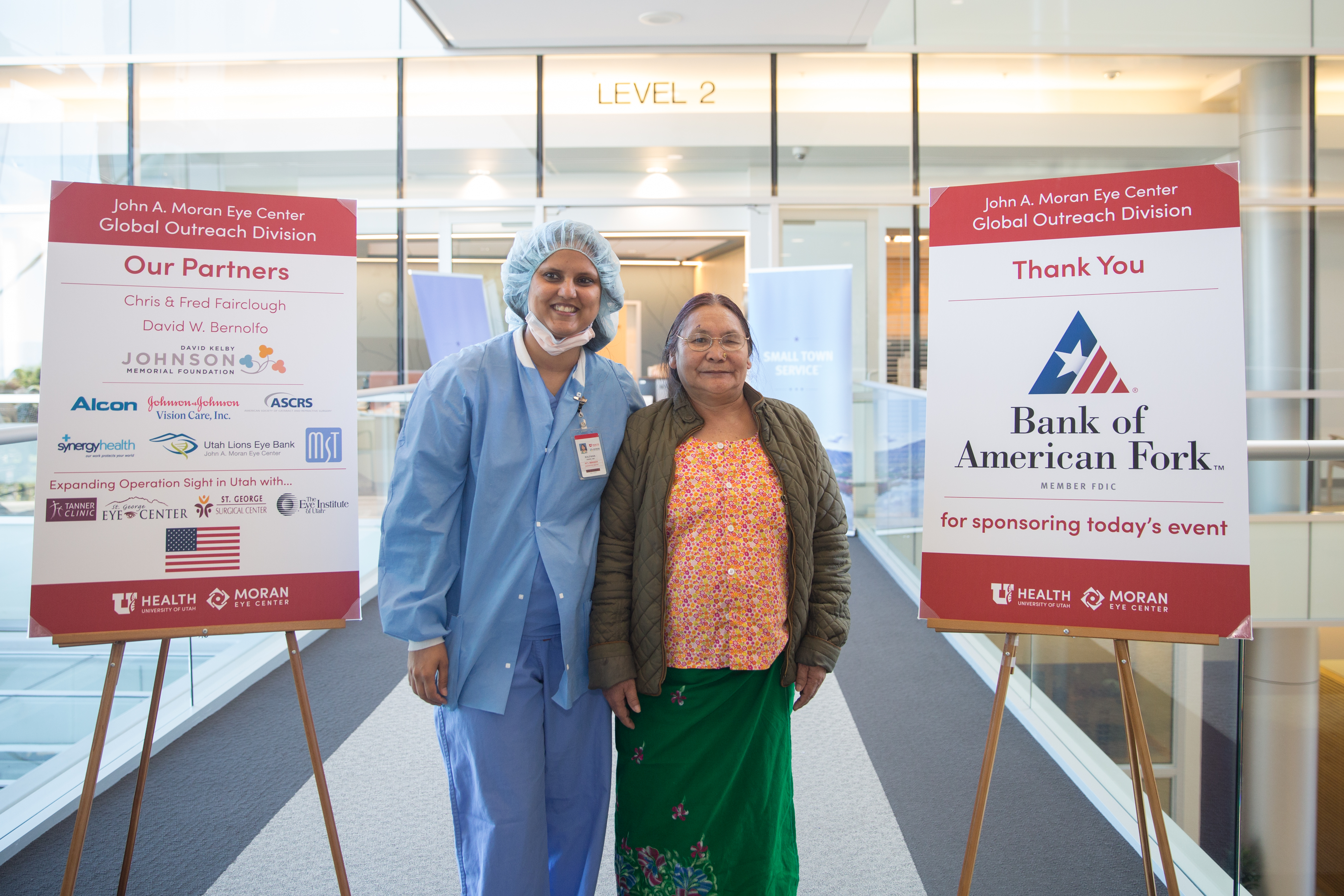 When Aaiti Maya Rai of Salt Lake City was a baby, she lost sight in her left eye following an injury. She made due with her right eye until, as an older adult, vision in that eye started to blur. Little by little she began to lose her most of her sight—along with her independence.
For years, she had little hope of getting her sight back. As one of tens of thousands of Nepali Bhutanese who fled the country decades ago because of extreme political repression, Rai had been living in a refugee camp in Nepal. Two years ago, she was relocated to Salt Lake where she now lives with her daughter, Shanta.
On April 7, volunteer doctors evaluated her sight as part of the John A. Moran Eye Center Global Outreach Division's inaugural Hope in Sight Refugee Eye Care Clinic. There, an ophthalmologist confirmed Rai's failing vision was due to a cataract—a clouding of the eye's natural lens that causes blindness. The good news was that, with a simple operation to remove the cataract and replace it with a clear lens, her vision could be restored.
Physicians identified Rai and 18 other former refugees as candidates for free cataract surgery through Moran's twice-yearly Operation Sight Days.
Though Rai was nervous at the outset of her June 2 surgery, once it was complete and the surgical patch removed from her eye, she was thrilled. "She can't wait to read again," said Kalpana Singh, MD, a Nepalese doctor training at Moran who served as both interpreter and hand-holder for Rai.
The June 2 Operation Sight Day restored vision for 18 patients in total.
"It was exciting to see so many elements of our outreach work come together on June 2," said Global Outreach Division Manager Margaret Rose. "All of our efforts are focused on working to fill access gaps in our health care system and to build sustainable eye care in areas of need around the globe and at home."
The event would not have been possible without the generous support of Bank of American Fork, sponsor for Moran's 2018 Operation Sight Days. The Eye Institute of Utah in Salt Lake City, the St. George Eye Center, and the Tanner Clinic in Davis County restored vision to an additional 10 patients as part of Operation Sight.
Moran surgeons who donated their skills on June 2 included: Alan Crandall, MD; Craig Chaya, MD; and Jeff Pettey, MD. More than 40 additional Moran medical personnel and staff volunteered their time for Operation Sight Day.
View a photo album of the event here.