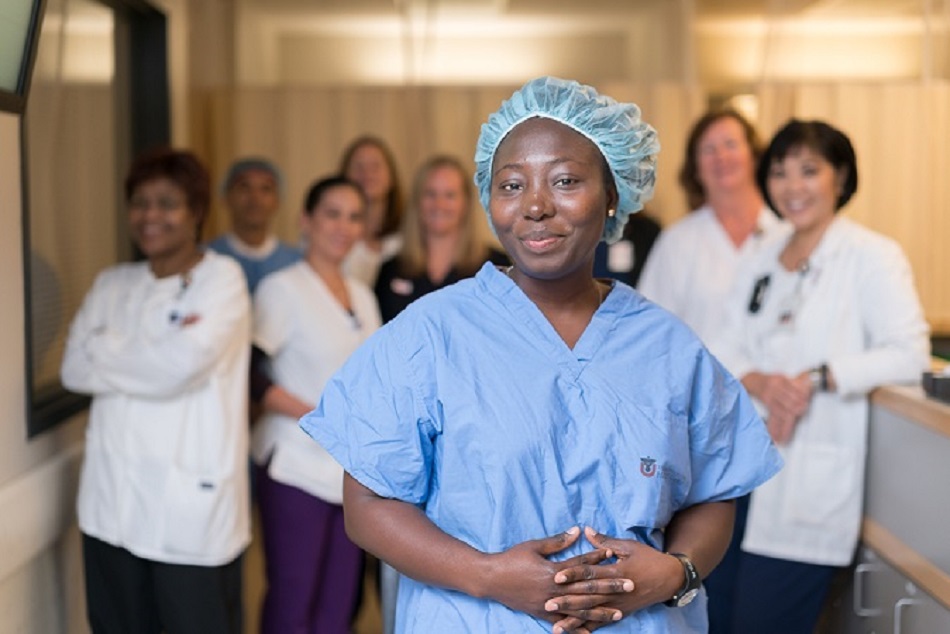 Growing up in Ghana in western Africa, Vida Addo Boateng, RN, always knew she wanted to be a nurse.
She began her journey with a general nursing diploma from the Nurses and Midwifery Training College in Kumsai, one of Ghana's largest cities. As her training progressed, she developed a deep interest in eye care—a critical need in her country where only 78 ophthalmologists reside, and out of 24 million citizens, 450,000 are blind or visually impaired.
"I worked in several emergency units in Ghana, and in so many cases of trauma, the eye was the last thing that got attention," she said. "Once everything else was done to sustain some patients, they ended up losing an eye—and in some cases that could have been prevented. This happened to my own grandma, and it had a big impact on me."
After advancing through several more degrees, Boateng, 35, became a nursing officer at Komfo Anokye Teaching Hospital (KATH) in Kumsai, where the John A. Moran Eye Center has had a decades-long relationship and was instrumental in establishing KATHS's own Eye Centre, which opened in 2014. While KATH is one of the best hospitals in Ghana, it is still evolving in terms of updating procedures, safety, and efficiency.
In August 2017, Boateng became the third KATH nurse to participate in Moran's Nurse Exchange Program.
She shadowed nurses and doctors in operating rooms and the post-anesthesia care unit. She learned the detailed process of scrubbing for retinal surgeries, studied Moran's safety protocols, and joined an outreach mission to the Navajo Nation. In her words, Boateng said, "I also really learned the importance of teamwork."
Now, Boateng is teaching and training other nurses, readying her team to assist in retinal surgeries—a specialty set to debut at KATH this year.
"We all connected with Vida," said Moran's Carolyn Chappell, RN, BSN.
"She's smart and compassionate—and fun. She now has a vision of the possibilities for improvement in her own center and can go back and be an example to her peers."
Donors Make it Happen
Moran's Global Outreach Division is supported solely by donors and staffed by volunteer physicians, nurses, and technicians.
The Lisa and Dave Crandall Endowment for Surgical Support Training made the Nurse Exchange Program possible. David Crandall, MD, is an ophthalmologist and the son of Alan S. Crandall, MD, senior medical director of Moran's Global Outreach Division. He and his wife, Lisa, have joined several of Moran's outreach missions.
"Our motivation to create the endowment stemmed from our first-hand experience. Outreach trips are impossible without the amazing support staffs, both from the U.S. and from the local areas," said Lisa Crandall. "The physicians get a lot of glory, but nothing can function without the efforts of techs, nurses, and all-purpose volunteers."