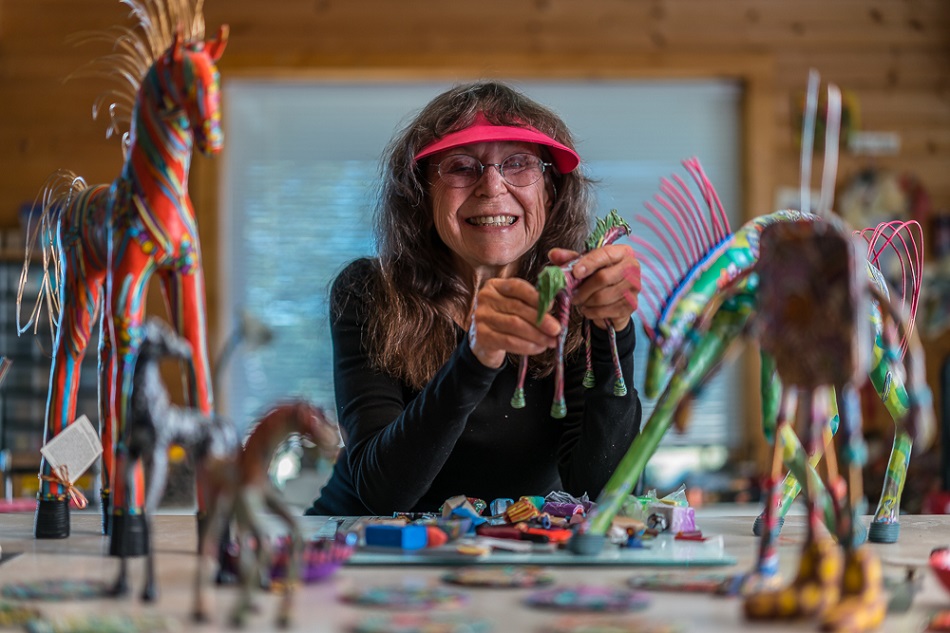 Judy Summer has been creating art since 1967's Summer of Love.
And ever since she moved her young family from the wilds of Topanga Canyon, near Los Angeles, to Park City, Utah, in the 1970s, she and the town's burgeoning arts community have embraced one another. Summer helped establish the Park City Professional Artists Association and the after-school art therapy program, Arts-Kids. She taught art in public schools and in her own studio, all the while creating sculptures and jewelry and selling them in galleries and at festivals. She fell in love with metal forging and learned how to belly dance.
It was, and at the age of 81, still is, a beautiful life, although Summer's vision is now extremely limited.
Support for Patients with Vision Loss
She first began going blind in her left eye, due to a decades-past accident.
Later, in her 70s, she began to lose vision in her right eye to advanced glaucoma and age-related macular degeneration. Because of these challenges, she's had to gradually shift the way she works on her sculptures and her life—and she's done it as artfully as possible. She sees a team of specialists at Moran and works closely with Moran's Patient Support Program, including one-on-one consultations in her art studio with Certified Low Vision Occupational Therapist, Kasey Mitchell.
"With vision loss, you have to give some things up, so I try and accept what comes each day and hope for the best—but I also try to stay a little ticked off and ask myself, 'what can I conquer today?'" said Summer. "If you stay focused on the things you love to do, you can eventually get from A to B."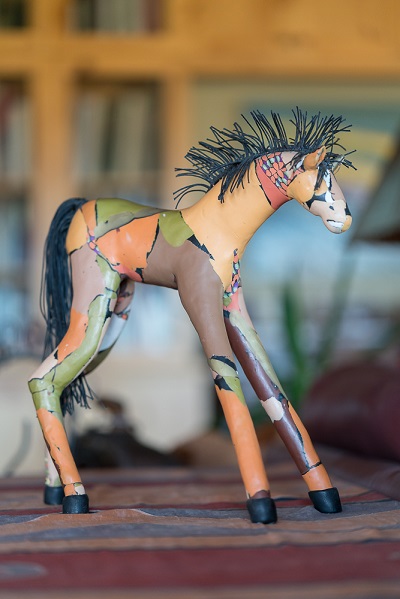 Mitchell has helped Summer continue to create, adjusting contrast and lighting in her studio and suggesting she wear visors to help her eyes focus.
Since her vision has diminished, Summer's art has evolved. She has long been known for the stylized, free-spirited horses she sculpts from polymer clay. While she once used more subtle muted or dark colors, the newer horses pop with bright, vibrant colors, which are easier for her to work with.
A long-time horse lover, she owns two of her own. They stand sentinel next to a sage green barn just steps from her hillside home and art studio. "It's my challenge every morning to get to them, feed them, and then get back to the house," she said. "Support comes in many forms. I use ski poles for the walk."
She now works against white backgrounds. Every little modification helps. "Working with Kasey, who is also creative and does woodworking, I feel secure, like I can look ahead," she said.
How to Find Help
The Moran Eye Center offers one of the country's most robust patient support programs.
No-cost support, educational, and activity groups are available to anyone experiencing vision loss. Fee-based services include licensed social workers offering one-on-one counseling and consultations with occupational therapists and low-vision rehabilitation professionals. In-home consultations to figure out challenges such as finding the best lighting or logistics for patients' needs are also available. Learn more at healthcare.utah.edu/moran/patient-support-program/