A Letter To Our Patients
May 13, 2020
At the John A. Moran Eye Center, your safety is our primary concern. Since mid-March, we have limited patient access to Moran clinics to do our part to help prevent the spread of COVID-19 and to protect our patients. Now, state guidelines allow us to resume scheduling routine and specialty vision care appointments, and we are doing so with extra safeguards in place.
Moran Eye Center clinics are open for appointments and elective surgeries. If you had a clinic or surgery appointment postponed, we will be contacting you to reschedule it. If you need a new appointment, please call 801-581-2352. We will work with you to determine whether a telehealth visit, an in-person visit, or postponing your appointment is most appropriate depending on your care need and your individual risk for severe illness from COVID-19.
As we move forward, we will take the following measures to ensure Moran clinics and operating rooms maintain the highest levels of safety:
Check body temperature and perform wellness checks as patients, staff, and doctors enter the building. Anyone with a fever or symptoms will be asked to return at least 72 hours after they are symptom-free. This is for your safety as well as the safety of our caregivers.
Distribute hand sanitizer and provide face masks for all patients. If you have one, we ask that you bring a mask or face covering to help preserve our supplies. Providers and staff will be masked and practice careful hand hygiene.
Comply with state guidelines that currently restrict visitors from accompanying patients to appointments. When special circumstances exist, one visitor per patient is allowed. All visitors must sanitize their hands and wear a self-provided mask while they are in the building.
Practice physical distancing of 6 feet in waiting rooms, the lobby, and throughout the building. Please do not arrive earlier than your scheduled appointment time.
Clean chairs, tables, and equipment after each patient exits a room. Waiting areas and common items such as door handles will be cleaned regularly.
Check staff and provider temperatures at least twice a day to ensure only well employees are reporting to work.
Require all surgery patients to undergo COVID-19 testing 48 hours prior to surgery. Patients who test positive for the virus will be rescheduled. Emergency surgeries for COVID-19 positive patients will be performed at University Hospital.
Because the incidence of COVID-19 can change rapidly, we may have to adjust our policies at Moran on very short notice. Please understand this is all part of keeping you as safe as possible.
It is our privilege to continue to provide hope, understanding, and treatment to anyone with a blinding condition, eye disease, or visual impairment. We are committed to your health and safety and thank you for trusting the Moran Eye Center with your vision care needs.
Sincerely,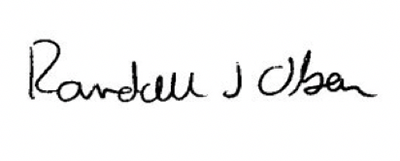 Randall J Olson, MD
CEO, John A. Moran Eye Center
Professor and Chair, Department of Ophthalmology and Visual Sciences, University of Utah