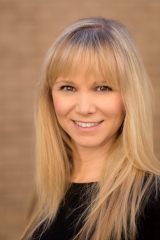 Eye research breakthroughs not only change lives but also reduce the cost of eye disease and vision impairment, projected to reach $717 billion annually by 2050.
John A. Moran Eye Center surgeon-scientist Leah A. Owen, MD, PhD, is among 28 elite, early-career vision scientists selected to present their research to Congress this September. Her work to prevent a blinding eye disease affecting premature babies will help raise awareness about the life-long impact of pediatric vision impairment, costs of eye disease, and the need for continued federal funding support to minimize vision loss across the lifespan.
The group of scientists will be presenting their contributions at the Seventh Annual Emerging Vision Scientists Day, which will be held virtually on September 21, 2021. The event is sponsored by the National Alliance for Eye and Vision Research and the Alliance for Eye and Vision Research (NAEVR/AEVR).
NAEVER aims to show Congress the critical work investigators are doing early in their careers and why it is vital to increase funding for the National Institutes of Health (NIH) and National Eye Institute (NEI), so the work can continue. The group asked the scientists to make a video presentation detailing their research and its potential impact.
"This NAEVR event offers a great opportunity to advocate for continued, strong NIH-NEI funding for our work and for all vision research, which is vital to the continued advancement of vision-saving treatments and improved patient outcomes."

Leah A. Owen, MD, PhD
As part of the virtual event, NAEVR will share the Emerging Vision Scientists' videos with all Congressional offices and arrange virtual meetings for the researchers with their respective Congressional representatives.
Held in conjunction with International Age-Related Macular Degeneration (AMD) Awareness Week 2021, Emerging Visiting Scientists Day is supported by a grant from Research to Prevent Blindness and Novartis, with streaming support by the Association for Research in Vision and Ophthalmology.
Focus on Retinopathy of Prematurity
In her clinical practice, Owen specializes in the medical and surgical treatment of pediatric eye disease, including retinopathy of prematurity (ROP). She also focuses on ROP in her lab.
ROP affects premature infants and accounts for up to 40 percent of all childhood blindness worldwide. ROP disease interrupts natural blood vessel maturation in the back of the eye, which does not complete growth until full term. This causes disordered blood vessel growth that in severe disease is associated with complete blindness, though even mild ROP can cause lifelong visual impairment. The devastating effects of ROP are increasing worldwide as advancing technology improves preterm infant survival.
"We cannot cure or prevent ROP," said Owen, "and while our current gold standard treatment can often prevent complete blindness, it causes permanent scarring and cannot restore healthy blood vessels, eye or vision development. Ultimately, we hope our research to understand maternal, placental, and infant molecular factors that predispose infants to develop ROP will shift the paradigm toward ROP prevention and help us facilitate healthy eye development for all preterm infants."