It can permanently damage your eyes before you notice any vision loss. Although it's a major cause of blindness, doctors can easily miss it. And when it's caught, it can be difficult—and expensive—to treat.
These are the hallmarks of glaucoma. But Iqbal "Ike" K. Ahmed, MD, FRCSC, says it's time to change all that.
Renowned and sought out as one of the most experienced surgeons for complex eye conditions globally and the leading expert on glaucoma, Ahmed is off to a good start.
Over the past decade, he has led a glaucoma care revolution by designing a new class of surgical devices and proving the benefits of using them earlier in the disease. Now, he'll continue shaking up the field at the John A. Moran Eye Center.
Ahmed recently joined Moran as a part-time clinician and director of the newly formed Alan S. Crandall Center for Glaucoma Innovation. At the center, named for the late Moran glaucoma physician and legendary humanitarian, Ahmed is combining his drive to innovate with Moran's unique resources to build a global center of glaucoma excellence.
He feels it's been a long time coming.
"Glaucoma is one of the leading causes of blindness, but there are so many unanswered questions that remain, and many projects are very siloed," says Ahmed, a Canadian who will maintain a practice in Ontario. "Creating a center of excellence allows us to incorporate basic science, translational medicine, and clinical work under one roof to superpower and accelerate our ability to find cures and innovations—to make breakthroughs in one of the most difficult-to-treat eye diseases."
For Ahmed, the place is Moran, and the time is now.
"The Moran Eye Center is really at the forefront of basic science at the cellular level in the retina. Therapeutics and surgical devices have been innovated here, and Moran has attracted some of the best talent in the world, both in terms of human capital as well as the resources we have," he says. "The time has come to pull this together, and in my opinion, there's no better place in the world to do it than right here."
Ahmed completed a glaucoma fellowship at Moran under the tutelage of Crandall. Ahmed's return to the Moran Eye Center brings their story full circle to spark new hope for glaucoma.
Nearly 80 million people worldwide are living with a disease that, if left untreated, will rob them of their eyesight. Unless we act now, the World Glaucoma Association estimates over 112 million people will suffer from moderate to severe glaucoma-related vision loss and blindness by 2040.
To understand the nature of Ahmed's work is to know his foe. Glaucoma is all about the optic nerve.
This bundle of more than 1 million nerve fibers transfers visual information collected by light-sensitive cells in the back of the eye to the brain. It's there that visual images are formed. In glaucoma, the optic nerve atrophies and dies. Its killer is usually high fluid pressure, or intraocular pressure (IOP), inside the eye.
Glaucoma specialists face a Goldilocks dilemma to find an IOP sweet spot for their patients—not too high, not too low. Traditional treatment options have been hit-or-miss with eye drop medications and surgical procedures that had high complication rates.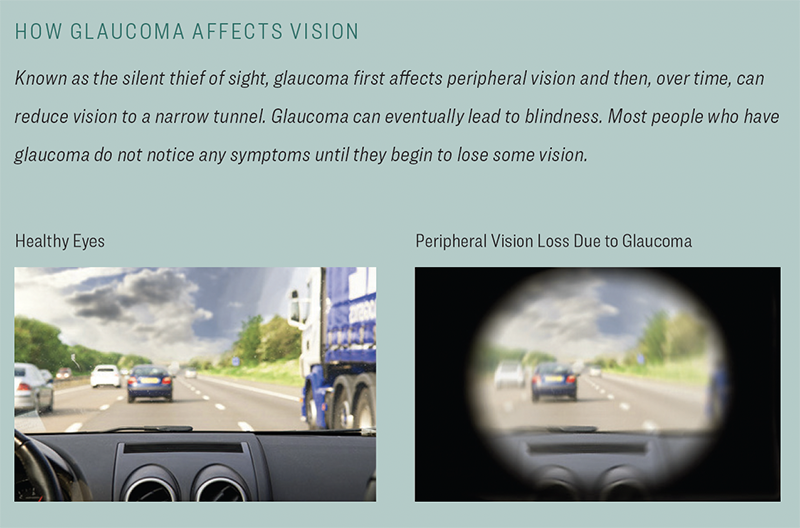 That's where Ahmed stepped in.
At Moran, Ahmed worked with Crandall on alternative surgical approaches for glaucoma, and he continued to innovate in private practice.
In 2005, Glaukos Corp. asked Ahmed to help develop a next-generation surgical device that would change everything: a microscopic stent implanted into the eye to relieve pressure. Just 1 millimeter long, the first-generation iStent received FDA approval in 2012. Ahmed dubbed the new surgical approach micro-invasive glaucoma surgery (MIGS).
MIGS devices decrease or eliminate the need for eye drops with few complications—and Ahmed has had a hand in testing and fine-tuning the 11 MIGS devices on the market today as defined by the FDA.
He has shown that performing MIGS earlier in the course of glaucoma and lowering IOP targets for patients with moderate disease preserves more vision.
His approach, known as interventional glaucoma, has earned Ahmed the field's highest recognitions and accolades. Even so, for patients, researchers, and physicians, including Ahmed, the ultimate goal of glaucoma treatment is neuroprotection—finding a way to protect or restore the optic nerve.
The Crandall Center will aggressively pursue neuroprotective therapies and a host of other initiatives to increase our understanding of the disease and find new solutions to detect and treat it.
The Center's work is divided into four distinct initiatives, each tapping into resources found only at the Moran Eye Center.
Crandall Center Initiatives
Surgical Therapeutics Initiative
Director: Ike Ahmed, MD, FRCSC
This initiative will provide a clearinghouse to assist companies with MIGS product development, testing, and research. It's modeled after Moran's Intermountain Ocular Research Center (IORC).
Working closely with IORC co-directors Nick Mamalis, MD, and Liliana Werner, MD, PhD, Ahmed is conducting comparative and preclinical testing on device design, materials, and placement.
He's also working to create inexpensive surgical devices and products that can be used in low-resource nations where many cannot access ophthalmic care, much less glaucoma treatment.
The initiative will rapidly advance MIGS device development, just as the IORC advanced the use of artificial intraocular lenses (IOLs)—now commonly used to replace the eye's natural one during cataract and other surgeries. When Moran formed the center in 1982, outcomes for patients were poor, and both academia and the National Institutes of Health had declined to fund IOL research.
Independent research by the IORC drastically improved the quality and design of IOLs. The center has produced more than 1,000 peer-reviewed publications that guide IOL companies and physicians worldwide as they vet new technology and associated complications.
"Nick Mamalis and Liliana Werner have developed a superb program under the IORC," says Ahmed. "My goal is to take what I've been doing in glaucoma devices and use their same methodology to improve how glaucoma devices can work in the eye and take future designs to the next level."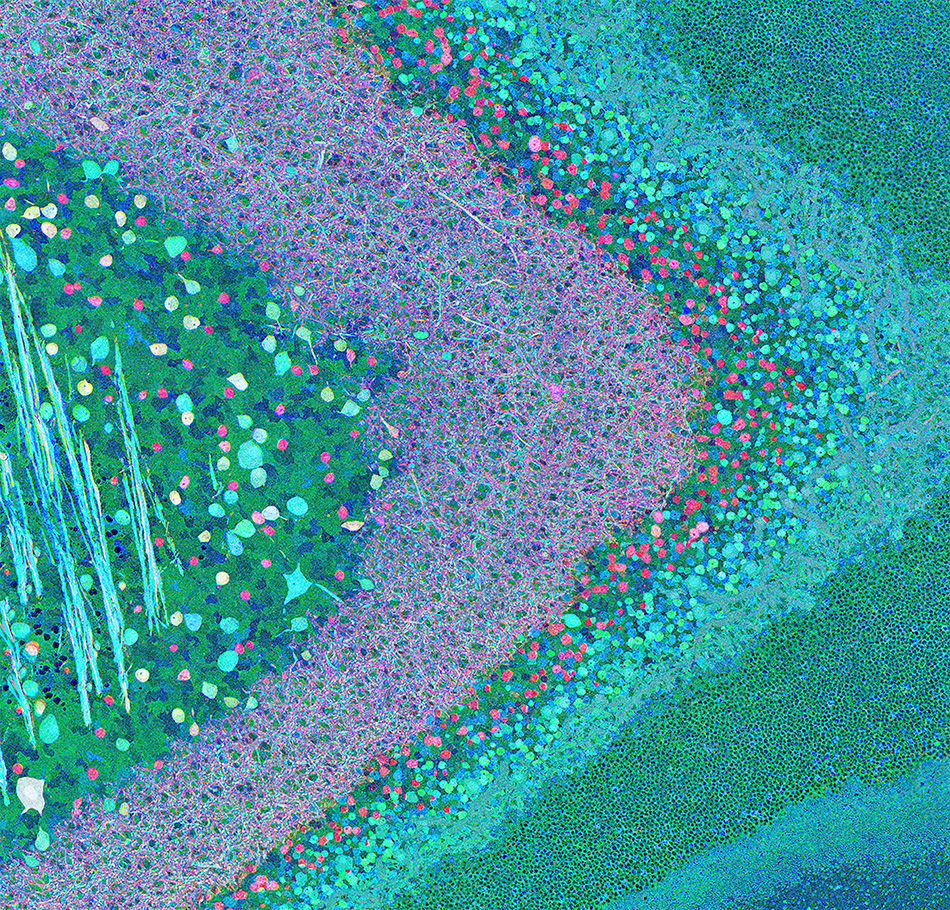 Translational Research
Director: Gregory S. Hageman, PhD
This initiative will strive to understand the biology of glaucoma to develop effective therapies.
Using unique resources, the Sharon Eccles Steele Center for Translational Medicine (SCTM) fast tracks drug development by focusing less on academic publishing and more on bringing together university departments, international academic collaborators, philanthropists, and private industry.
The SCTM, directed by Gregory S. Hageman, PhD, is steadily unraveling the mysteries of age-related macular degeneration (AMD), a major cause of blindness for people age 55 and older, and has produced a potential new therapy.
The initiative will employ the SCTM's collection of nearly 10,000 donor eyes to compare glaucoma-diseased eyes to healthy ones. It will also include glaucoma patients already enrolled in a robust macular degeneration clinical study that collects genotype, phenotype, and retinal images. These are cross-referenced with the Utah Population Database, a rich resource supporting health and genetic research that contains genealogical, public health, medical, and environmental exposure records for more than 20 million people.
Moran's world-class Utah Retinal Reading Center (UREAD), directed by SCTM scientist Steffen Schmitz-Valckenberg, MD, will also play a significant role. UREAD analyzes high-definition images of the retina to determine how disease progresses and the best time to administer new therapies.
The SCTM has clarified the genetic risks for and protections against developing AMD and shown how a patient's genetics impact rates of disease progression and vision loss. Hageman says he's looking forward to exploring a potential connection noticed during SCTM research: genetic variants on chromosome 1 that increase a person's risk for developing AMD also appear to increase a person's risk for developing glaucoma.
"Having the ability to look at eyes that have been donated along with their different genetics, clinical findings, medical histories, and information from the Utah Population Database will allow us to find links and clues about glaucoma," says Ahmed. "We need to identify how the disease affects different patients in different ways."
Neuroprotection-Based Therapies Initiative
Director: To Be Announced
Moran faculty making groundbreaking discoveries related to neuroprotection will be key collaborators in this initiative. Of the prominent researchers focusing on neuroprotection in the field today, the work of Moran's David Krizaj, PhD, is among the most promising.
For a decade, Krizaj has worked to understand exactly how the eye's drainage system, a muscular tissue called the trabecular meshwork, senses pressure to regulate the flow of fluid out of the eye. His search led him to a target: Transient Receptor Potential Vanilloid 4 (TRPV4), an ion channel that can sense tiny changes in pressure and translate them into cellular responses. Krizaj determined that inhibiting TRPV4 tells the trabecular meshwork to increase fluid outflow, lowering IOP. The best news may be that it also appears to be neuroprotective by reducing the damage that retinal ganglion cells experience from high pressure.
Collaborating with the University of Utah's Department of Organic Chemistry, Krizaj developed an eye drop medication for human use. Now, backed by a Utah venture capital firm, he plans to begin clinical trials to test in humans in the near future.
"David's work is incredible and it mirrors well what I'm doing, because I'm working on trying to surgically enhance drainage from the eye to help the flow of the eye and he's looking at pharmaceutical ways to achieve the same outcome," says Ahmed. "So this is where we have a lot of cross-pollination and can use the same kind of models to test and hypothesize how this will all work."
Global Care
Director: Craig J. Chaya, MD
In under-resourced nations with few ophthalmologists, the rate of glaucoma detection and treatment is low.
The problem is severe in Africa, where many people are genetically predisposed to developing a rapidly progressive form of glaucoma. Approximately 4% of the population over the age of 40 has the disease. Of those, 90% are already blind in one eye before a diagnosis is made.
This initiative, directed by Craig J. Chaya, MD, will work to find ways to detect glaucoma earlier, creating systems where local health care workers can screen for it as they check vision and fit patients for eyeglasses. It will also work to develop and manufacture affordable surgical devices for glaucoma that can have a lasting effect.
"The burden of glaucoma globally is immense," says Ahmed. "These initiatives that we're all looking at, we're looking at through the lens of not only helping people here but those in low-resource nations and vulnerable populations. That truly, I think, is what medicine is about."
Key to its success are the experience and partnerships of Moran's Global Outreach Division.
Founded by Crandall, the division is a premier institution for ophthalmology outreach in the United States and has relationships with eye care providers worldwide. The internationally recognized program works to build sustainable access to high-quality eye care in Utah and low-resource nations. Moran is a North American academic partner of India's Aravind Eye Care System, the world's largest eye health care provider. Aravind is renowned for its unique ability to manufacture safe, effective, low-cost surgical devices for use in low-resource countries.
"Technology gives us the ability to do things that change paradigms. I love changing paradigms."
Collaborating for Change
Bringing together all four initiatives to change the course of a disease affecting millions requires Ahmed to manage collaborations among industry, philanthropy, glaucoma surgeons, and scientists on a global scale.
But if anyone is up for the task, it's Ahmed, who describes himself as a "professor, researcher, surgical innovator, and dreamer."
Born in an immigrant family and raised in northern Canada, Ahmed has said feeling a bit different from his peers made him an outsider. He often found his own way to do things.
He earned an undergraduate degree from McMaster University before enrolling in medical school at the University of Toronto. The son of a psychiatrist, he learned to value medicine at an early age and looked forward to becoming a surgeon even before completing medical school. When he got his first look at ophthalmology, he fell in love with surgery because of the precise, microscopic work the eye requires and the ability to restore sight.
Ahmed completed his medical degree and a residency at the University of Toronto. He then came to Utah for a Glaucoma and Anterior Segment Surgery Fellowship at Moran with Crandall between 2000 and 2001.
In interviews, Ahmed has called himself a "rebel" when describing his out-of-the-box mindset. He's not afraid to poke fun at himself, expresses his desire for deep human connections, and eschews pretension. He's said his greatest achievement is giving colleagues courage to rethink the system, crediting his training with Crandall for teaching him to respectfully challenge the status quo.
When asked what keeps him motivated professionally, he has said, "For me, it's internal motivators. To inspire and be inspired. It's the drive to discover and to always want more. Asking the right questions, trying to answer them, and learning from our failures. I always want to answer questions and, furthermore, to be the first one to do it. Again, critically looking at ourselves and taking it apart. I use the term blowing things up. I like blowing things up."
Ahmed has developed new approaches for the treatment of not only glaucoma but also cataract and lens implant surgery. He has designed microsurgical instruments, devices, surgical implants, and techniques for the management of glaucoma, dislocated cataracts, and iris reconstruction. He's even invented a line of diamond scalpels.
In Canada, Ahmed has headed up the ophthalmology department at Trillium Health Partners since 2013 and practices at Prism Eye Institute.
At Moran, Ahmed will treat an international patient base.
"I can't overstate the magic that I see in the people here—the collective spirit of collaboration, the positive energy, the humbleness, and the humility. It all starts with Dr. Olson and permeates the entire building," says Ahmed. "That just builds up my energy and passion for this, and I know we're going to find the answers to these problems."
Moran CEO and Department of Ophthalmology and Visual Sciences Distinguished Professor and Chair Randall J Olson, MD, notes Crandall had always hoped Ahmed would continue his legacy at Moran.
"I couldn't be more excited to have an amazing visionary like Dr. Ahmed leading the way on glaucoma and swinging for the fences," says Olson. "It's what we do at Moran, and we do it well."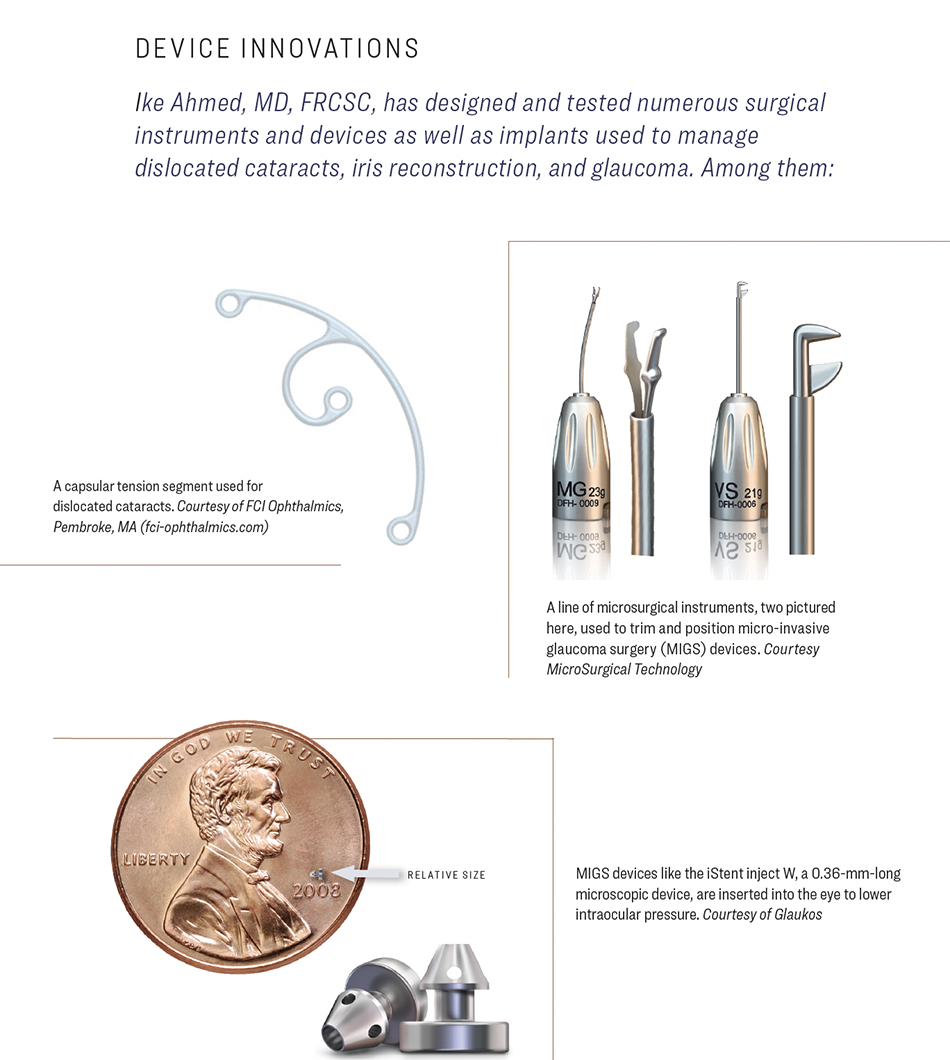 In Memoriam
Alan S. Crandall, MD, was one of the Moran Eye Center's founding physicians and instrumental in shaping its culture of excellence and innovation.
He passed away in October 2020 and is remembered as the epitome of caring, teaching excellence, and surgical skill. His love of humankind inspired his travels worldwide to treat eye disease in under-resourced communities.
Crandall was beloved by his patients as an advocate and friend, and the Alan S. Crandall Center for Glaucoma Innovation will serve as an enduring legacy of his passion for helping others.
Patient Care
In addition to directing the Alan S. Crandall Center for Glaucoma Innovation, Dr. Ike Ahmed will see patients and perform surgery part-time at the Moran Eye Center.
He is now accepting referrals and consultation requests for the surgical management of glaucoma, complex cataracts, iris reconstruction, and intraocular lens complications.
To schedule an appointment at Moran, call 801-585-3071.