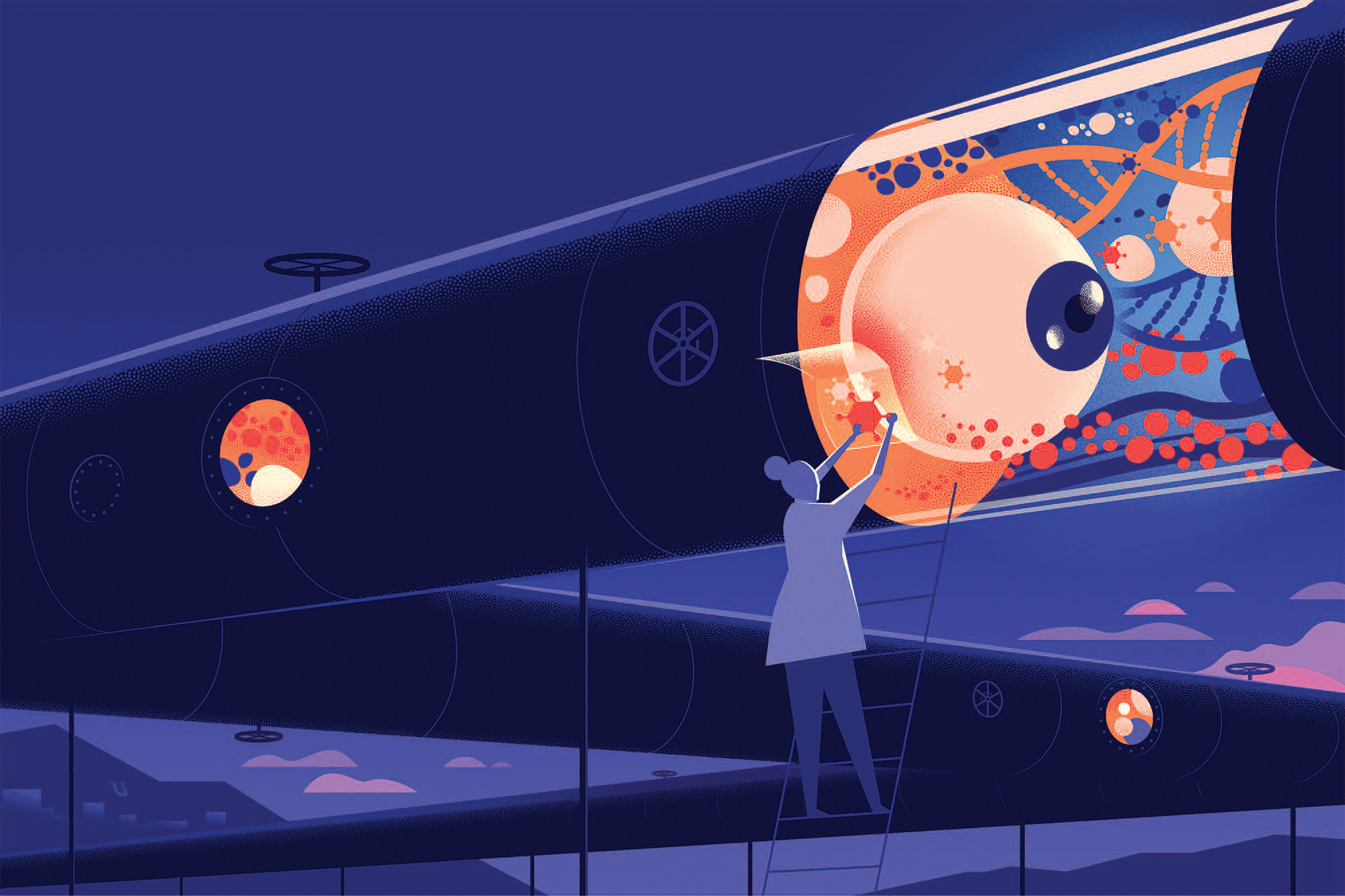 Patient testing is underway for a new therapy for age-related macular degeneration (AMD) developed by the John A. Moran Eye Center's Sharon Eccles Steele Center for Translational Medicine (SCTM).
The treatment—a gene therapy delivered to the back of the eye—is the first of several precision medicine drugs developed by the SCTM to enter the FDA pipeline. It is tailored for individuals with the most prevalent form of AMD, caused by genetic mutations in the Complement Factor H gene (CFH) on Chromosome 1. The gene therapy delivers a modified version of CFH to the eye.
A Phase 1 clinical trial is assessing the drug's safety in AMD patients who fit an appropriate genetic profile and have already lost their vision. A Texas woman became the first to receive the drug at a private practice in December 2022.
Physicians will give the therapy, dubbed VOY-101, to nine patients during the Phase 1 trial. Once confident that the drug is safe, researchers will use larger groups of sighted patients in a Phase 2 trial to evaluate whether the treatment can slow or halt disease progression.
For SCTM Executive Director Gregory S. Hageman, PhD, this moment has been three decades in the making. Driven by a curious nature and inspired by a relative losing her sight to AMD, the then-marine biologist dove into what would become a lifelong passion for understanding—and treating—the disease.
His success could alter the course of history. While AMD is a leading cause of blindness for 1 in 5 Americans over age 70, there is no cure and few available treatments.
"When I decided to work on AMD, we knew practically nothing about its biology or clinical course, and many individuals told me I was wasting my time," says Hageman. "Now I look back and think, 'Wow, we're actually going to give treatment a go.' I have great confidence in the science, the unique genetic targeting behind our approach, and the SCTM's extremely talented staff. I really believe this is going to work."
Anatomy of a Gene Therapy
Gene therapy is a personalized approach that could free patients from the burdens of ongoing treatment. But it was more of a dream than reality before technological advances allowed scientists to deliver genetic material into the cells of patients using harmless modified viruses.
To develop a gene therapy, SCTM researchers first needed a more complete understanding of the biology of AMD. Hageman's methodical research over the past decades, which included conducting one of the largest ocular genetic studies, gave the world a new understanding of the role of genetics and biology in the development of AMD.
AMD-associated genes on chromosomes 1 and 10 account for approximately 90% of a person's risk for developing AMD. A cluster of six genes on chromosome 1, which play critical roles in the immune system, directs one form; a pair of genes on chromosome 10, associated with maintaining ocular health as we age, causes a second. 
Importantly, Hageman's team also discovered genetic variants on chromosome 1 that offer strong protection against developing AMD.
"We carry two copies of every gene, so if a person carries two copies of chromosome 1-associated protective genes, they're highly protected and not likely to develop AMD," explains Hageman. "If an individual carries two risk copies, they're highly likely to develop AMD. Interestingly, if someone carries one protective gene and one risk gene, the risk of developing AMD is greatly diminished."
Commercialized in conjunction with SCTM corporate partner Perceive Biotherapeutics Inc., VOY-101 was designed to provide protection for individuals with one or more risk copies of CFH on chromosome 1.
The Road to Approval
FDA approval requires multiple phases of testing in humans. The Utah Retinal Reading Center (UREAD)—a component of the SCTM—will analyze images from all patients entered into the clinical trials worldwide.
Using retinal imaging techniques, the SCTM has characterized AMD progression in specific genetic groups. Armed with the data, scientists and clinicians will use this information to evaluate the impact of the new gene therapy among the genetic groups.
Phase 1 patients are being divided into three groups. The first will receive the lowest dose of the drug and will be monitored for any complications, such as inflammation, for six months.
The dose will escalate to higher levels in the other two groups, which will also be closely monitored for adverse impacts.
Patient and Donor Support
Although he's not participating in the clinical trials, Moran patient Stephen Denkers and others like him have made this moment possible.
Denkers is one of thousands who have enrolled in an SCTM patient study to better understand the genetic inheritance within his family and to advance AMD research. He's also a philanthropic donor to the program.
When his Moran physician explained there was nothing to stop AMD from stealing his sight, Denkers took comfort in thinking about a different future for his loved ones.
"I told him, 'You may not be able to help me, but you can likely help my children, grandchildren, and so many others,' " says Denkers.
Since there are no animal models to research AMD, SCTM researchers chose early on to work with study participants and donated human eye tissue. The ongoing SCTM study Denkers enrolled in now has over 5,000 people with and without AMD or a family history of the disease. The study and the SCTM's eye tissue repository of nearly 10,000 pairs of donor eyes made breakthroughs possible.
"Without people like Steve, quite simply, we wouldn't have a drug in clinical trials," says Hageman.
The End Game
In 2022, the FDA approved four new gene therapies. This year another wave of approvals is anticipated for as many as 13 new gene therapies.
"Personalized medicine is the future, and Dr. Hageman is leading us into that future," says Moran Eye Center CEO Randall J Olson, MD. "I couldn't be more excited about this clinical trial because I know it's based on meticulous work. There is no one who understands AMD at the level of Dr. Hageman and his team."
Significant investments of time, finances, and resources that were made to understand the genetic underpinnings of AMD as the first step toward building a gene therapy have paid off. Researchers now also understand the genetic inheritances in different ethnic groups.
While the SCTM's first new drug targets chromosome 1-directed AMD, the team is developing additional therapies to treat patients with chromosome 10-directed AMD.
For people like Denkers, it's a pipeline of hope.
"I can only imagine where we will be 10 years from now," said Denkers. "I can't wait to see what this does for families and the world."

The SCTM draws upon the collective strength of its interdisciplinary research team members. Their expertise has been vital to developing VOY-101. Key SCTM team leaders in this program are:
Monika Fleckenstein, MD, Clinical and Research Faculty
Jill Hageman, RN, Clinical Research Associate
Jin Liu, PhD, Research Scientist
Burt Richards, PhD, Director of Translational Vector Sciences
Steffen Schmitz-Valckenberg, MD, Clinical and Research Faculty, and Director, UREAD
Brandi L. Williams, PhD, Director of Research and Science
Moussa A. Zouache, PhD, Research Faculty