The Utah Lions Eye Bank partners with surgeons all over the world to be their trusted provider of cornea tissue for transplant and whole globes for research. We have provided these services since 1972.
We are located in the heart of Salt Lake City, Utah, with easy access to donation community partners.
The Utah Lions Eye Bank is an extension of the John A. Moran Eye Center, which is the largest facility of its kind in the Mountain West. This enables the Utah Lions Eye Bank to have access to leading industry support and facilities to stay on the forefront of advancements in eye banking.
Our facility is staffed 24/7, providing service and support to donor families, community partners, and surgeons. Our highly-skilled staff can adapt to meet a variety of tissue specifications from our surgeons. Our staff also provides tissue in a reliable and timely fashion.
We provide quality tissue within ideal timeframes for our surgeons both domestically and internationally.
Corneal Tissue
We offer the following types of corneal tissue:
Penetrating Keratoplasty (PK)
Standard full-thickness grafts are based on our surgeons' predetermined tissue criteria.
Anterior Lamellar Keratoplasty (ALK)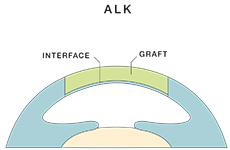 Descemet's Membrane Endothelial Keratoplasty (DMEK)
Partial-thickness graft based on a surgeons' predetermined tissue criteria specifications including, but not limited to:
Hinge method,
F- stamp option, and
Secondary punch at surgeon preference.
Patient Ready DMEK®
Pre-punched using Moria™ punch block. Available in 7.0, 7.75, and 8.0 mm (no trephine required in OR).
Grafts are pre-stained (no trypan blue required in OR).
Loaded into tissue carrier.
Patient-Ready, attach carrier to syringe and transplant.
Learn more about Patient ReadyTM Pre-Loaded DMEK Graft.
Descemet's Stripping Endothelial Keratoplasty (DSAEK)
Microkeratome prepared tissue that is processed by Utah Lions Eye Bank's highly skilled technicians with customized graft thickness and customized markings.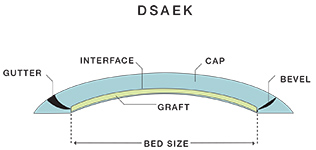 Additional Tissue Types
We also offer these additional tissue types:
Sclera – quarter or whole
Glycerin Preserved Cornea
Whole Globes for Research
Utah Lions Eye Bank offers a simple and user-friendly portal to make it easy for our surgeons and their staff to request corneal tissue.
If you are interested in learning more about working with the Utah Lions Eye Bank, please email wade.mcentire@hsc.utah.edu or call 801-585-6547.
If you already have an account, you can request tissue here or contact us with questions by email at uleb.distribution@hsc.utah.edu or call 801-213-2092.