"Primary care is the heart of medicine," says Wendy Macey, PA-C, a family medicine primary care provider (PCP) and a medical director at University of Utah Health. "It's the bedrock of where health care comes from, starting with the care mothers and fathers give to their children—a higher level of intimacy and understanding that stays with you."
Macey loves her job. She loves being there for her patients when they're healthy and when they're not and building a relationship that helps her understand both sides of that equation. Macey says she learned the foundations of primary care from her dad, a small-town doctor.
"If someone was sick or anything happened, they came to our house. That was care." Macey says she realized then that medicine is both simple and complex. "Sometimes he didn't do anything fancy except listen when they were scared or take an extra minute to look in a kid's ear. It didn't seem like it was rocket science, but it meant everything to them."
What Is Primary Care?
So, what does a primary care doctor do? A primary care doctor is an advocate, a coordinator, a central person who knows you at your baseline, and the lead of a team who works with that provider to know you, and to meet your individual needs for comprehensive care.
Amenthist Gibbs, a patient of Macey's for nearly a decade, describes primary care as a relationship for health. "For me, I'm all about personal relationships and Wendy is very personable. She'll remember the things that I've told her." says Gibbs. "And she senses when something is off, like when I was dealing with a death in the family, and she asks if I'm alright."
"It's so critically important to have the primary care relationship available and sustained...Then I don't have to try and immediately forge a bond with a patient when they come in feeling their worst, there's something that we've already been connected over, so it's not as scary for them. There's a way for us to just kind of go, 'Okay, we've got you.'" —Wendy Macey
Gibbs relied on that primary care relationship after she began having extreme abdominal pain and nausea. She went to the emergency room and found out her gallbladder had to be removed. The situation worsened when it was discovered that Gibbs had a liver hemangioma that could cause her to bleed out if it was accidentally nicked during gallbladder surgery, a risk that meant Gibbs needed a transplant surgeon to do the procedure.
"He was great, but he's a specialist and just moved on after my surgery, and my pain wasn't managed at all. A specialist knows everything about one subject area, but a primary care provider knows a little about everything, and can link it all together," said Gibbs. "It was Wendy who saw me right after my surgery, when I was still nauseas and having sharp pains. It was easier for her to understand because she knows me. She coordinated everything and made sure my pain was under control."
"Amenthist is incredibly active. She's a mom, she's running around all over the place and always upbeat," says Macey. "Alarm bells went off because this was 100 percent not the person I saw a month ago. That's where it really helped knowing how Amenthist usually is, to better advocate for her and pursue every avenue of care she needed to recover."
The Importance of Knowing You
At U of U Health, primary care providers work to know you well, to keep you healthy. Preventative care is important to both quality and length of life. Annual physicals and baseline tests help make sure doctors catch changes early. Yet, some people may avoid seeing a doctor until it's an absolute emergency.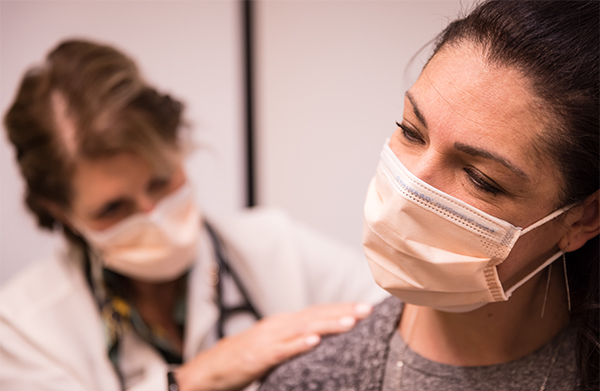 "Nobody likes to go to the doctor and have all those preventative tests...all the things that you're supposed to be doing on a regular basis." Says Gibbs. "But being more comfortable with your provider, like I am with Wendy, I'm less likely to put those things off."
Gibbs is a strong advocate for the preventative care a PCP provides. "We aren't allowing ourselves to get the best possible outcome if we're not willing to prepare," says Gibbs.
Macey agrees. "We always have optimism for good things, but we do prepare. We put our seatbelts on right when we get in the car, not as we're crashing. "
Your primary care provider is meant to be the centralized person that knows enough about your concerns, and about you, to bring a specialist up to speed, so you get the most out of referral appointments. And those specialist referrals then generate reports that your PCP reviews, contacting you to ensure appropriate follow-up.
What Doctor Should I See?
Gibbs says building a relationship with a provider you click with makes a big difference. "I've seen other providers when I lived in a different area, and I definitely pushed off those yearly things because I just wasn't feeling a connection."
So, how do you find the right primary care provider for you?
Know what you want out of the relationship.
Choose family, internal, pediatric, or geriatric medicine.
Look through U of U Health online doctor reviews.
Talk with front desk staff about the approach you prefer.
Be honest with the practitioner if it's not a good fit – they can recommend a colleague.
U of U Health prioritizes transparency and was one of the first to offer doctor reviews online. The teams truly want to know how patients feel, working hard to distribute and collect surveys. The PCP staff also want you to have a good connection with your provider, so they'll gladly work to match your preferences with a recommendation.
One thing Macey says to remember, when seeing a primary for the first time, is to be patient with the process. "If they've been letting issues stack up, understand that everything can't be taken care of in one visit," Macey says. "It's building a relationship and understanding. It's like getting to know a new friend. You don't just meet them and tell them about your entire childhood. We'll get there."
The University of Utah Health Difference
Macey says there are some days on the job that are harder than others, but she can always count on her team. "Part of staying at your best is surrounding yourself with an exceptional group of colleagues, which I am so incredibly lucky to have. We don't have a lot of ego; we just have a lot of partnership. It's a really supportive environment," says Macey. "And it shows in how we care for our patients."
Another positive difference at U of U Health is how providers see their role. "We understand that a patient may be getting news they didn't want, that has changed them somehow, and they're processing it," says Macey. "And we know the very, very privileged position we're in to be part of the process, to be able to pass through that with them."
Macey says people often just want to know if something is normal, and they need that comfort of knowing it is, and knowing it's okay to be scared.
"When anything goes wrong, your mind starts racing. Wendy always takes the time to comfort me," says Gibbs. "She makes sure I understand what the plan is and what to expect, to ease my mind." —Amenthist Gibbs
It all comes back to the foundations of primary care, says Macey. "I remember my dad telling me that a long, long time ago. You must be there to be a witness. Not to absorb the pain, but to support people through it. And that's what we do."