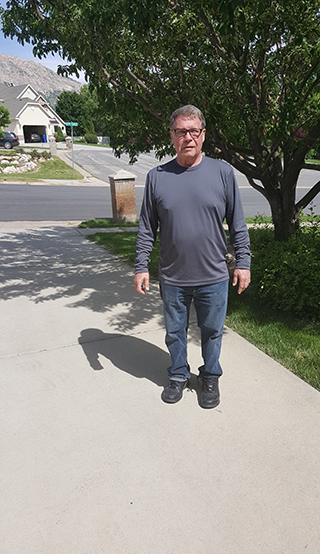 It's happening in the bedrooms of millions of men in the U.S., but it's not something they really want to talk about. The inability to get or maintain an erection during sex—called erectile dysfunction, or ED—is a difficult and personal subject.
But according to The Massachusetts Male Aging Study, around 40 percent of men over age 40 experience ED at least once, and by age 70 that jumps to 70 percent. A smaller group of men—about 5 percent of men age 40, and 15 percent of men by age 70—experience complete erectile dysfunction, defined as the complete inability to achieve or maintain an erection for sexual performance.
For Gene Miluk, like millions of men, the physical condition was frustrating, but even more difficult was the psychological toll that it was taking on him, his wife, and his marriage of 47 years.
"You feel so alone going through this. Men don't talk about it. Who am I going to talk about this to?" said Gene. "It is very easy to try to deal with this by yourself, and in the process isolate yourself from your loved ones and not seek the help you need."
The first time he experienced ED in his mid-50s he thought it was just a fluke, which was a reasonable assumption to make. More than half of men experience episodic erectile dysfunction at some time in their life from things like stress, too much alcohol, or as a side effect of medication. He had type 2 diabetes and a heart condition (arteriosclerosis), but he didn't connect those to his ED. As his sex life deteriorated, Gene became embarrassed and demoralized.
"I remember almost whispering the words to my doctor the first time," said Gene. It was also difficult for his wife, who wanted to be supportive, but at times couldn't help wondering if the reason he couldn't get an erection had something to do with her (a common misconception among partners of men with ED).
When he did bring it up, his primary care doctor did what most would do, and prescribed Viagra. What Gene didn't know at the time, and what he wishes his doctor could have explained a little better, is that his heart condition was likely related. With his chronic health conditions, the ED would probably get worse.
Popular ED medications like sildenafil (Viagra), tadalafil (Cialis), or vardenafil (Levitra) are effective, but the benefit they provide can wear off or stop completely for some people. When that happened to Gene he started Trimix injections about once a week, but within a year he noticed that he had to use more and more Trimix each time to achieve erection, and worried that it would eventually stop working like the pills.
"My ability in the bedroom became part of my sense of self-worth," said Gene. "ED interfered with the joy and happiness we had as a couple. Each time we tried to make love I was always fearful: would this be another one of my failures?"
At age 68 he got a referral to see James Hotaling, MD, a urologist who specializes in men's health and infertility at the University of Utah Men's Health Clinic. Gene's first appointment was with Ariel Black, PA-C, a physician assistant who works with Dr. Hotaling. She spent close to two hours with Gene and his wife at their first appointment explaining male anatomy in detail, including why it was so important to have frequent, healthy erections at every age. Infrequent erections, or none at all, could lead to scar tissue and more trouble getting erections in the future. She also discussed the progression he had experienced—ED, pills that stop working, injections—as a very predictable outcome for someone with his heart condition and other underlying health conditions.
"I relied very heavily on Ariel and Mariah (a surgical coordinator), through the whole process. I thought of them as my coaches," said Gene. "I needed someone knowledgeable who would take the time to answer questions, discuss, explain my conditions, my options, and the consequences."
His best option, according to Ariel and Hotaling, was to get a penile implant. The idea terrified him at first, but the more they discussed it, the more he realized it was his best chance for getting back what was missing in his sex life. "For me, the choice was to get a penile implant or just decide not to have sex anymore, which was not something I wanted."
Gene had a list of what he would require before considering surgery, and at the top was a skilled surgeon with a lot of experience and low infection rates. His research revealed that surgeons who perform 50 or more penile implant procedures a year have a much higher success rate and fewer complications that require "revision" surgery later. Hotaling met that threshold as the most qualified urological surgeon who has performed more than 50 penile implant surgeries in the entire Mountain West region. Hotaling also performs the surgery using the "no touch" method, which significantly reduces the chance of infection.
"The day of the surgery I was scared to death. We asked a million questions and Mariah spent time answering all of them. I can't tell you how psychologically [and] emotionally critical that support is," said Gene.
The procedure lasted only an hour and he was able to go home the next day. He left with post-operative instructions, along with instructions for 'physical therapy' to inflate the device daily starting three weeks after surgery to regain function and avoid scar tissue buildup. He could resume sexual activity within five to six weeks.
Gene remembers his wife telling him early on that if he decided on a penile implant to do it for himself, not for her. He also remembers the first time they made love after the procedure, and how happy they both were that this part of their relationship was restored.
"Now I have stress-free, worry-free, spontaneous, fun-filled lovemaking with the woman I have adored for 47 years," said Gene. "The implant has restored the joy and happiness in our love life."
The best advice he could give to any man experiencing erectile dysfunction?
"I wish I had gone directly to a men's health facility when I first had ED," said Gene. "What's great about the Men's Health Clinic at University of Utah is that they can treat the whole process, and not just look at one ED event."