Sports have always played an important role in Blair Cruikshank's life. A competitive gymnast until age 13, Cruikshank also played on her high school's soccer team. Although she was a fierce competitor in both sports, her one true love is speed skating.
It might seem like an obvious choice—Cruikshank's parents are Bonnie Blair (one of the most decorated American female athletes in Olympic history) and David Cruikshank (a four-time U.S. Olympic speed skater). But Cruikshank wasn't always interested in following in her parent's footsteps.
"When I was little, I actually never wanted to put speed skates on," Cruikshank said. "I didn't want to be like my parents. I wanted to be my own person." Cruikshank's parents never forced speed skating on Blair or her older brother Grant, who plays ice hockey for the University of Minnesota. They supported both children in whatever sports endeavors they chose to pursue.
However, a year after quitting gymnastics at the age of 14, Cruikshank decided it was time to give speed skating a try. "Because of my brother's hockey games, we were always at the rink," she said. "When I quit gymnastics, I had a lot of free time on my hands, so I'd go to the rink, put on hockey skates, and skate around the oval. One day I was just kind of like, 'Well, what if I try speed skating?'"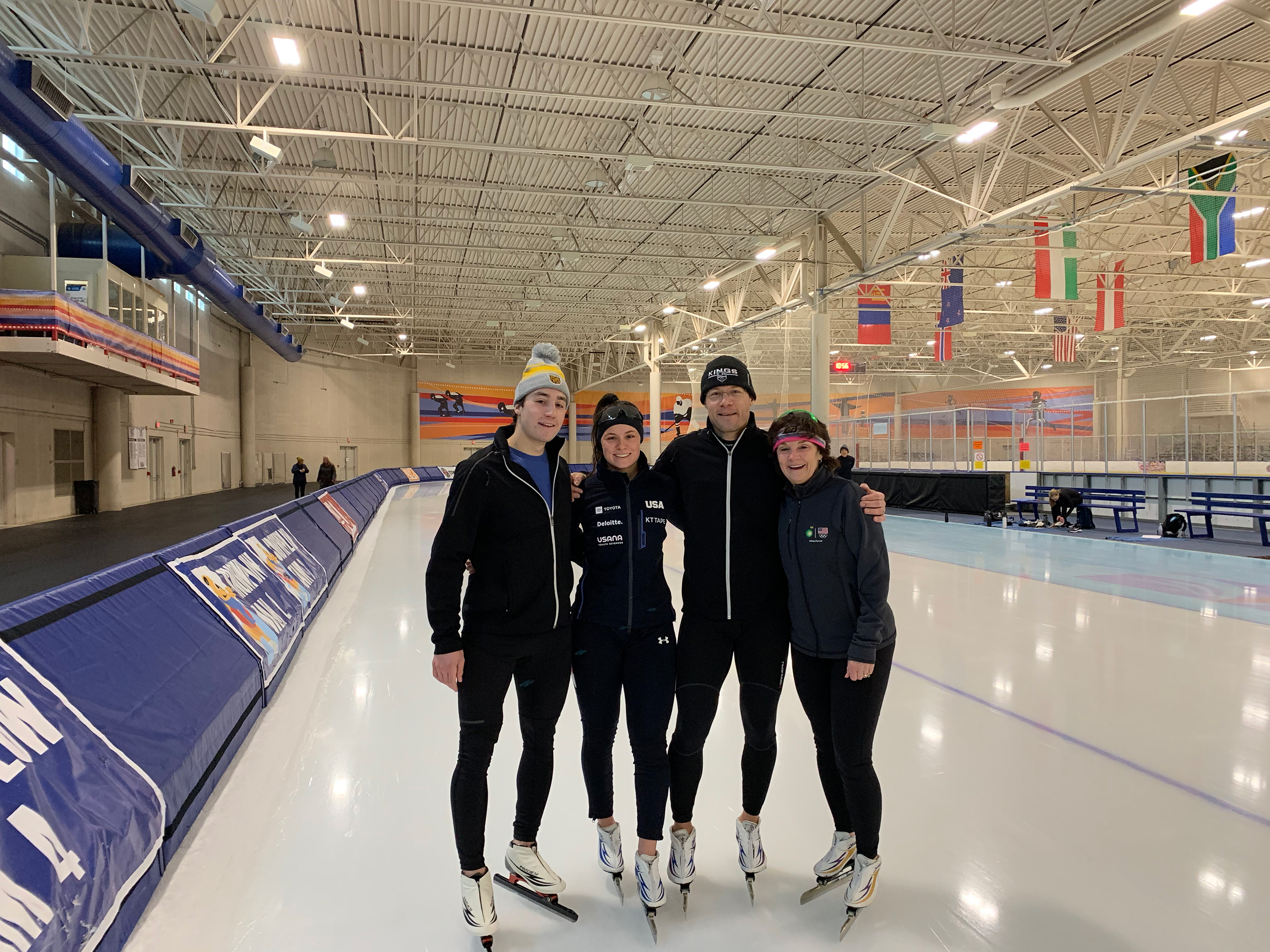 Since then, Cruikshank has proven herself as a force to be reckoned with, setting four personal bests at the USA Speedskating Long Track National Championships in 2019. This success led to her being named the 2019 overall junior national champion. However, persistent hip pain started to interfere with Cruikshank's training.
"I can't remember when it started to hurt, but I know that even back when I was a gymnast, it bothered me," she said. "It wasn't that bad when I first started speed skating, but as I continued training and competing, the pain got worse than ever before, especially over the past three years."
Cruikshank was diagnosed with Femoroacetabular Impingement Syndrome (FAI), a painful condition that occurs when the ball of the femur (thigh bone) can't move normally in the hip socket due to a bony defect in either the ball or socket. This defect creates an abnormal collision within the hip joint that can damage the labrum (soft tissue) of the hip socket, causing severe groin pain and a pinching feeling. FAI can cause pain that not only impacts an athlete's ability to play sports but can also interfere with sitting or squatting comfortably.
Lucky for Cruikshank, she and her family found University of Utah Health's hip preservation program—a destination care program focused on diagnosing and treating FAI and other hip problems.
Cruikshank was introduced to Travis Maak, MD, an orthopedic surgeon specializing in arthroscopic hip and knee preservation at U of U Health. He was able to confirm her FAI diagnosis through X-ray, MRI, and diagnostic injection and recommended surgical intervention.
"Blair was the perfect candidate for surgery," Dr. Maak said. "She had some extra bone growth on the ball of her femur, and with a situation like hers, the success rate is 90 to 95 percent. Once the bone is reshaped, the bone deformity doesn't grow back."
Although Cruikshank met with other specialists, she ultimately chose Dr. Maak because of his expertise in the field and how well he treated her and her family.
"Dr. Maak is awesome," Cruikshank said. "I've never had surgery before, so I didn't really know what went into it. From the moment we met, he explained everything and treated me and my family so well. I am very thankful for him."
Cruikshank lives in Wisconsin with her family but travels to Utah often for training and competitions. Dr. Maak and his team coordinated with her busy training schedule to ensure a convenient surgery time.
"I had the surgery on March 10, 2020," Cruikshank said. "I was already in Utah, so I was able to get the surgery just two days after my last competition in Salt Lake City. The timing was perfect."
Cruikshank had a cam deformity type impingement caused by extra bone growth at the junction of the ball and neck of the femur. This is the most common type of impingement for FAI, and surgery is done via arthroscopy, a minimally invasive surgical approach done through a few small incisions. Surgery is done to reshape either the ball, the hip socket, or both. For Cruikshank, Dr. Maak and his team reshaped the ball of her femur and repaired her labrum.
"Blair is a high-level speed skater following in her mother's footsteps," Dr. Maak said. "She was able to compensate for her hip pain with her muscle stability for several years, but this surgery has allowed her to get back on the ice, pain-free."
Two days after surgery, Cruikshank flew home to Wisconsin, where she started a carefully constructed speed skating-specific rehabilitation plan. A week after surgery, she was on the exercise bike.
"It was the slowest biking you've ever seen," she said. "But it was our first step to get things moving again."
For the first few months after surgery, Cruikshank did three to four hours of physical therapy every day. With her eyes on the Olympics, she knew she needed to recover as fast as possible. By mid-September 2020, she was back to skating and training. And by March 2021, she was back to sprinting on the ice—something that she has missed during the past year.
"It feels so good to be back at it," she said. "And it also feels good to know that I still have the support of Dr. Maak and his team."
Now that Cruikshank is officially back on the ice, she has her sights set on the Olympic Trials this coming January. The trials will be held in Milwaukee at the Pettit National Ice Center—her home turf, a perfect place to qualify for the 2022 Olympic Winter Games.