In many ways, Jack Moser is like any other 7-year-old boy.
Jack lives in Pocatello, Idaho with his parents and his older brother. He loves riding his bike, playing basketball, drawing, and spending time with his family. Yet there are many things that make Jack extraordinary. In his young life, he has already overcome serious challenges to get where he is today.
Jack was just 5 years old when, in July 2020, he was run over by a recreational vehicle (RV) while on a camping trip with his family in Island Park, Idaho. The family was out for a bike ride when he lost his footing and tipped over.
The unthinkable happened when a passing RV ran over Jack. Jack suffered a crushing injury to his abdomen and pelvis and was losing blood quickly. Luckily, an ambulance was in the area transporting another patient to a nearby hospital and stopped to get Jack and his mom, Amber Peterson. By the time the ambulance made the 30-mile journey to Ashton, Idaho, a helicopter was ready and waiting to transport Jack to Eastern Idaho Regional Medical Center (EIRMC) in Idaho Falls.
Jack was loaded into the helicopter as his family began the hour-long drive from Ashton to Idaho Falls. Jack's dad, Jordan Moser, drove the family car while his mom drove with a police officer in hopes of getting to the hospital as quickly as possible.
Initial CT scans done at EIRMC showed extensive and severe trauma that would require expert, immediate attention. Doctors at EIRMC contacted Katie Russell, MD, Trauma Medical Director at Intermountain Primary Children's Hospital (PCH) in Salt Lake City, Utah. Everyone agreed that Jack should be transferred immediately.
"We were lucky that the doctors at EIRMC acted so quickly to make sure Jack got the level of care he needed," Amber said. "Dr. Russell advised the doctors in Idaho on how to keep Jack stable while he was transferred, and then we flew to Salt Lake City."
After arriving at PCH, Jack immediately went into surgery with an exceptional team of pediatric surgeons at the helm. Russell; Stephen Fenton, MD, FACS, FAAP; Anthony Schaeffer, MD, MPH; and Joshua Klatt, MD, performed the initial bleeding control surgery.
"Early the next morning, three surgeons came out and told us that they were able to stop the bleeding and had gotten Jack somewhat stable," Amber said.
After surgery, Jack moved to a zero-pressure isolation room in the Pediatric Intensive Care Unit (PICU) due to a COVID-19 exposure during the ambulance ride.
"I stayed in the isolation room with Jack," Amber said. "Once we both got a negative test result for COVID, we were moved to another room in the PICU."
After a few weeks in the PICU, Jack moved to the Neuro Trauma Unit (NTU) for the remainder of his 76-day hospital stay.
Although PCH is an Intermountain Healthcare facility, thanks to a unique partnership with the University of Utah School of Medicine, Jack's care team consisted of providers from both U of U Health and Intermountain. This partnership creates a different kind of collaboration with physicians and staff across the two health care systems and brings more expertise to the table.
David Rothberg, MD, an orthopedic trauma surgeon who splits his time between PCH and University of Utah Hospital, was asked to evaluate Jack's injuries and perform the needed surgery on Jack's pelvis.
"Jack had an open book pelvic fracture, an injury that can kill you," Rothberg said. "We did two surgeries to repair and reconstruct his pelvis, along with a third surgery for hardware removal."
During the first surgery, Rothberg and his team used screws and an external fixation frame to reconstruct and stabilize the pelvis. The surgical team also packed Jack's pelvis with sponges to help control the bleeding.
"It's like holding pressure on a wound," Rothberg said.
During the second surgery, Rothberg removed the sponges and made sure the alignment of the pelvis was correct.
Next came the soft tissue reconstruction with the plastic surgery team. Faizi Siddiqi, MD, senior faculty in the Division of Plastic Surgery at the University of Utah, has expertise in pediatric plastic and craniofacial surgery.
Siddiqi and his team performed all of Jack's skin graft surgeries.
"Jack had extensive open wounds involving his abdominal wall, most of his back, buttock, and perineal areas," Siddiqi said. "It was obvious that there was a lot of tissue that wasn't going to survive due to the injury. It took Jack several trips to the operating room just to get him ready for the reconstructive procedures."
Eventually, the tissue that wasn't viable was removed, and Jack's damaged skin was replaced by skin grafts.
In addition to the pelvic bone injuries and tissue damage, Jack sustained severe internal injuries to his urethra, colon, and rectum.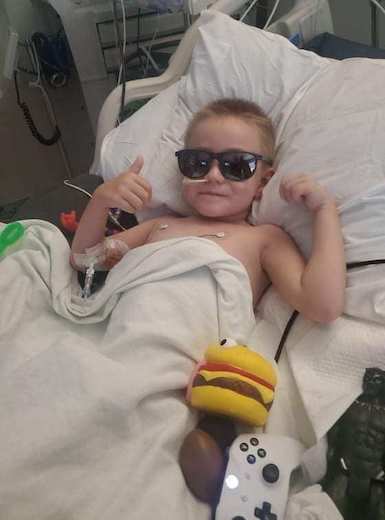 "Dr. Jeremy Myers, Chief of the Division of Urology, did the reconstructive surgery on Jack's urethra and it was a total success," Jordan said.
Myers used all the tricks of the trade to reconstruct Jack's urethra. His injury—a pelvic fracture urethral injury—left him with seven centimeters between the two ends of the severed urethra.
Currently, Jack has an ostomy bag that will hopefully be removed in the future.
After 26 trips to the operating room and 98 days in the hospital, Jack was able to go home. Over the coming months, he would return for additional check-ups and hospital stays to ensure he was healing properly.
Jack celebrated his 6th birthday in the hospital. He missed nearly an entire year of kindergarten. When he was released from the hospital in November 2020, he immediately started physical therapy to learn how to walk again.
"He had a wheelchair and then moved to a little walker," Jordan said. "He had a goal to be walking unaided by Christmas. He reached his goal."
Although it is typical for the pelvic bone to heal well in most patients, Jack's recovery is still miraculous.
"Jack's accident stretched the spinal nerves that exit the spinal column through the pelvis," Rothberg said. "When the nerves are stretched or injured, it can prevent the leg muscles from working properly, but Jack was mostly recovered and walking on his own just months after his accident."
Rothberg saw Jack at a follow-up appointment several months after the accident.
"He was bouncing around the clinic room and asking his dad why they were there," Rothberg said. "That's what you want to see."
Nurse practitioner Julia Smith has been working in the trauma service line at PCH for more than 18 years and was one of the many providers who helped care for Jack.
"Jack's situation is a great reminder that it takes a village," Smith said. "From the EMS care to the ER, the PICU to the floor care, the bedside nurses, therapist, pharmacists, and social workers—it just shows the amazing capability of our center and what we are able to do when we collaborate and come together to care for the patient."
Ciara Jackson, RN, was another member of Jack's village. Jackson was one of his primary bedside nurses while he was in the NTU.
"Every once in a while, you have a patient who is really, really special and will stay in your heart forever," Jackson said. "I was the first nurse to get him out of the PICU, and as soon as I met him and his parents, I could just tell they were so special. I can't say enough amazing things about him and his family. I have so much love for them."
While working with Jack, Jackson was struck by his energy, his bubbly personality, and his positivity.
"Given his age and everything he has been through, for him to still be able to be positive and have a good attitude, it's very special," Jackson said. "You will never find a more amazing patient. He will be in my heart forever."
Jack had some of the worst injuries that Jackson has seen in her four years as a nurse at PCH.
"His case was so specialized, and I'm so grateful that Primary Children's has a partnership with U of U Health," Jackson said. "Jack has had a really good outcome in part because of the access we have to so many experienced specialists across the two health care systems."
Jackson saw firsthand the collaborative effort between the many different doctors, nurses, and medical staff across U of U Health and IHC.
"Every single person who helped care for Jack gave him their absolute all," Jackson said.
In addition to expert medical care, family support was another vital piece of the healing puzzle.
"The positivity and support that Jack's family had for each other through their darkest times was impressive," Jackson said. "That kind of support can make all the difference."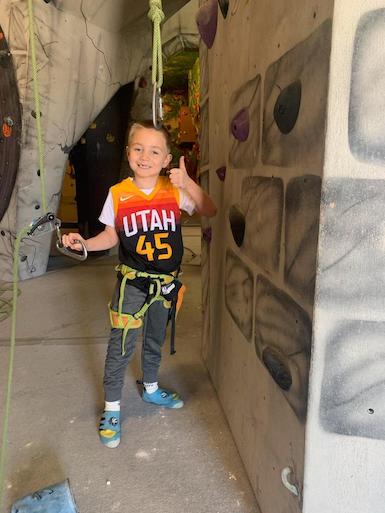 The positivity and support of Jack's family members reached every single person who took care of Jack.
"We couldn't have asked for better caregivers with Jack's parents and the way they rallied to support their boy and embrace every treatment and possibility of care," Smith said. "His positive outcome is in large part because of his amazing parents. They created this spirit in Jack that was able to think positive and embrace things that are really hard."
It's been nearly two years since Jack's accident, and as his recovery continues, his light is still shining bright.
"There's nothing he can't do," Jordan said. "He's played soccer, basketball, downhill skiing, and this year he skied his first black diamond ski run. This kid doesn't let anything stop him. He has this will to do good, and he does it."
Jack's parents will be forever grateful for the expert level of care they received from both U of U Health and IHC providers.
"I wish there were words to really say how much we loved our doctors and nurses," Amber said. "You never want your child to end up in a hospital, but we sure are grateful to have been at Primary Children's after the accident. We are so grateful for everything the doctors and nurses did for Jack and our entire family."