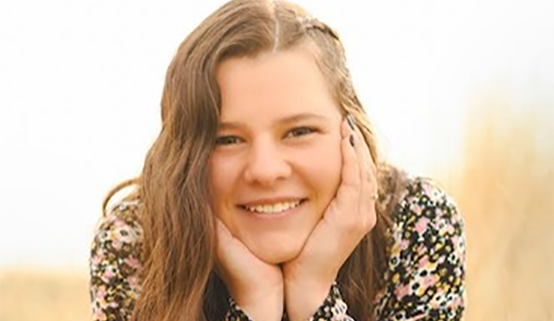 Youth Residential Treatment (YRT) is one of the child and teen mental health programs at the Huntsman Mental Health Institute at University of Utah Health (HMHI). Established in 2014, YRT is a 16-bed, 24-hour residential treatment facility licensed to treat adolescent females between the ages of 13 and 17.
For 18-year-old Whitney Godfrey and her mental health, the YRT has been a lifesaver.
Godfrey, who was diagnosed with major depressive disorder, generalized anxiety disorder, and an eating disorder, has gone through various treatments since her early teenage years. She has been hospitalized seven times, along with receiving various treatments at multiple day treatment and inpatient programs.
"We had quite the journey," Godfrey's mother, Jill, said. "We had experienced a lot of places, and YRT was by far the most helpful and amazing."
Godfrey was first admitted to the YRT in September 2020 and again in January 2021. On March 24, 2022, she celebrated her one-year anniversary of finishing her inpatient treatment at YRT.
"I never thought I would celebrate my one year out of treatment," Godfrey said. "I have only ever made it six months out of treatment before now."
Patients admitted to the YRT have varied lengths of stay depending upon their individual needs and treatment plan. The first time Godfrey was admitted to YRT, she was there for two months.
"I wasn't very compliant," said Godfrey when asked about her first course of treatment at YRT. "I didn't really do anything they wanted me to do. I would go to family therapy with my mom and dad and just cry and not say a word to my parents."
It was during this time that Godfrey's care team at YRT realized she wasn't responding well to the course of treatment and needed something different. At the recommendation of the care team and after conversations with Godfrey and her family, she was sent to blueFire Wilderness Therapy in Idaho, a program for preteens, teens, and adults who are struggling with emotional, social, and behavioral challenges.
Child and adolescent psychiatrist Thomas Conover, MD, has been with University of Utah Health since 2005, spending most of his time on inpatient treatment programs as well as the YRT. He notes that leaving the YRT to enter wilderness therapy may seem an odd recommendation, as it would take Godfrey out of the U of U Health system.
"Whitney was a real pleasure to take care of," Conover said. "She had been through so much. Before coming to HMHI, she had already gone through a lot of different kinds of treatment. And while these were really good treatment options, we realized it was time to acknowledge that—for this individual—they weren't working."
Conover—like every other provider at YRT—focuses on individualized treatment plans so that every patient is getting the right treatment at the right time.
"After receiving treatment at the YRT for a few months, it got to the point where she was just kind of stuck," Conover said. "Initially, we wanted to intensify the treatment at YRT, but then the care team—along with Whitney and her family—decided that going to wilderness therapy was the right thing to do at that time."
For Godfrey, wilderness therapy was—literally—just what the doctor ordered.
"Going to wilderness therapy was the best thing that happened because it's where I gained the motivation to change," Godfrey said. "After about six weeks, I wanted to go back to YRT. I realized I had messed up. No other treatment center was like YRT, and no other treatment center would be able to help me like they did."
So, in January 2021, Godfrey was re-admitted to the YRT and began to make great progress, thanks to the care and support of the YRT care team helping her through her second course of treatment.
"I remember one of my favorite staff telling me and the other patients that the YRT is our home while we are there," Godfrey said. "She told us the YRT is a place where we could express ourselves and be ourselves. That made such a big difference, and it made it really feel like a home where you could get the help you really needed."
Psychologist Lindsay D. Wilson-Barlow, Ph.D., M.A., is another member of Godfrey's care team at the YRT. Wilson-Barlow has been with U of U Health for more than five years, working in different treatment programs associated with HMHI.
"Whitney is a good reflection of what our program can do and that it's okay if it takes more than one course of treatment," Wilson-Barlow said. "I always talk to people about how recovery is not a linear trajectory. There are peaks and valleys and that's to be expected."
To help every patient through these peaks and valleys, a highly trained, multidisciplinary group of specialists and mental health professionals are a part of every teen's treatment team during their residential stay. Multidisciplinary providers collaborate with each patient and their parents to set treatment goals and develop an individualized treatment plan.
Depending on the needs of the patient, their YRT treatment team may consist of a board-certified child psychiatrist, psychologist, social worker or mental health counselor, education coordinator, expressive therapists (music, art, and recreation therapy), nurses, psychiatric technicians, and a registered dietitian (as needed).
Conover and Wilson-Barlow are both glad they were able to be a part of Godfrey's multidisciplinary care team at YRT.
"What makes me feel really good is when we refer someone out to another provider and then that patient chooses to come back to us for more treatment," Conover said. "Whitney made this personal choice to come back to YRT and do what she couldn't do before. We were able to hit that sweet spot and give the right treatment to the right person at the right time, and that's what you are always pursuing as a provider."
Although Godfrey has been out of the YRT for more than a year, she still continues to receive outpatient care to help her on her journey.
"It's not that Whitney is at the end of her treatment journey," Conover said. "But she has experienced growth and improvement and continues to work to live her life the way she wants to live it—to be functional and to have a good quality of life."
Conover hopes other patients find Godfrey's experience inspiring.
"For anyone who has a significant health issue that's chronic or recurring—whether it's diabetes, lupus, or depression, there is hope," Conover said. "You engage with competent, knowledgeable, compassionate caregivers and work together as a team. Not with an unrealistic goal that everything is going to be perfect, but with the knowledge that together, you can find the best treatment option. Then you do the best you can with the situation you are in. This is what Whitney has been able to do, and I'm so happy for her."
As Godfrey celebrates her year anniversary out of treatment, she is happy too. And grateful for the treatment and care she received from the team at the YRT.
"I feel like YRT is unlike any other treatment center, ever," Godfrey said. "I've been to day treatment, I've been to residential, I've been inpatient before. The YRT is just nothing like any other treatment center, and there is no other place I would ever want anyone to go to."