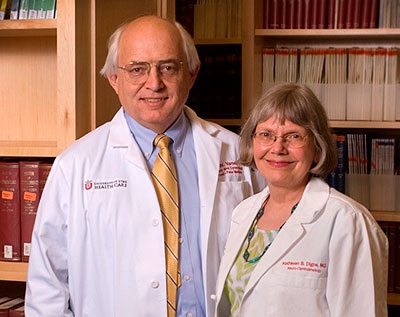 Two professors at the University of Utah—Kathleen B. Digre, professor of neurology and ophthalmology, and Michael W. Varner, professor of obstetrics and gynecology—were honored at today's commencement ceremonies with the Rosenblatt Prize for Excellence, the U's most prestigious award. The $40,000 gift—which is presented annually to a faculty member who displays excellence in teaching, research and administrative efforts—will be shared for the first time by two individuals. Digre and Varner are also married to one another.
The Rosenblatt Prize Committee, a group of distinguished faculty members, recommends selected candidates for the award. University of Utah President David W. Pershing made the final selection and said that "this year we found it impossible to choose one over the other. Kathleen and Michael are both extraordinarily gifted teachers, dedicated and proficient administrators, and are internationally regarded as two of the foremost researchers and leaders in their fields. The University community is enhanced by their work, and it a distinct pleasure to bestow this honor on them."
ABOUT KATHLEEN B. DIGRE, M.D.
Digre is a world-renowned ophthalmologist and neurologist. Through her efforts, the U is one of a few institutions in the world with certified fellowship-training programs in neuro-ophthalmology, a medical sub-specialty focusing on brain problems that affect vision.
She was the first woman president of the North American Neuro-ophthalmology Society, past councilor for the American Neurological Association and currently sits on the board of directors for the American Headache Society. She is the recipient of the Utah Library Association Special Service to Libraries Award, Gender Equity Award, Linda Amos Award, the Martha Hughes Cannon Award and the NANOS Distinguished Service Award. Dr. Digre was a fellow at ELAM (Hedwig van Ameringen Executive Leadership in Academic Medicine).
Professor Klara Landau, professor and chair of ophthalmology at the University Hospital Zurich, Switzerland, described the impact of Digre's leadership and passion for teaching saying: "With creativity, persistence and tireless effort, she made possible the establishment of a virtual library for neuro-ophthalmology—the Neuro-Ophthalmology Virtual Education Library commonly known as NOVEL—that is now being used by literally thousands of teachers and students around the globe. Without her initiative and engagement this project would never have been accomplished."
Bradley Katz, associate professor of ophthalmology and visual sciences at the U, notes that Digre is "the consummate clinician" with a holistic approach to patient care that includes "the patient's other system illnesses, medications and psychological history." Accordingly, she has been recognized by Best Doctors in America every year since 1994.
Digre received an M.D. from the University of Iowa and has been a member of the University of Utah faculty since 1987 with primary appointments in both neurology and ophthalmology, as well as adjunct appointments in obstetrics and gynecology as well as anesthesia. She is the author of over 100 peer-reviewed articles, two books and numerous invited lectures. She is also director of neuro-ophthalmology fellowship, the division of headache and neuro-ophthalmology and the Center of Excellence in Women's Health at the U.
ABOUT MICHAEL W. VARNER, M.D.
Varner is an internationally recognized expert in maternal fetal medicine clinical research. Regionally, his efforts have facilitated NIH-funded clinical research through major hospitals and local practices along the Wasatch front for the past two decades. Globally, he established a service mission to Tibet, bringing education and improved healthcare to that region.
Also a prolific writer, he has 255 peer-reviewed manuscripts, 31 book chapters, one book, 25 short articles and letters and more than 211 abstracts and 347 invited presentations to his credit. "His work and efforts will impact the health and well-being of women and children over the next century throughout the world," notes Patrick Duff, professor of obstetrics and gynecology at the University of Florida College of Medicine.
Kjersti Aagaard-Tillery, assistant professor of obstetrics and gynecology at the Baylor College of Medicine, remarks that Dr. Varner is "one of the most steadfast and preeminent academicians in Maternal-Fetal Medicine of the past 30 years, and exemplifies each and every tenet of academic medicine: commitment to research, clinical care, and education."
Marshall Carpenter, a former professor of obstetrics and gynecology at the Brown Medical School, notes Varner's commitment to young investigators, saying, "most notably, he is recognized for his highly productive mentorship of the next generation of clinical scientists who will advance translational medical science."
Varner received an M.D. from the University of Minnesota Medical School and joined the department of obstetrics and gynecology at the University of Utah in 1987, where he is currently that department's vice-chair for research. Also at the University of Utah, he holds an H. A. and Edna Benning Endowed Presidential Chair and also serves the Health Sciences Center as the interim director of the Program in Personalized Healthcare, the associate director for women's health for the Center for Clinical and Translational Science and the co-director of the Institute for Women's and Children's Health Research. He serves as well as the co-director of the Clinical Genetics Institute for Intermountain Healthcare.
"We have a wonderful synergistic relationship—neither of us could have accomplished as much as we have without supporting each other," the couple noted in responding to the honor.
The Rosenblatt endowment, from which the prize money is drawn, was established in 1983 by the Joseph and Evelyn Rosenblatt family to honor the civic leadership and generosity of Joseph's parents, Nathan and Tillie Rosenblatt, who immigrated to Utah from Russia in the late 19th century.
ABOUT THE UNIVERSITY OF UTAH HEALTH SCIENCES:
The University of Utah Health Sciences programs are internationally regarded for their research and clinical expertise in medicine, pharmacy, nursing, and health. Through the School of Medicine and Colleges of Pharmacy, Health, and Nursing, the University of Utah health sciences faculty conduct pioneering research in the genetics of disease, regenerative medicine, drug compounds, cancer, nutrition, and other areas. In addition, the Health Sciences programs also train many Utah physicians, pharmacists, nurses, therapists, and other health-care professionals.