SALT LAKE CITY - The Utah Medical Association has named former Director of the Utah Department of Health, David N. Sundwall, MD, as Utah's Doctor of the Year for 2014. Utah Governor Gary Herbert honored Dr. Sundwall in a ceremony at the state capitol this week.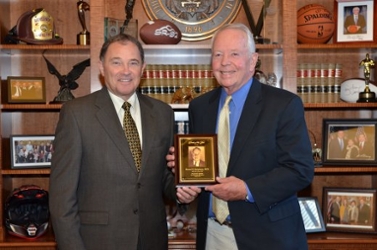 Born and raised in Murray, Utah, Dr. Sundwall followed several family members into the medical profession, including his father a brother and two great uncles.
Dr. Sundwall earned his medical degree at the University of Utah and completed further training at the Harvard Family Medicine Residency Program. He remains on the faculty of the University of Utah School of Medicine as a Professor in the Department of Family and Preventive Medicine. Through his career he has maintained his clinical connection to patients. For nearly two decades he volunteered a half day each week at the HealthCare for Homeless Project, a public clinic near the U.S. Capitol in Washington, D.C.
After 24 years of working in various government and private sector health positions in Washington, D.C., he returned to Utah to lead the Utah Department of Health (UDOH) in 2005, a post he held for 6 years.
Dr. Sundwall has been recognized for his professional achievements and contributions to healthcare policy and advocacy. Dr. Sundwall has served as President of the American Clinical Laboratory Association (from 1994 to 2003) and subsequently Senior Medical and Scientific Officer. He has held three medical school faculty appointments, including Clinical Professor, Department of Family Medicine, at the Uniformed Services University of Health Sciences [USUHS], in Bethesda, Maryland.
He has held numerous positions in the public health sector: from 1988 to 1994, he was Vice President and Medical Director of American Healthcare Systems, an alliance of not-for-profit multi-hospital systems. Prior to that appointment, he was Administrator in the Health Resources and Services Administration [HRSA].
Dr. Sundwall has served as an advisor, task force member and chairman of numerous committees involved with public health policy and quality including those connected with the Centers for Disease Control and Prevention and the Food and Drug Administration. In addition, his federal experience included serving as the Assistant Surgeon General in the Commissioned Corps of the U.S. Public Health Service. During this period, he had adjunct responsibilities at the Department of Health and Human Services (HHS) including: Co-Chairman of the HHS Secretary's Task Force on Medical Liability and Malpractice, and was the HHS Secretary's Designee to the National Commission to Prevent Infant Mortality. He is currently the Vice Chair of the Medicaid and CHIP Payment and Access Commission [MACPAC] in Washington, DC.
An author or coauthor of numerous publications in peer-reviewed medical literature, Dr. Sundwall has also contributed chapters to many books covering a broad spectrum of healthcare issues.
Dr. Sundwall continues to contribute his clinical skill to the medically underserved, spending two half days each week working in the Health Clinics of Utah at Salt Lake Clinic, and a half day at the Community Health Clinic in Midvale. In a letter nominating Dr. Sundwall as Utah's Doctor of the Year, Marc Babitz, MD, wrote, "I can think of no other Utah physician who is more worthy of recognition for his outstanding contributions to our community (local, state and national levels) and the practice of medicine."
Congratulations, Dr. Sundwall – Utah's 2014 Doctor of the Year!
SIDE BAR
The Utah Medical Association also would like to recognize two other finalists for the Doctor of the Year title: Thomas D. Coppin, MD, from Davis County and Robert P. Smilanich, MD, from Utah County. UMA is honored to represent such stelar examples of medical excellence and community spirit.