For millions of Americans, their world is dissolving into an unrecognizable blur. Diabetic retinopathy is an eye disease affecting one-third of the estimated 30 million Americans who struggle with diabetes. As the patients' vision slowly fades, it never recovers and few treatments are available.
Researchers at University of Utah Health have identified a protein (ARF6) that when inhibited reduces diabetic retinopathy, a condition that results when blood vessels at the back of the eye leak fluid into the eye, impairing vision. Published in the October 23 issue of The Journal of Clinical Investigation, these results offer an opportunity to develop new treatments for this eye disorder.
"What is exciting about this study is that we and our collaborators identified a compound (NAV-2729) that inhibits ARF6, which is crucial for the development of diabetic retinopathy," explained co-first author Weiquan (Wendy) Zhu, Ph.D., research assistant professor in Internal Medicine at U of U Health.
Studies were conducted in rodents treated to simulate the diabetic condition. By injecting NAV-2729 into the eyes of these animals, vessel leakage, as well as, the overgrowth of blood vessels, another driver of disease, were significantly reduced.
The long-term efficacy of treatment remains unknown. It also remains to be determined whether the drug will be suitable as a therapeutic intervention for people.
"ARF6 acts like a traffic cop at a busy intersection within a cell," explained Dean Li, Ph.D., vice president, Head of Translational Medicine at Merck & Co. and senior author on the paper. Li is the former associate vice president and chief scientific officer at U of U Health and co-founder of Navigen Inc. "ARF6 orchestrates multiple inflammatory signals that contribute to inflammation common in many diseases, including diabetic eye disease."
ARF6 amplifies and maintains the signal protein (vascular endothelial growth factor (VEGF)) receptor, which stimulates a series of cascading responses, leading to a diseased state in the eye.
Today, patients with diabetic eye disease can receive monthly anti-VEGF injections directly into the eye to reduce inflammation, a treatment that is successful in only 40 percent of patients. In the study, injections of NAV-2729 into the eyes of diabetic mice were more effective in reducing blood vessel leakage than the anti-VEGF injections.
"Diabetic retinopathy can develop over time, leading to dramatic vision loss that may not be improved with glasses," said M. Elizabeth Hartnett, M.D., professor in Ophthalmology and Visual Sciences at Moran Eye Center and a contributor to this study. "New treatments are needed, because diabetic retinopathy is increasing world-wide and anticipated to increase more in the next decades."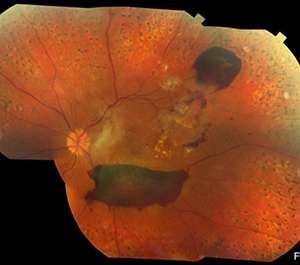 "We think these results are important because they identified a mechanism by which ARF6 controls VEGF receptor signaling and therefore may have much broader implications, extending to other diseases that involve VEGF receptor activation, such as cancer," said Shannon Odelberg, Ph.D., research associate professor in Internal Medicine at U of U health and corresponding author on the study.
According to Odelberg, ARNO activates ARF6, which shuttles the VEGF receptor into the cell where its signal can be amplified. GEP100 activates ARF6 to recycle the VEGF receptor back to the outside of the cell where it can be reactivated for the signaling process to begin again. This signaling loop triggers disease by increasing blood vessel leak and the formation of new and weak blood vessels.
The team of researchers plan to continue to explore the role of ARF6 in other inflammatory diseases.
NAV-2729 was identified by A6, a subsidiary company of Navigen Inc, a Salt Lake City drug discovery and development company, whose research scientists contributed to this study. According to Zhu, A6 researchers are pushing forward with development of other compounds, which are more suitable as potential new treatments.
This work received funds from the National Institutes of Health, Juvenile Diabetes Research Foundation, American Asthma Foundation and the Burroughs Wellcome Fund.
In addition to Zhu, Odelberg, Li, and Hartnett, contributors to the study include Dallas Shi, Jacob Winter, Bianca Rich, Lise Sorensen, Helong Zhao, Tara Mleynek, Jae Hyuk Yoo, Jing Ling, Jake Bergquist, Jackson Richards, Amanda Jiang, Lisa Lesniewski, Diane Ward and Kirk Thomas at U of U Health, along with Zongzhong Tong, Christine Dunn, Kirill Ostanin and Alan Mueller at Navigen Inc, Salt Lake City and Yi Huang and Zhengfu Tai at Sichuan Provincial People's Hospital, Chengdu, China.
###
University of Utah Health is the state's only academic health care system, providing leading-edge and compassionate medicine for a referral area that encompasses 10% of the U.S., including Idaho, Wyoming, Montana and much of Nevada. A hub for health sciences research and education in the region, U of U Health touts a $291 million research enterprise and trains the majority of Utah's health care professionals at its Schools of Medicine and Dentistry and Colleges of Nursing, Pharmacy and Health. Staffed by more than 20,000 employees, the system includes 12 community clinics and four hospitals — University Hospital; University Neuropsychiatric Institute; Huntsman Cancer Hospital; and the University Orthopaedic Center. For eight straight years, U of U Health has ranked among the top 10 U.S. academic medical centers in the rigorous Vizient Quality and Accountability Study, including reaching No. 1 in 2010 and 2016.