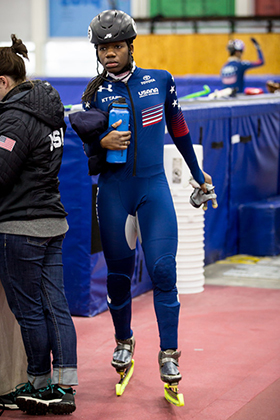 The International Olympic Committee (IOC) has designated a coalition of U.S. sports medicine institutions that includes University of Utah Health as one of 11 IOC research centers worldwide. The centers promote research, development, and implementation of effective prevention and treatment for sports-related injuries and illnesses.
The designation reaffirms the IOC's 2017 commitment to the United States Coalition for the Prevention of Illness & Injury, which consists of U of U Health, the U.S. Olympic & Paralympic Committee (USOPC) in Colorado Springs, Colorado, and Steadman Philippon Research Institute in Vail, Colorado. The new agreement extends the collaboration between the coalition and the IOC to 2026.
"It's a huge honor to be part of this very collaborative group that has and will continue to do important research that allows athletes to participate in their sports at the highest levels of competition while mitigating the risk of injury," says Travis G. Maak, M.D., the coalition's representative at U of U Health, head team physician for the Utah Jazz, and an associate professor of orthopaedic surgery in the Spencer Fox Eccles School of Medicine at University of Utah.
Over the past five years, the coalition has investigated numerous areas of sports medicine, including better ways to prevent and treat concussions and brain trauma as well as hip, knee, ankle, shoulder, and elbow injuries. They've also focused on improving athletes' mental health and how to minimize their risk of early-onset arthritis.
"Many of these athletes get groin pain and, historically, we didn't know what the causes were," Maak says. "Now, thanks to the research we're doing within the coalition, we have a better understanding of what these injuries really are and why they occur. Knowing that, we can suggest modifications in activity and other non-surgical and surgical treatments that potentially can prevent the progression of arthritis in the future."
In addition to its IOC roles, U of U Health serves as the official health care provider for the Utah Jazz NBA franchise, the Salt Lake City Stars NBA G League team, the Salt Lake Bees minor league baseball team, the Real Salt Lake Major League Soccer team, Utah Olympic Park, Utah Olympic Oval, and University of Utah Athletics. U of U Health is also designated as a Regional Medical Center to provide care for U.S. Olympic and Paralympic athletes. 
The United States Coalition for the Prevention of Illness & Injury is part of an international network of IOC sports medicine experts in France, South Africa, Norway, Australia, Canada, Denmark, South Korea, Great Britain, the Netherlands, and Switzerland committed to improvement of athletes' physical and mental health.
Since 2009, the IOC, under the leadership of its Medical and Scientific Commission, has supported and partnered with established research centers from around the world. These centers have demonstrated clinical, educational, and research expertise in the fields of sports medicine and elite sports to promote athletic health.
Since they receive financial support from the IOC, these centers are mandated to research, develop, and implement effective preventive and treatment methods for sports-related injuries and illnesses. 
###
University of Utah Health is the state's only academic health care system, providing leading-edge and compassionate care for a referral area that encompasses 10 percent of the U.S., including Idaho, Wyoming, Montana, and much of Nevada. A hub for health sciences research and education in the region, U of U Health has a $428 million research enterprise and trains the majority of Utah's physicians, including more than 1,460 health care providers each year at its Colleges of Health, Nursing, and Pharmacy and Schools of Dentistry and Medicine.
With more than 20,000 employees, the system includes 12 community clinics and five hospitals: University Hospital, Huntsman Mental Health Institute, Huntsman Cancer Hospital, University Orthopaedic Center, and the Craig H. Neilsen Rehabilitation Hospital. For 13 straight years, U of U Health has ranked among the top 10 U.S. academic medical centers in the rigorous Vizient Quality and Accountability Stud