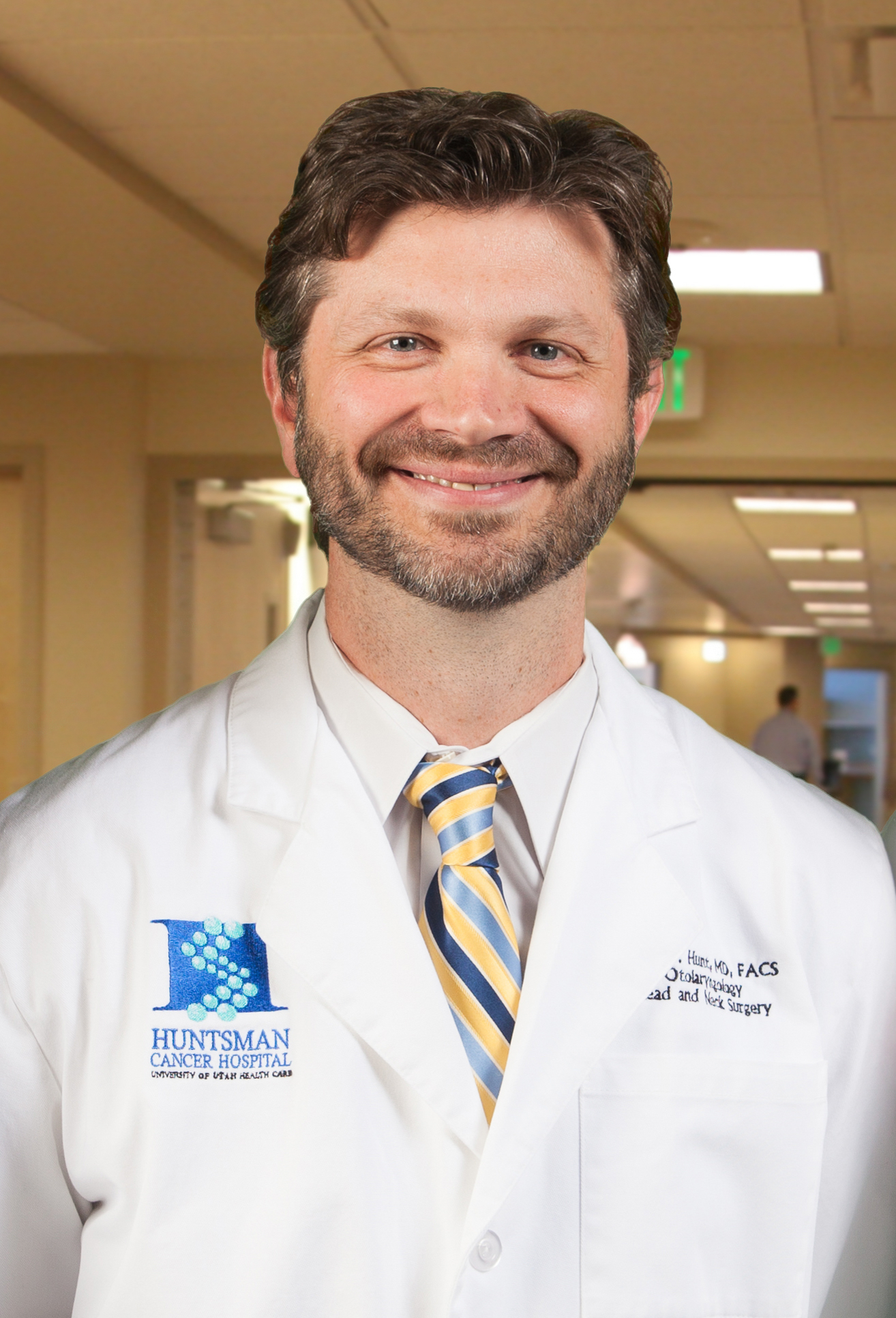 Jason Hunt, MD, Named Interim Chair
Professor and surgeon Jason Hunt, MD, is named Interim Chair of the newly created Department of Otolaryngology – Head and Neck Surgery (OHNS) in the Spencer Fox Eccles School of Medicine (SFESOM) at University of Utah, effective October 1, 2022.
OHNS has historically been a division in the Department of Surgery in the SFESOM. In the last 15 years, the division nearly doubled in size to now include 25 faculty members, 15 residents, and three active fellowships. The division ranks in the top 15 in the nation for NIH research funding among public institutions and has four research labs, two PhD research scientists, and three MD surgeon scientists with dedicated research time. Otolaryngology at U of U Health has recently been ranked 18th nationwide by the U.S. News & World Report. To transition from division to department status, OHNS successfully achieved specific requirements in education, research, and clinical care and received formal approvals from the School of Medicine Executive Committee, the Academic Senate, and the university's Board of Trustees.
"All members of OHNS are excited for this transition and look forward to continued growth and success in all of our missions," Hunt said. "This achievement was made possible by all the members of our group and their dedication to patient care, education, and discovery. I couldn't be happier for all our faculty, staff, and trainees. I am honored and humbled to lead such an amazing team of accomplished individuals as Interim Chair."
Clinical volumes in Otolaryngology have increased significantly in recent years, with the department performing 19,000 procedures and seeing more than 31,000 patients annually. Nationally, 85% of Otolaryngology units have their own departments; this distinction will bring national recognition and competitiveness for students, trainees, and researchers. University of Utah's Department of OHNS is committed to the exceptional treatment of hearing loss, sinus and allergy problems, cancer, voice disorders, and facial plastic reconstruction in both adults and children. Department physicians treat those who experience disease and pain in the ear, nose, and throat, and seek to help people hear again, correct birth defects, reestablish comfortable breathing, rehabilitate facial paralysis, improve overall quality of life, and save the lives of those who suffer from head and neck tumors and related conditions.
Dr. Hunt has been on faculty at the University of Utah for nearly 17 years. During his tenure, he has practiced in the Division of Otolaryngology, educated students and trainees in the SFESOM, worked as an investigator for Huntsman Cancer Institute, and served in various capacities such as Medical Director for Huntsman Cancer Hospital Operating Rooms and Leader for the Head and Neck Cancers Center at HCI. Dr. Hunt has volunteered his time and expertise in collaboration with Vanderbilt University Medical Center on medical missions to Nigeria and Kenya and to University of Utah Hospitals and Clinics in the Oral Head and Neck Cancer Awareness Week Oral Screening Clinics. For the past 18 months, he has served as the Interim Chief of the Division of OHNS in the Department of Surgery. Prior to that, he served as the Director of Head and Neck Surgical Oncology, growing the section in faculty and national reputation.
"The decision to establish Otolaryngology as a department is the result of decades of impressive accomplishments by numerous faculty, staff, and trainees to build up the foundations of the division," says Michael L. Good, MD, CEO of University of Utah Health. "That dedication has and will continue to elevate the excellence of head and neck surgery care for our entire community, region, and nation."
# # #