Committed To Care Excellence For Older Adults
University of Utah Health is proud to be an Age Friendly Health System – Committed to Care Excellence, the highest possible Age-Friendly Health Systems designation. By participating in this initiative, our U of U Health care providers commit to:
apply an essential set of age friendly, evidence-based practices across the 4Ms (What Matters, Medication, Mentation, and Mobility),
cause no harm, and
act consistently with what matters to the older adult and their family caregivers.
The 4MS: A Framework for Care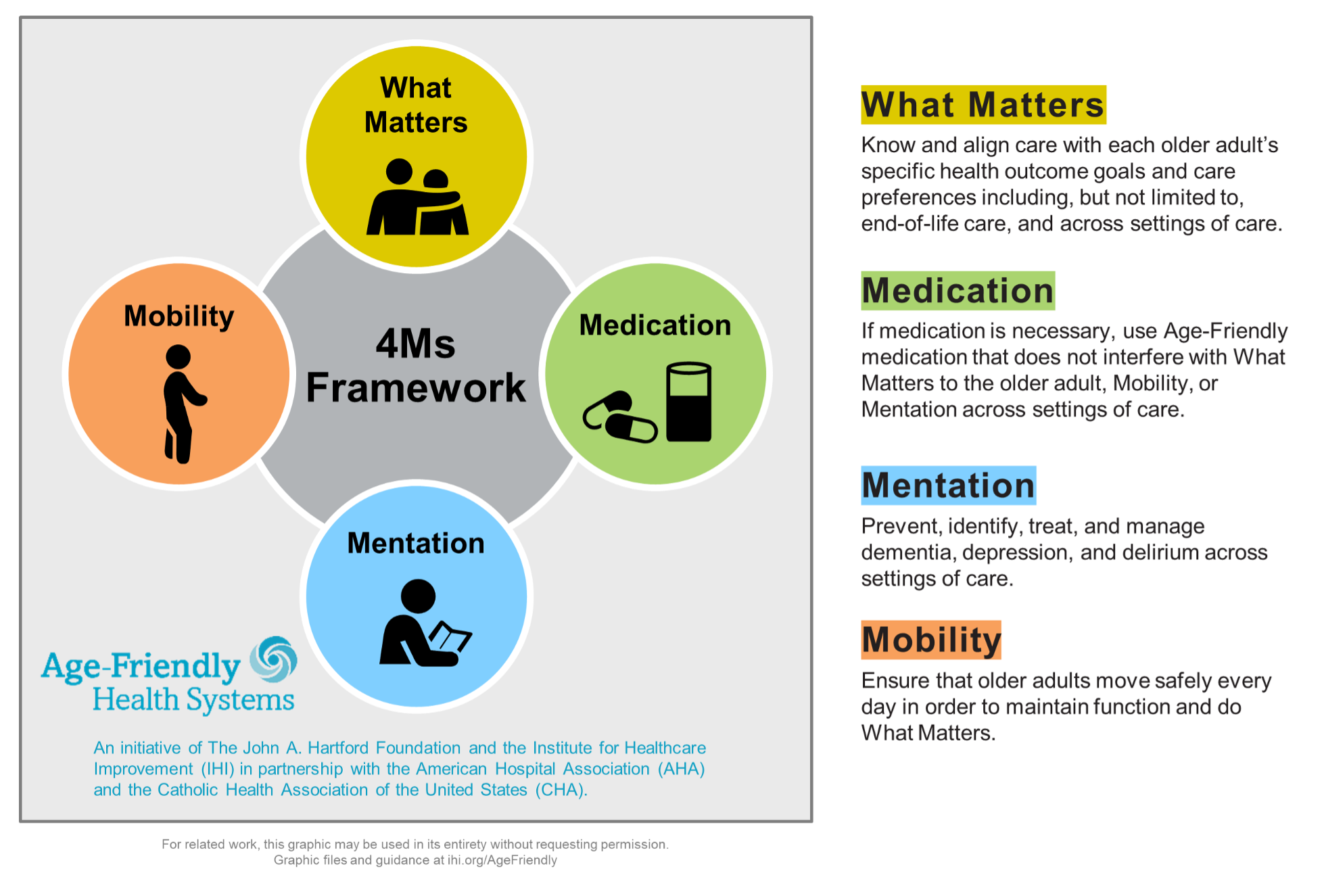 The Institute for Healthcare Improvement (IHI) partnered with five US health systems to test and refine a framework for age friendly care. As a result of this partnership, IHI learned that evidence-based models of geriatric care are not consistently applied across care settings. In order to more rapidly apply these evidence-based geriatric care models, IHI identified four essential elements for the care of older adults. These are now known as the 4Ms:
What Matters: Know and align care with each older adult's specific health outcome goals and care preferences including, but not limited to, end-of-life care, and across settings of care.
Medication: If medication is necessary, use age friendly medications that do not interfere with what matters, mobility, or mentation across settings of care.
Mentation: Prevent, identify, and treat dementia, depression, and delirium across care settings.
Mobility: Ensure that older adults move safely every day in order to maintain function and do what matters.
Older Adults & The Health Care System
Ten thousand adults turn 65 every day, and US Census data show that the population aged 65 and older is expected to nearly double in the next 30 years. Older adults also expect to live longer than in the past.
For these older adults and their caregivers, the current health care system can be difficult to navigate in order to find the right care at the right place at the right time. For patients with multiple chronic health conditions, this can be an even bigger challenge.
Too often, older adults don't receive care in the best way, sometimes causing harm. The Age Friendly Health System Initiative aims to align care providers with effective care models to change this. While the knowledge of how to improve care exists, these models only reach a small number of those who could benefit from them. 
At University of Utah Health, we are integrating the 4Ms in more of our patient visits and treatment. For example, we are proud to have a Hospital Elder Life Program that prevents older adults staying in the hospital from developing delirium. Delirium might cause the patient to stay in the hospital longer, potentially resulting in complications.
We also embed the 4Ms within Medicare annual wellness visits offered by our outpatient clinics. As one of the first participants in the Age-Friendly Health Systems Initiative, University of Utah Health is poised to become a national leader in both implementing 4Ms care and assessing the health outcomes of 4Ms care.  
Hear From Our Specialists