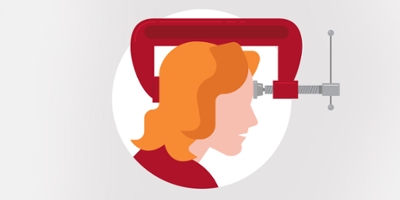 A unique type of lens may offer relief for chronic migraine sufferers
Until recent years, migraine sufferers have been forced to seek relief in the dark, but thanks to researchers at the Moran Eye Center, they now may be able to face the light of day with the help of tinted glasses. Patrick Shaw, the manager of the Moran Eye Center at University of Utah Health, sheds some light on the rose-colored filter, called FL-41, and how it can help.
Patients with migraine headaches have a hyperexcitable occipital lobe that increases sensitivity to stimulation like touch, sound, odor and light, according to University of Utah experts. Typically, the more light a person is exposed to, the more uncomfortable the migraine headache.
To ease this light-induced pain, researchers isolated specific colors of light as migraine triggers and created tinted lenses to filter out those colors. They've zeroed in on blue and green, which are thought to cause the most pain to light-sensitive patients. Blocking these types of light improves sharpness, contrast and visual acuity in patients, research has found (the neuro-ophthalmologists at Moran Eye Center have published several studies in this area).
The FL-41 lenses filter out these types of light, making the wearer less sensitive to light. While the filter works best with plastic lens material, you can still wear your favorite frames, as long as the lenses aren't polycarbonate or glass and don't have a antireflective coating.
"I have been working with this filter since the early 90s and have seen some pretty dramatic responses to it," Shaw says. "Studies in the past have shown a 70 percent favorable rate overall, from dramatic to the more subtle response."
But, as with any medical treatment, one size does not fit all, and Shaw cautions against dubbing the lenses a total fix for migraine pain. "It is not a cure-all, and we are careful not to oversell it as such."
If migraines are keeping you from the things you love, schedule an appointment with a specialist at the Moran Eye Center today.