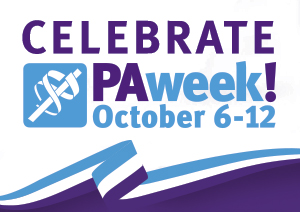 You are waiting in the doctor's office when, finally, your name is called and you are told "the physician assistant will see you now." But what exactly is a physician assistant (PA) and how does it differ from a physician? Seeing as October 6th-12th marks national PA week, there is no better time to brush up on the importance of this growing profession in the medical field than the present.
Remind me, what is a physician assistant?
Don't be fooled by the name. Though the word "assistant" may be in the title, a physician assistant is qualified to treat patients in many of the same ways as a medical doctor and PAs are integral parts of the healthcare system, especially in light of recent health care reform.
"Our country's healthcare system is going through a complete overhaul and focusing on quality care. Because PAs practice medicine in every specialty and setting, they can help increase access to quality medicine for patients," said John McGinnity, MPS, PA-C, DFAAPA, president of the American Academy of Physician Assistants.
Similar to a medical doctor, PAs can obtain medical histories, conduct physical exams, diagnose and treat illnesses, order and interpret tests, perform medical procedures, counsel patients on preventive healthcare, assist in surgery, write prescriptions and make rounds in nursing homes and hospitals.
What is the key difference between a PA and a medical doctor?
The simplified answer is the schooling. Instead of attending medical school and receiving an M.D., physician assistants are educated through intense, three-year, graduate-level programs that require the same prerequisite courses as medical schools. As part of their education, PAs complete at least 2,000 hours of clinical rotations. To maintain their certification and licenses, PAs earn 100 hours of CME every two years and recertify through a national exam as medical generalists every 10 years.
What are the benefits of having PAs?
Studies have revealed that the quality of care provided by PAs is comparable to that of physicians, PAs enhance care coordination, and practices and institutions relying on PAs are more cost-effective than those without PAs.
"I think we are in a new cost effective world and PAs provide care for patients in a very cost effective way, " says Jennifer Coombs, Ph.D. and a PA at the University of Utah. "I like to say we're good in good times and good in bad times. If you want to see a physician, there's a shortage of physicians, PAs are going to be, I think, increasingly utilized in our world."
Learn more about this dynamic profession by visiting AAPA.