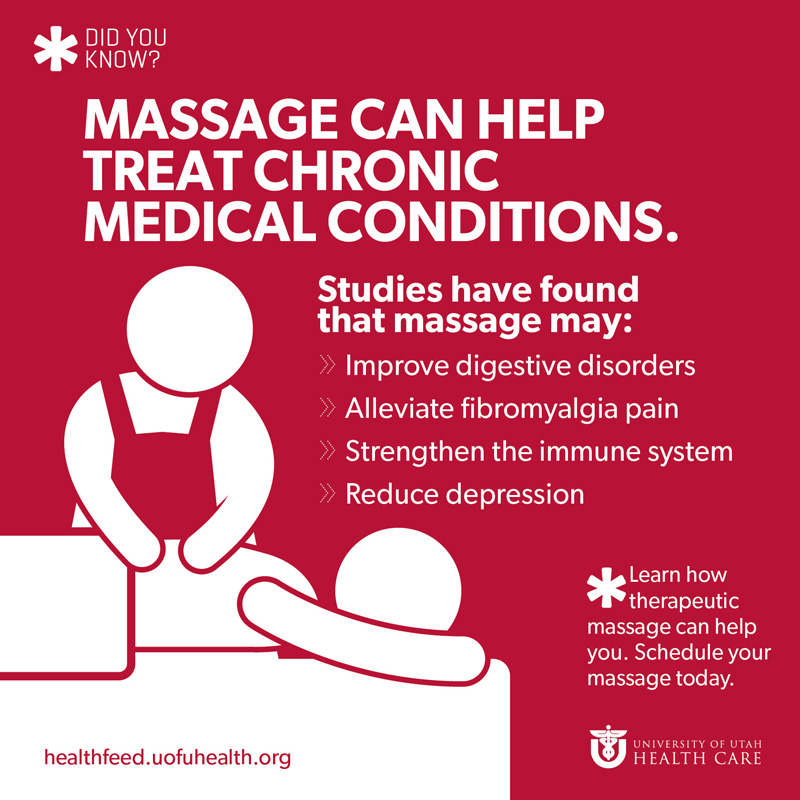 Sure, massage can help you relax. But it does much more than that. "Massage can be a powerful ally in your health-care regimen," says Shereen Young, LMT, a massage therapist at University of Utah Health.
Regular massage can reduce stress and lower blood pressure, and improve blood circulation and concentration. But that's not all.
Massage Mondays
Medically trained massage therapists provide massages every Monday from 10 a.m. to 1 p.m. at University Hospital's Red Rock or Aspen Conference Rooms, 50 N. Medical Drive, Level A, Salt Lake City. Cost is $15 for a 15-minute chair massage. Learn more about the benefits of massage.
Massage Workshop
This three-hour workshop will teach you massage techniques so you can help your family and friends feel better. Classes will held from 6-9 pm Friday, Oct. 17, and from 9 am to noon Saturday, Oct. 18. Cost is $85. For more information or to register, call 801-587-7090 or email Liz Young.