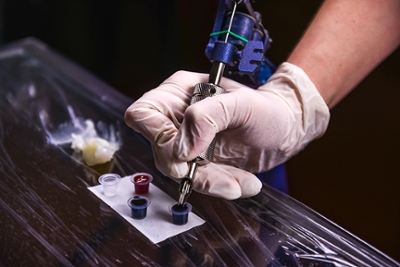 Getting inked is a popular practice: One out of five American adults has at least one tattoo. But some may suffer for their body art.
In a study published in the medical journal Contact Dermatitis, researchers surveyed 300 tattooed adults in New York City's Central Park. More than 10% of those surveyed reported experiencing an adverse reaction to the tattoo, such as itching, swelling or a rash. About 6% experienced a chronic reaction lasting longer than four months.
"I've seen quite a few of these reactions," says Douglas Powell, MD, a dermatologist at University of Utah Health. "You can get a spectrum of reactions, from swelling at the injection site to a reaction that can spread all over the body."
Incidences of allergic skin reactions may occur because the Food and Drug Administration does not regulate tattoo pigments. Since artists can mix colors, Powell says you won't know exactly what's in the pigment.
"We know what some of the common inks are," he says. "Red is the most common color to react because it uses a mercury derivative."
So should you get inked? It's up to you. "There is a chance you will develop an allergic reaction, and there's no way to know until you get a tattoo," Powell says.
His advice is to get a patch test done ahead of time to see how your skin reacts.
Powell says a tattoo "should be flat, flush with the skin, and not itchy." If you notice a distinct color outline that is raised or that stands out, and it itches or stings, you are likely having an allergic reaction. See a dermatologist. Treatment options vary based on how big the reaction is but may include topical creams to oral steroids.
And keep in mind that it's not easy to get rid of tattoos. In fact, laser removal, which breaks up the pigments, may cause a more severe allergic reaction temporarily.