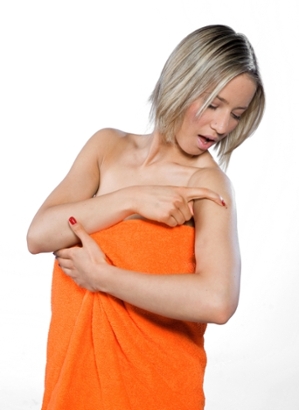 There may be a new way to identify an increased risk of skin cancer and all it takes is rolling up your sleeve.
In a new study from St. Thomas' Hospital in London, researchers say having more than 10 moles on your right arm could indicate an increased risk for skin cancer. The research included counting the total number of moles on a person and dividing the totals between 17 segments of the body. They found that the right arm was the best indicator of whether someone is considered a "moley" person.
"Having a lot of moles is a sign of having a greater probability of skin cancer," said Kristina Callis-Duffin, MD, assistant professor of dermatology at the University of Utah. "An abundance of moles means your skin cells are particularly active, which can increase the risk of cells becoming cancerous."
The hope is for this to provide a "do it yourself" option for assessing your skin cancer risk. Having at least 11 moles on the arm increases the likelihood that an individual has more than a hundred moles on their body—a number that raises the risk of melanoma up to ten percent.
"Nothing can replace a full skin check from a dermatologist," Callis-Duffin explained. "While your arms may be a basic indicator of your skin cancer potential, melanoma can develop anywhere and it's important to keep track of all recent skin changes and suspicious moles."
Moles or no moles, everyone should take steps to reduce their risk of melanoma. "Everyone should be careful when it comes to sun exposure," says Callis-Duffin. "Sun damage is cumulative over time. The more sunburns you suffer, the greater your risk for melanoma."
When in the sun be sure to wear sunscreen, wear sunglasses, and clothing that will protect you from the sun's rays. "The best defense is a good offense," says Callis-Duffin.