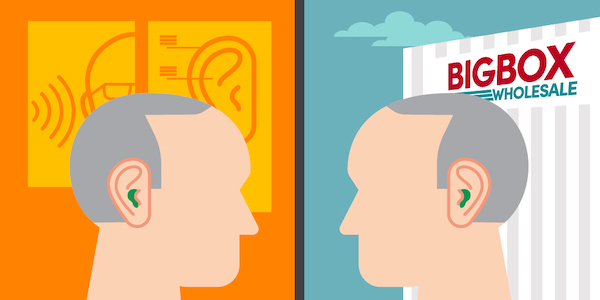 Hearing loss can drastically affect your quality of life. Purchasing hearing aids is a major decision that requires careful considerations. Organizations that sell hearing aids follow either of two models in providing care: medical or retail (non-medical).
What are the main differences between a medical-model hearing aid and a retail-model hearing aid?
Typically, there are no differences. A hearing aid purchased at a big-box store is pretty much the same instrument as one you'd get at a place that adheres to the medical model. Nevertheless, there are substantial differences between medical-model care and retail-model care.
How is care different? Where should I buy a hearing aid?
Even though hearing aids from a clinic aren't necessarily better than retail devices, the care is more comprehensive. Patients who opt for the medical model receive treatment from audiologists, who have a clinical doctorate and are licensed. Retailers, on the other hand, may employ audiologists, but it's not a requirement. More often they employ hearing instrument specialists, who do not have doctorates but are state-certified and frequently paid on commission.
Other reasons that the hearing impaired should visit a medical-model institution include the following:
Audiologists can diagnose an underlying medical issue, if any, that is causing the hearing loss, such as tumors on your auditory nerves (which is rare) or growths in the middle ear area
Because patients can see the same audiologist during each visit, they receive continuity of care; patients who go to a retailer, on the other hand, may be helped by an audiologist one time and a hearing instrument specialist the next. Retailers also have a lot of turnover
Audiologists use a more thorough measuring process to fit the hearing aid
Can retail hearing aids worsen your condition?
In most cases, retail-model hearing aids cannot worsen hearing loss. However, retail providers are unlikely to identify any underlying medical condition that's causing your hearing loss. Catching the cause early on can prevent or reduce additional loss of hearing.
What steps should one take to get a hearing aid from the University of Utah Otolaryngology and Hearing Aid Services, and what is the process to get fitted?
The University of Utah Otolaryngology and Hearing Aid Services follows a medical model, meaning you can rest assured that you are receiving the most comprehensive hearing care available.
The following are the steps to take to get a hearing aid:
Schedule a hearing test with a university audiologist, either by calling 801-587‑8368 or by visiting https://healthcare.utah.edu/ent/appointment.php
Receive a no-obligation hearing aid evaluation at the university to figure out the best options medically and financially and to better understand your hearing loss
If you decide to purchase hearing aids from the U. of U., staff will order them (delivery is usually less than a week)
Schedule a Real Ear® fitting, a process that entails the following:
Small microphone in a tube is placed in the ear
Hearing aid is inserted
Machinery plays different sounds
Audiologist makes adjustments based on what the hearing aid is picking up
Audiologist does a talking test at normal volume and makes additional adjustments
After the fitting, receive counselling and education about how hearing aids work
Try out the hearing aid in a 30-day trial period (if you decide against hearing aids, you can get a full refund, minus the fitting fee)
If you're concerned about hearing loss, take steps today to get fitted for a hearing aid and improve your quality of life.