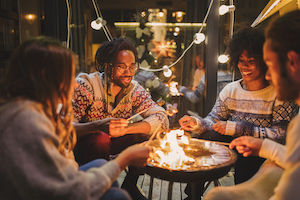 Summer may be coming to an end, but the social activities are not going anywhere. As seasons change, one constant remains: spending time with your friends and family. Whether that means spending the day on a boat, hiking around in the fall colors, or enjoying a day on the slopes, try one of these fun activities to connect with a wider sober community.
5 Sober Activities for Everyone
Sober Softball: People who are interested can log onto the Clean and Sober Softball Association of Utah website and fill out the form, "Player looking for a team." Salt Lake County alone has 40 teams.
Fit to Recover Gym: This gym has programs and classes on nutrition, fitness, and creative arts. They coordinate community service activities and are dedicated to people in recovery.
Go for a hike: Dust off your hiking shoes and get out there! Use the AllTrails app or search for "easy day hikes near me." Pack some water, granola bars, and a camera and off you go!
Volunteer your time: There are opportunities to volunteer in every community. Volunteering is a great way to show up for your town or city and meet new people. Interested in finding an opportunity? Check out VolunteerMatch and enter your city to see what is out there.
Ride a Bike: For traffic-free pedaling, try the Jordan River or Legacy Parkway trails. The OpiCure Foundation sponsors weekly sober community rides every Sunday at 9:00 am. They start in the parking lot of the Huntsman Mental Health Institute at 501 Chipeta Way, Salt Lake City. Check out @opicurefoundation for more information.
Traversing the World of Temptations
With the seemingly endless number of activities to enjoy, you may run into a situation where alcohol or other substances are present.
When you are boating, instead of putting beer in the cooler, put in sparkling water, lemonade, soda, iced tea, and other non-alcoholic beverages.
Bring your own beverages when you head out to a BBQ. That way you can guarantee there will be refreshments you can safely enjoy.
Have a "sober friend" when you are at social events. When things become tempting or you feel overwhelmed, having a friend there who can support you and help you avoid temptation is the answer.
Have an exit plan when you go out. Temptation is sometimes unavoidable, but you can always make the decision to leave. Understand your limits and boundaries, plan to get home safe and sober before you even arrive, and trust your gut.
Let's face it, finding alternative activities can be hard—and it can be even more difficult during certain seasons. But there are things to do that won't put your recovery at risk. Here's to enjoying your summer, fall, winter, and spring sober.
Learn more about our addiction recovery programs, where our addiction medicine and recovery experts aim to treat the individual as a whole person. The recovery clinic can be reached at 801-585-1575.