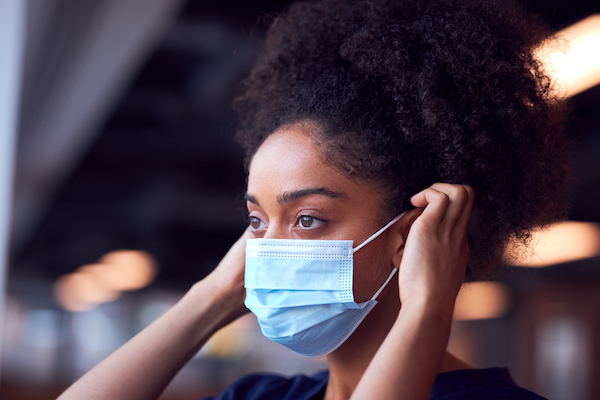 Typically, the fall and winter months are times when sickness increases and spreads more easily. This has been the case with respiratory viruses, especially influenza and, more recently, COVID-19. But this respiratory season may be different. Over the last two years, the public has undertaken preventive measures to help limit the spread of COVID-19. This has also helped prevent flu transmission. Now, as more people relax these precautions, disease is more likely to spread.
The good news is there are things you can do to help protect yourself and others. Here's how:
1. Get your flu shot
Predictions about influenza season in the U.S. are based on what Australia and other countries recently experienced during their respiratory seasons—and this year hasn't been a good one.
"Australia saw a five-fold increase in severity and deaths from influenza," says Kencee Graves, MD, an associate professor in the Department of Internal Medicine and Chief Medical Officer for Inpatient Health at University of Utah Health. "That is what makes us here in the U.S. a little concerned about how severe this flu season could be."
Who should get a flu vaccine?
The Centers for Disease Control and Prevention (CDC) recommends everyone six months and older to get a flu shot every year. There are some rare exceptions, and specific groups should get certain types of influenza vaccines.
People ages 65 years and older, who are immunocompromised, or who are pregnant, are at higher risk of experiencing serious complications from influenza. It's important for these groups to talk to their health care provider before getting a flu shot.
When is the best time to get a flu shot?
It's recommended to get a flu vaccine in September or October. Graves says that is because flu season generally starts in October and continues through March. "We want the flu vaccine to be present in the body long enough to give someone immunity through the entire season," she says.
2. Get a COVID-19 booster shot
This is the time of year when we have typically started to see an increase in COVID-19 cases. That's because more people are spending time indoors and spreading the virus to other people. In addition, the SARS-CoV-2 virus evolves and creates new variants. In the past, this is what has caused COVID-19 to become better at evading immune responses from vaccines or previous infection.
"Two years into the pandemic, the idea was to create boosters that were specific to the circulating variants," says Hannah Imlay, MD, an assistant professor in the Division of Infectious Diseases at U of U Health. "These updated boosters are intended to generate a more specific antibody response."
While COVID-19 vaccines continue to work well to protect against severe disease and hospitalization, they do not always protect against infection or mild illness. The updated Moderna and Pfizer-BioNTech COVID-19 boosters are designed to protect against both the original SARS-CoV-2 virus and the most recent circulating Omicron variant. "This updated booster provides a more specific antibody response against the most recent circulating variants and should better protect you," Imlay says.
Is COVID-19 still a threat?
Despite a relaxation in prevention measures, COVID-19 is still sickening tens of thousands of people and killing hundreds of people a day in the United States. The difference now is that COVID-19 no longer requires a large-scale public health response. But the fact is, the virus will likely not go away. It's important to still practice prevention measures around people who are at increased risk for severe disease or when COVID-19 community levels are high in your area.
"We know that vaccination has been very helpful over the course of the pandemic, particularly since the Omicron variant hit in the winter of 2021," Imlay says. "We've seen that the severity of disease has gone down, and there are multiple reasons for that."
Much research now supports the fact that COVID-19 vaccination prevents severe illness, hospitalization, and death. That's what makes vaccination the single most important tool for providing protection against severe COVID-19, Imlay says.
When can I get the updated COVID-19 booster?
You can receive the updated booster at least two months after your primary vaccine series or two months after your last COVID-19 booster shot. If you've been recently infected by COVID-19, the CDC recommends waiting three months to get an updated booster dose.
Can I get a flu vaccine and COVID-19 booster at the same time?
Yes, data have found it is safe to receive both vaccines at the same visit. It's possible to experience side effects, such as fatigue, headache, and muscle aches following vaccination, but most symptoms are mild and resolve quickly, according to a CDC study.
I'm immunocompromised, older than 65, or pregnant—when is the best time to get a vaccine?
Vaccination is most important for these groups. They are more likely to get seriously ill, hospitalized, and even die from influenza and COVID-19.
Pregnant people are not only at risk of severe illness, but once born, their children are not authorized to get a COVID-19 vaccine until they are 6 months old. However, pregnant people who receive a COVID-19 vaccine or an updated booster pass on antibodies to their babies, which will help protect them from those illnesses.
It is recommended that people who are moderately or severely immunocompromised get three shots as their primary COVID-19 vaccine series—followed by an updated booster shot two months later. If you are immunocompromised, talk to your health care provider about when to schedule your COVID-19 vaccine.
Because this group has a lowered immune response, some are eligible for additional therapies to prevent SARS-CoV-2, such as monoclonal antibodies. These therapies are for immunocompromised patients to decrease severe outcomes from COVID-19. Patients who are high risk for severe outcomes (over 65 years of age, chronic medical conditions, immunocompromised) are also eligible for additional therapies to treat SARS-CoV-2, which are best delivered as early as possible after diagnosis.
Can you mix and match your COVID-19 vaccines and booster doses?
Yes, it is safe to mix and match mRNA COVID-19 vaccines.
How long does the updated booster protect you?
It's not yet known—more data is needed. The previous monovalent boosters protected against symptomatic infection for about four to six months and helped protect from severe disease for much longer. However, the updated boosters may not work as well for those with weakened immune systems. The efficacy of updated boosters could also change with new virus variants
Can children get an updated COVID-19 booster?
Children under 5 years of age are not authorized for COVID-19 booster shots. The good news is COVID-19 vaccines are available for children ages six months and older. Data from mRNA vaccines have shown these vaccines to be safe and effective among children.
3. Take preventative measures
While vaccination is your best line of defense against influenza and COVID-19, there are other respiratory viruses such as rhinovirus (common cold) and RSV. To help protect yourself, practice these prevention measures:
Frequently wash your hands
Improve ventilation
Wear a mask in crowded areas
Increase your distance from others
Stay home when sick
Get tested
"It's important that we all do everything we can to maintain our health," Graves says. "And that includes getting vaccinated, staying home when you're ill, and doing things to prevent disease transmission like washing your hands and wearing a mask in crowded areas."