Read Time: 4 minutes
In Memoriam: Laura Glissmeyer passed away in May 2021. We honor her memory and are grateful she shared her story.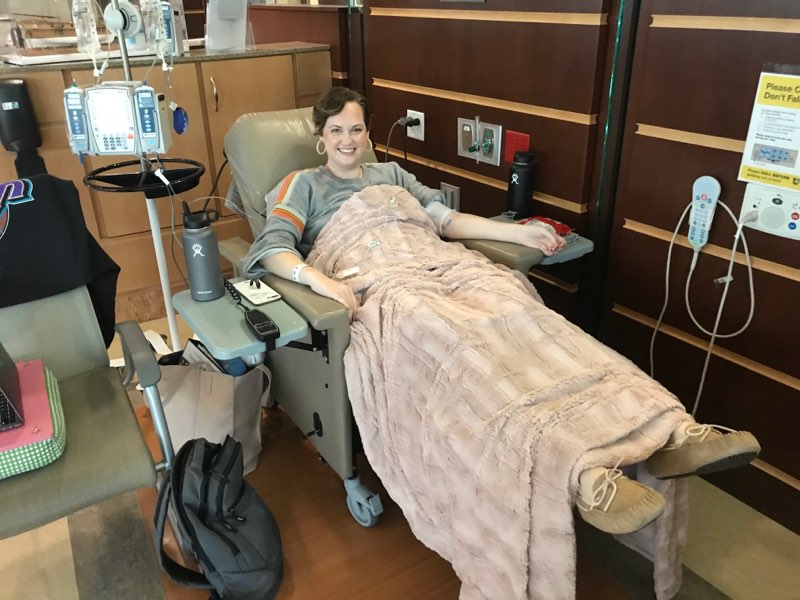 If there is one certainty in Laura Glissmeyer's life, it is that things have been, are, and will be uncertain. As the COVID-19 pandemic wears on and millions of people around the globe face life-threatening illness, anxiety, and ambiguity about the future, Laura—a young mother currently undergoing treatment for ovarian cancer—recognizes the fear that comes with this reality.
"Living life to the fullest is hard in a pandemic," Laura says. "But trying is important. Advocate for yourself."
"I was planning an end-of-chemo party for Laura," adds Bryce Glissmeyer, Laura's husband, "but it was right as COVID-19 started spreading. I always tell people that it's pretty easy for us to social distance because we've had to do it since we got home from Laura's surgery."
Laura walked a long road full of uncertainty before she finally started treatment at Huntsman Cancer Institute (HCI). Two years before her cancer diagnosis, she began experiencing chronic digestive problems and abdominal pain. These symptoms can indicate many different diseases, and given that Laura was in her 30s, ovarian cancer seemed unlikely. Though she would later learn she carried the BRCA gene, she didn't know it then. It came from her father and his father, meaning there was no recent history of ovarian or breast cancer in her family.
It took four misdiagnoses, one removed gall bladder, and the continued vigilance of both Laura and Bryce to learn that Laura's ongoing pain and discomfort was actually ovarian cancer.
"I was speechless," Laura recalls. "I was in shock. And, after a little while I remember thinking, 'I knew it. I knew there was something wrong.'" Newly diagnosed, Laura and Bryce sprang into action. But they soon found there was little they could control. Laura had stage IV ovarian cancer. There were masses from her diaphragm to her pelvic area that required extensive surgery. In order to save her life, all of her reproductive organs had to be removed.
"That was the hardest thing to hear," Laura says. "I was distraught about not being able to have more children."
"With our daughter, Lula, we experienced fertility issues," Bryce explains. "She really is a miracle baby."
Laura's first surgery was more than 10 hours long. Her hospital stay afterward was supposed to be four to five days and instead lasted a month because of complications. After this procedure, Laura moved her care to HCI—her surgeon had referred her to Theresa Werner, MD, an HCI clinician and researcher who specializes in gynecologic cancers. Though the Glissmeyers' insurance didn't initially include care at HCI, Bryce spent hours on the phone, searching for a way to have it covered before it was eventually approved.
Throughout their journey, Bryce and Laura have had to learn to advocate for themselves. "Find people who believe in you and can advocate for you, too," Bryce says.
"I went through six months of chemotherapy at HCI," Laura says, "and had more complications." Laura suffered from sepsis and then a bowel restriction, but she eventually recovered. "I feel like I'm in such capable hands at HCI and in the best place I could be for my care." She is now in the maintenance phase of her treatment and has enrolled in a clinical trial.
"Even though treatment was so hard on my body and I went through a lot more than I bargained for, I was just so grateful to have care," Laura says. "My doctor had a plan for me and Dr. Werner made it possible to join this amazing clinical trial that had promise. I feel lucky to have options instead of being told, 'Hey, you're so far advanced that there's nothing we can do.' There's still hope—and I did not think there was going to be any hope when I was first diagnosed."
As they face the future, uncertainty and all, Laura and Bryce say they have not walked the path alone. The support from their family, friends, and neighbors has been life-changing.
"I've learned that it's best just to act—to do something for someone," Laura says. "The most impactful thing was when people would just write a note or card or leave a meal on our doorstep. They didn't ask; they just did it. The same goes for all the prayers and letters. I'm overwhelmed by the love and care people have given us. I've learned how to serve people by being served myself."
Cancer touches all of us.