Jeanette Nielsen was born in Tonga on Christmas Day, the youngest of six children. She learned the importance of hard work from her parents. At age of 18, she left for school in New Zealand. Her brother, who lived in Hawaii, told her that living in the United States was wonderful, so at 22, she headed to be with him. There, she met her husband, Doug, and the couple moved to Arizona. Married more than 40 years, they enjoyed being active by hiking, baking, dancing, and keeping up with seven grandchildren.
At a doctor's checkup in 2015, her white blood cell count was low. Since she didn't have a viral infection, she was told she would be tested again in three months.
"They referred me to a hematologist-oncologist because there was excessive protein in my blood," Jeanette says. A bone marrow biopsy followed and confirmed it as smoldering multiple myeloma. "I was shocked because I had been healthy my entire life."
After her diagnosis, doctors observed Jeanette for 17 months, testing her blood every three months. In April 2017, she started feeling pain in her back. A few months later, an MRI revealed a fracture in her spine and a solitary tumor.
"We were frustrated with our doctors at that point and wanted a second opinion with a multiple myeloma specialist," Jeanette explains. "My husband Doug called Huntsman Cancer Institute and was able to get the appointment." By the time Jeanette met with Douglas Sborov, MD, MS, her one tumor had become many. Dr. Sborov pushed for starting treatment immediately. "We went back to Arizona for four days, then came back [to Salt Lake City] and began right away," Jeanette adds.
"Honesty is very important to me," Doug says. "Dr. Sborov won me over from the start. He gave us a voice we didn't feel like we had. He mapped out a whole treatment plan on the exam table's paper. Before we even met, he ordered a PET scan and additional tests. When we did meet with him, he showed us everything. This was a night-and-day difference from the treatment we had been receiving. He was very up front, not gloom and doom, but factual and compassionate."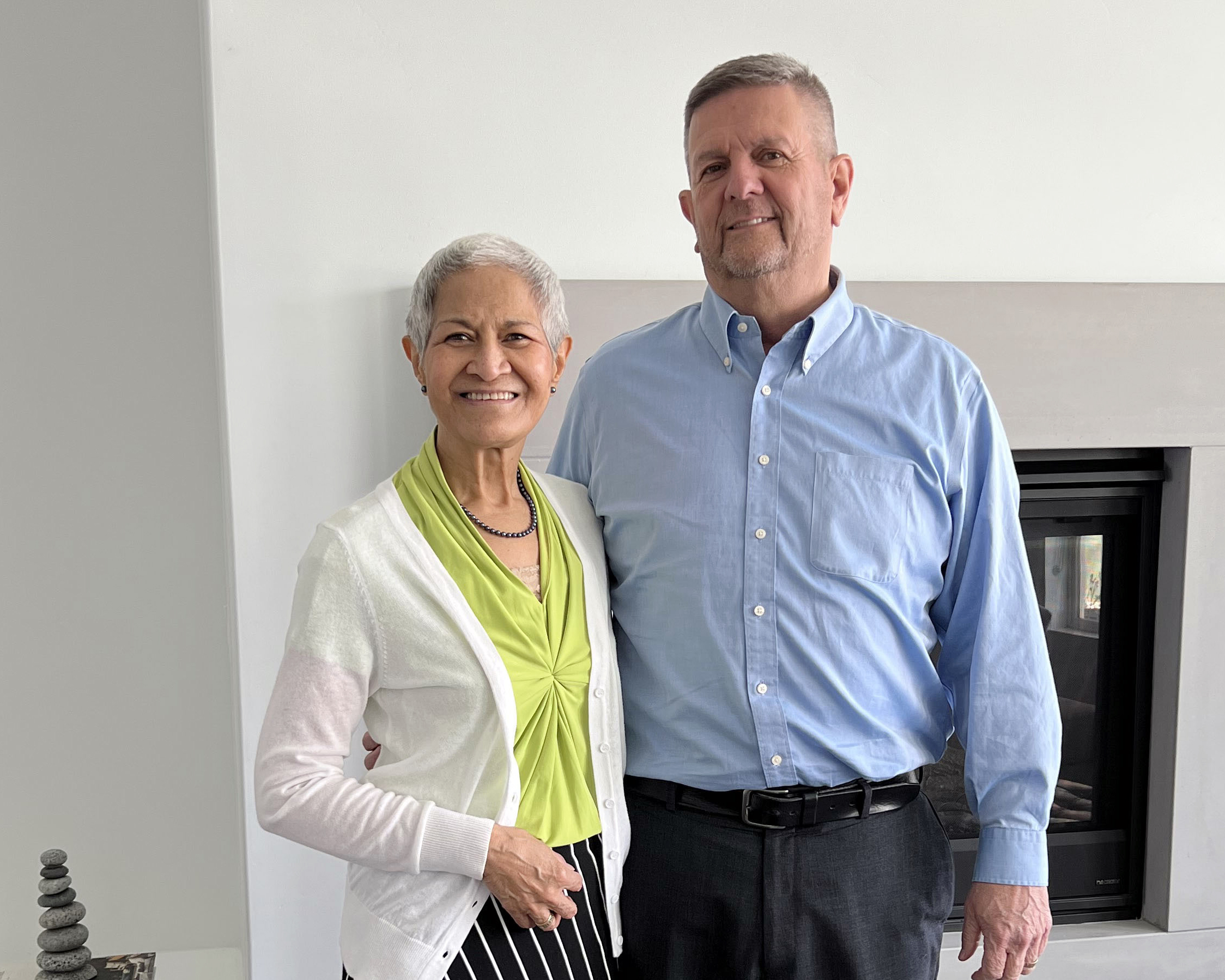 The Dougs had hit it off. Dr. Sborov invited Jeanette to join a randomized, phase II clinical trial testing a combination of the drugs daratumumab, bortezomib, lenalidomide, and dexamethasone (D-RVd) for four months. This was followed by an autologous stem cell transplant and two years of maintenance.
"We knew that clinical trials in the past made treatments possible for the present, which I benefitted from, and I also wanted to pay it forward for future patients," Jeanette says.
"Clinical trials are necessary to develop new treatments and potentially improve outcomes for our patients," Dr. Sborov adds. "They play a vital role in our quest to curing the incurable."
Over time, Jeanette's condition improved. But then, another wrench in the works.
"Dr. Sborov ordered a PET scan and noticed a spot in my uterus," Jeanette says. After a biopsy, gynecologic oncologist Robert Dood, MD, MSCE, diagnosed it as a pre-cancerous condition. After discussing options, Jeanette chose surgery. "I had a polyp in my uterine lining and was diagnosed with stage IB uterine cancer." She was then referred to medical oncologist Theresa Werner, MD, and radiation oncologist Lindsay Burt, MD. "The three of them collaborated and scheduled me for six infusions and three rounds of brachytherapy."
In October 2020, Jeanette had surgery for her uterine cancer. Treatment ended in March 2021.
"I have a checkup every three months for uterine cancer and every two months for multiple myeloma," she says.
Jeanette and Doug can't say enough about their care and treatment at Huntsman Cancer Institute. "Huntsman is home for us," Doug says. "From day one, our scheduler, Kodi, would come out and say 'Hi' when we came. It may not seem like much, but she knew our names."
"Coming here was a lifesaver," adds Jeanette. "Everyone connects with you on a personal level. The infusion team has become our social group. From the coordinators in clinical trials, to Annie Budahathoki, LAC, who provides acupuncture therapy at the Wellness Center, to Sonal Oza, MD, who helped with my rehabilitation using the POWER program, to Melissa and Mary Ellen, who helped with scheduling, to Nico, our social worker, and Kolene, our medication access coordinator. Their approach was so positive. We just want to thank Dr. Sborov, Dr. Dood, Dr. Werner, Dr. Burt, and their entire medical teams."
After everything she has been through, Jeanette says she remains grateful for many things—life, the treatment she received at Huntsman Cancer Institute, her family's love, her supportive friends, her faith, and one more thing:
"I read patient stories and they really helped me. That's why I'm sharing my story. Cancer provided me the opportunity to reflect and write. After procrastinating for so many years, I'm writing my life story with the help of Susan Sample, PhD, MFA."
One with many chapters still to be told.
Cancer touches all of us.