Learn How to Use & Install Health Apps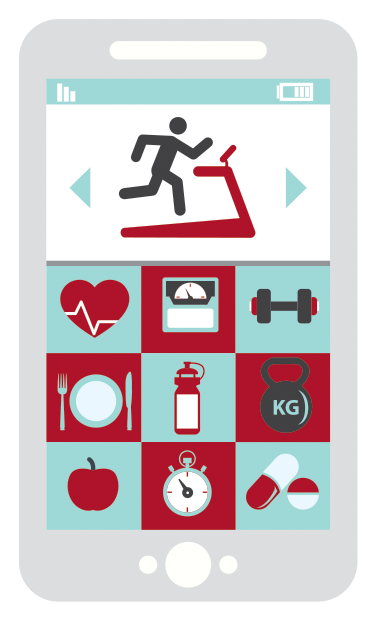 Stop by the U-Bar to test drive health apps and wearable devices, ask questions, and get hands-on instruction on how to install and use them. The U-Bar is located in University of Utah Hospital, just off the main lobby in the Hope Fox Eccles Health Library. The U-Bar is staffed from 9am to 5pm Monday through Friday, and no appointment is necessary. The apps below focus on wellness, nutrition, fitness, diabetes, women's health, and more. Showcased wearables are available for purchase in the hospital gift shop.
Curable
For back pain, migraine, and chronic pain
Understand why you have pain and what you can do about it
Learn practical mind techniques to lessen the experience of pain
Available on the App Store and Google Play
CDC HEADS UP Concussion Safety
Prevent, recognize, and respond to concussions
For coaches, parents, children, and teens
3D helmet tool shows proper helmet fit, safety, and care
Available on the App Store and Google Play
SuperBetter
A game to help build your resilience
Learn how to stay strong, motivated, and optimistic during real-life challenges
Also helps teens recover after concussions
Available on the App Store and Google Play
Lose It!
Track your food and exercise to help you lose weight
Record weight, body fat, body measurements, calories, daily nutrients, hydration, and sleep
Set goals and stay motivated
Available on the App Store and Google Play
SparkPeople
Track your food and exercise to help you lose weight
Count calories and plan your diet
Customized workouts and meal plans
Available on the App Store
General Health and Wellness
UtahAir
Quickly view current air quality conditions and action alerts
See how the pollution level will affect different health conditions
Three-day forecast can help you plan ahead
Available on the App Store and Google Play
CareZone
Organize information, medications, and doctor's instructions
Scan pill bottles to create a medication list to share with doctors
Get reminders for you and your family
GoodRX
Find the lowest price for prescription drugs in your neighborhood
Get coupons and savings tips
You can use coupons even if you have health insurance
Available on the App Store and Google Play
My Chart
Access your family's health information
View appointments, medications, immunizations, allergies, and test results
Send a message to your doctor
Available on the App Store and Google Play
WellnessNOW
For University of Utah Health employees and plan participants
Schedule appointments, view test results, and connect with health coaches
Track activity, sleep, nutrition, body measurements, and more
Curable
For back pain, migraine, and chronic pain
Understand why you have pain and what you can do about it
Learn practical mind techniques to lessen the experience of pain
Available on the App Store and Google Play
Migraine Buddy
Track migraines and headaches
Record symptoms, frequency, duration, and pain intensity
Can help you identify triggers
Available on the App Store and Google Play
Smart BP
Record, track, and share your blood pressure information
Set reminders
Smart Blood Pressure cannot measure blood pressure
Available on the App Store and Google Play
TED Talks: Health
General wellness information
News about public health issues
Available on the App Store and Google Play
Sleep With me
Listen to bedtime stories to help you sleep
Helps with insomnia
Podcasts meant to put you to sleep
Visit the website
Nutrition Matters
Helps users to create a healthy relationship with food and diets
Talk to real people about advice, recipes, and all things nutrition
Visit the website
Ovia Pregnancy
Easy-to-use pregnancy tracker
Log weight, nutrition, mood, sleep, activity, blood pressure, and appointments
Get daily updates on baby size and development
Available on the App Store and Google Play
Pregnancy Tracker & Baby App
Daily calendar to help you countdown to your due date
Includes information for fertility tracking and baby's first year
Join community groups for expecting and new moms
Available on the App Store and Google Play
I'm Expecting
Daily updates with videos, articles, and tips
Week by Week Guide tells what's happening to baby and mother's body
Track your pregnancy symptoms and learn what they mean
Web MD Pregnancy
Track your baby's growth and development week by week
Articles, videos, slideshows, and safety tips
Checklists to get ready for baby's arrival
Available on the App Store
Strava
Meditation, sleep and relaxation
Helps with insomnia, stress, and anxiety
Guides you in stretching, movement, stories, scenery, and music
Available on the App Store and Google Play
Headspace
Teaches you the essentials of meditation
Track progress and time spent meditating
Free trial - then pay a fee for access to hundreds of guided meditations on subjects like focus, anxiety, and sleep
Available on the App Store and Google Play
Insight Timer
Thousands of free guided meditations in many languages
Meditations for beginners, children, and adults
Meditations on subjects like sleep, depression, pain management, and addiction
Available on the App Store and Google Play