For Evaluation and Performance Improvement
Our Drive Rehab Program helps patients with traumatic injuries prepare for the challenges of driving after an injury. These include physical, social, and cognitive challenges. We offer:
an adapted car with hand controls and one pedal
and driving assessments & evaluations
We also offer a Drive Safety Computer Driving Simulator that prepares patients for the cognitive (mental & decision-making) tasks of driving on the road.
We offer a adapted vehicle that is made specifically for patients who have suffered traumatic injuries. The car has extra hand controls. It also uses a special pedal system so amputees do not have to use their legs and feet to press the brake.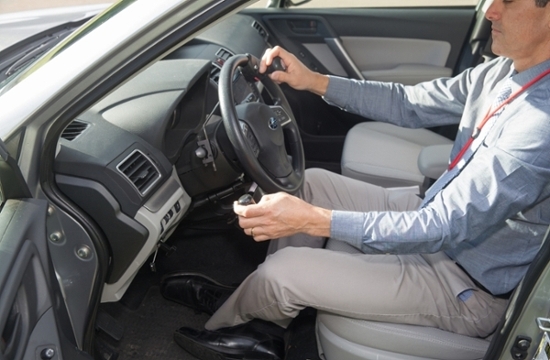 FAQS About Our Driving Program
What is a Driving Evaluation?
The evaluation is a 2-hour appointment with an occupational therapist who specializes in driving rehabilitation. This includes these "pre-driving" and "on the road" assessments in 30 minute segments:
Paperwork and safe-driving video
Assessment of vision, cognition, rules of the road, strength, ROM, coordination, and reaction time
"On the road" driving assessment with use of adaptive controls, as needed
Review of evaluation and recommendations for additional training or equipment
You can also watch a video about our driving program produced by KSL news.
Who Should Have a Driving Assessment?
Anyone who has had a cognitive, visual, or physical change that may affect their ability to safely drive. Physicians will recommend such an assessment after a person has had a stroke, brain injury, spinal cord injury, or other neurological condition.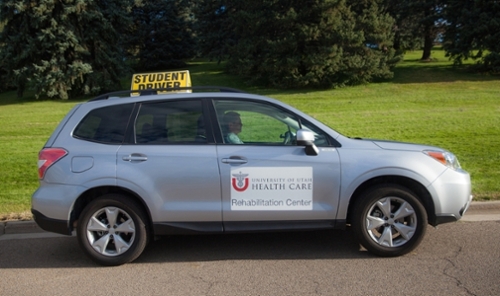 Is a Driving Evaluation Covered by My Insurance?
Depending on the condition, workers compensation carriers or vocational rehabilitation may pay for the services. Typically, health insurances, including Medicare and Medicaid, do not. A 30% discount is available for self-pay. Please call the clinic at 801-581-2221 for the cost of the evaluation.
How Do I Get an Appointment?
Have your physician fax a referral to the clinic at 801-581-2043 or call us at 801-581-2221, Monday – Friday, 8:00 am to 5:00 pm.
What Are My Options If I Cannot Afford the Assessment or Do Not Pass It?
Several options are available depending on where you live and what training you may need. We offer driving training in one-hour blocks with the same instructor. You may also use one of the private driving education agencies that offer training programs.
Some assessment services are also available through the Driver's License Division, depending on your needs.
Drive Safety Computer Driving Simulator
The Drive Safety computer based driving simulator assesses and trains clients who are ready to practice pre-driving related activities.
The simulator allows for many driving programs. These programs vary from reaction time, steering, and pedal operation, all the way to freeway and hazard avoidance driving.
The simulator is a great tool to experience the visual, cognitive, and motor components of driving, including all adaptive driving options like hand controls, spinner knobs, and left footed accelerator before ever getting behind the wheel.