Nicholas met his husband Michael 10 years ago. They dated for about three years and always knew they wanted to build a life together, but back then a family wasn't something they thought a lot about. Not because they weren't sure about their long-term relationship—Nicholas knew Michael was the one from very early on—but mostly because as a same-sex couple there were still a lot of hurdles to become parents.
They were married on the first day that same-sex marriage was legal in Utah. Nicholas worked in the same building as the Salt Lake County Clerk's office, and when a court allowed marriage equality in Utah on December 20, 2013, Nicholas ventured from his office over to the clerk's office where he saw a gathering crowd of same-sex couples lining up to tie the knot.
He didn't intend to get married himself that day, but he did call Michael to come and experience the historic moment. On Facebook, he recounted the story of how the day unfolded. In what seemed like a spur-of-the-moment decision, he told Michael to fill out a marriage license application and hurried home to get a second form of ID so they could get married. He also grabbed the ring he originally intended to give Michael for Christmas, instead surprising him with a proposal just a few minutes before their wedding.
A couple years later they started talking about starting a family.
"A lot of people, particularly opposite-sex couples, automatically assume that they will have children—it's kind of a given—and that is not the case at all with most same-sex couples," said Nicholas. "It's a conversation you need to have intentionally because it's usually so much more work and there are so many more steps to go through."
Once a couple affirmatively decides on the answer to the first question—do we want to have children?—the next question is how to make it happen. Michael and Nicholas considered adoption or becoming foster parents, but neither seemed like the right choice for them. That left egg donation and gestational surrogacy.
Surrogacy is an option for many couples who cannot conceive and carry a pregnancy to term, including both same-sex and opposite-sex couples. They can use their own eggs and their own sperm, and fertilize the egg through the in-vitro fertilization process (IVF), or use donors for the egg, the sperm, or both. In Michael and Nicholas' case they needed an egg donor.
They didn't have an egg donor in mind already, so they used University of Utah Health's donor database. Potential donors fill out information about their personal history, medical history, interests, and why they want to be an egg donor. U of U Health evaluates the donors in advance for infectious and genetic diseases, and tests for substance abuse. Intended parents browse the profiles and select one.
The selected donor will go through an IVF cycle to retrieve eggs. Once eggs are successfully fertilized and reach the blastocyst stage, they are frozen until the couple finds a surrogate.
Michael and Nicholas were a little nervous to take the first step and contact a fertility clinic, partly because they didn't know how the clinic staff would react to a same-sex couple. One clinic they contacted insisted that they schedule an appointment first to talk about their "reasons for infertility"—a frustrating requirement since they didn't need a discussion about egg quality or medical causes of infertility. Other clinics didn't seem willing to adjust their services for the specific needs of a same-sex couple. Then they called U of U Health.
"We showed up [for our first appointment] really nervous, not knowing what to expect," said Nicholas. "Within five minutes of walking in, everybody there was so warm and welcoming—they were genuinely excited for us and that we were there."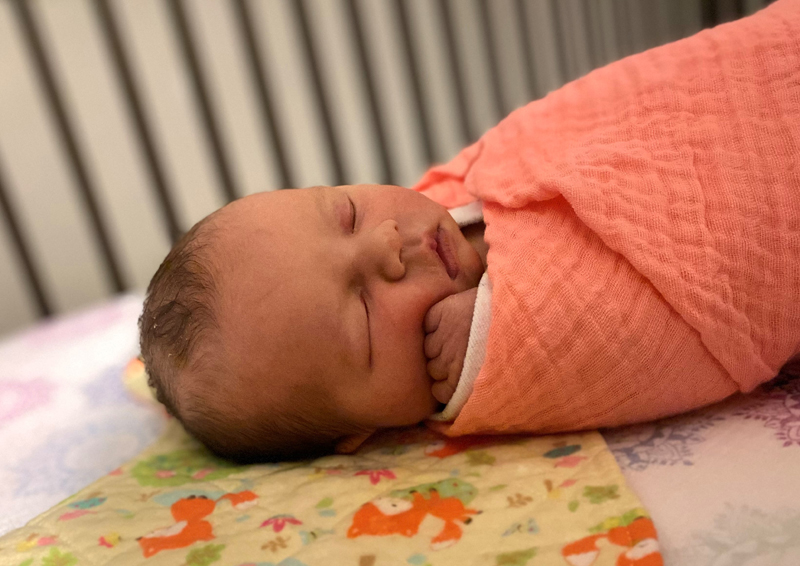 The Utah Center for Reproductive Medicine (UCRM) at U of U Health works to make each step as easy as possible for couples who need egg donation and surrogacy. They maintain their own database to match future parents with potential donors, and actively recruit healthy women in their 20s to become donors. The pool is smaller than it would be if someone searched national egg donation databases, but all of them are high-quality donors that are likely to produce strong embryos.
Nicholas and Michael decided to each individually rank their favorite donors so they would not initially be influenced by each other. Then they would compare notes to see where their choices aligned. They both selected the same donor as their number one choice, which made the process easy. In fact, it almost felt too easy, and they had 11 healthy embryos ready for transfer within just a couple of months.
The next step in the process is choosing a gestational carrier (the surrogate).
"It's harder to find a gestational carrier than an egg donor because you're asking a lot more," said Dr. Erica Johnstone, a gynecologist and reproductive endocrinologist in the Division of Reproductive Endocrinology and Infertility at U of U Health. "For an egg donor it's two tough weeks of her life; for a gestational carrier it's nine months."
There are agencies that can match potential gestational carriers with couples, but the cost is higher because you have to pay agency fees in addition to compensating the carrier. Since Nicholas' recent Facebook post about the story of their wedding day received such a positive response, they decided to first try to find a carrier through social media.
They received several responses from potential surrogates on social media, with one that stood out. She was a former student of Michael's (he teaches voice lessons) who had been a gestational carrier before and wanted to do it one more time. She enjoyed pregnancy but didn't want any more of her own children, and was happy to help them start their family.
Nicholas and Michael liked that she had some experience as a surrogate. They discussed it with her and then had to hire attorneys to draft a contract they could take to the courts. It's part of the legal process for courts to sign off on a gestational carrier contract prior to embryo transfer.
"It's legal to donate eggs everywhere in the United States and the laws are very clear that once you donate your eggs they are no longer yours, you have no right to them. But gestational carrier laws vary a lot from state to state," said Dr. Johnstone. In Utah you sign a pre-birth order in advance so the intended parents are on the birth certificate. UCRM makes sure a gestational carrier contract has been validated by the State of Utah, or confirms that a contract is in place for an out-of-state gestational carrier, before transferring an embryo.
Next, the carrier needed to get medical clearance to move forward. This process ensures she is healthy enough and her body is ready for pregnancy. With all the medical and legal paperwork done, it was time for Nicholas and Michael to start their family.
The appointment for the embryo transfer was set for March 23, 2020—and then COVID hit.
"Everything came to a screeching halt," said Nicholas. "Dr. Johnstone called and had to cancel the embryo transfer. That was heartbreaking, because we had no idea how long it might take for the transfer to happen."
Eventually they were able to reschedule the transfer for June 16. COVID made everything a little harder, since they couldn't go with the carrier to her appointments. They were able to FaceTime during the appointments, and got an exception to attend the first anatomy scan appointment with her in person. They had originally envisioned hanging out with the carrier during her pregnancy so their future child would hear their voices, but none of that was possible. They kept in touch virtually through the pregnancy but couldn't get together in person.
On the morning of February 27, 2021, their beautiful baby girl was born. The carrier was induced the day before, after going in for an ultrasound because she was a week past the due date. Both Michael and Nicholas were able to be there (a surprise since they only planned to have one of them there due to COVID restrictions). When she was born Michael caught her, then Nicholas cut her umbilical cord.
In addition to all the medical support, UCRM also provides counseling and classes to help them prepare for parenthood and understand how to explain surrogacy to their child (or children) later in life.
"In this day and age nothing is truly anonymous. With [DNA websites] we can't guarantee that people won't be able to find each other," said Dr. Johnstone. Donors and intended parents need to understand the ways that it might not be anonymous in the future, how laws or technology might change, and how they can have those discussions with their child.
The final decision in the journey was what to do with all the remaining healthy embryos. After their baby girl was born they still had 10, and definitely no plans to have that many children. They decided to have the embryos tested for sex and kept the ones with male chromosomes so Leni might have a future brother. They donated their best-quality female embryos to another same-sex couple that wanted to start their own family.
The donor egg and gestational carrier process is something that UCRM sees more and more of each year, particularly with same-sex male couples. They are ready to work with couples from start to finish to make it as easy as possible to start a family.
"How do you express to someone how great it is that they are willing to be a surrogate? There is no way to express that verbally," said Nicholas. "Surrogacy is a really special, wonderful gift that someone can give you. Thanks to our gestational carrier and UCRM, we now have this gorgeous two-month-old daughter, and it worked out perfectly."