When Drew Shea moved to Park City, Utah, in October 2020 to train full time with Team Soldier Hollow, a cross-country ski club for skiers and biathletes, he didn't know that just two years later he would earn himself a spot on the 2022 U.S. Paralympic Nordic Skiing Team.
Shea is one of two athletes representing Team U.S.A. at the 2022 Beijing Paralympic Games with ties to Utah and TRAILS, U of U Health's adaptive sports and recreation program.
In 2019, Shea had to have his left hand amputated due to an accident. Soon after, he began skiing as a way to get back into sports and was introduced to Tanja Kari, 12-time paralympic cross country ski medalist and TRAILS program director.
"After my accident, I got connected to the Para Nordic skiing world and ended up meeting Tanja at the Soldier Hollow Nordic Center," Shea said. "She offered to give me some lessons and introduce me more to the sport. She was a huge pull for me to get more serious about skiing. She is an amazing skier and teacher as well."
Kari is a Paralympian and gold medalist. She represented her home country of Finland in cross country skiing from 1992-2002, retiring from competition after the 2002 Salt Lake City Paralympic Games. At the 2010 Vancouver Paralympic Games, Kari was inducted into the Paralympic Hall of Fame for her incredible personal achievements and contributions to the sport of cross-country skiing.
Kari joined U of U Health's Craig H. Neilsen Rehabilitation Hospital in 2005 as the program director of TRAILS, which stands for Technology, Recreation, Access, Independence, Lifestyle, and Sports. TRAILS was founded in 2001 and focuses on the recreation, wellness, and education needs of people with complex physical disabilities. In addition to her work in adaptive sports, Kari is an active technical classifier for the International Paralympic Committee for Para Nordic Skiing.
To top it all off, Kari has been working with athletes of all levels for more than 20 years and is no stranger to inspiring up-and-coming skiers.
"The U.S. Para Nordic coaching team asked me to meet with Drew and work with him while he was in Utah at a development camp," Kari said. "The U.S. Para Nordic community knows my background and they know that I'm here, and it was a natural match when they decided to connect us."
Kari first started working with Shea on his technical skills.
"To a degree, we started from scratch," Kari said. "We talked a lot about this. But I told him if he committed himself to the sport, he would have so many opportunities ahead of him."
Shea's commitment has already paid off. Originally from Vienna, Virginia, Shea graduated from the University of South Carolina in 2020. After spending the winter training in Park City, he moved to Bozeman, Montana, to be closer to the Para Nordic Ski Team.
Shea is excited to be competing in the individual freestyle skiing and biathlon events in Beijing.
"When I set off on this journey, I always had it in the back of my head that I wanted to make it to the Paralympics and represent Team U.S.A.," Shea said. "I definitely have some work to do, but this is an awesome accomplishment for me. I could not be happier."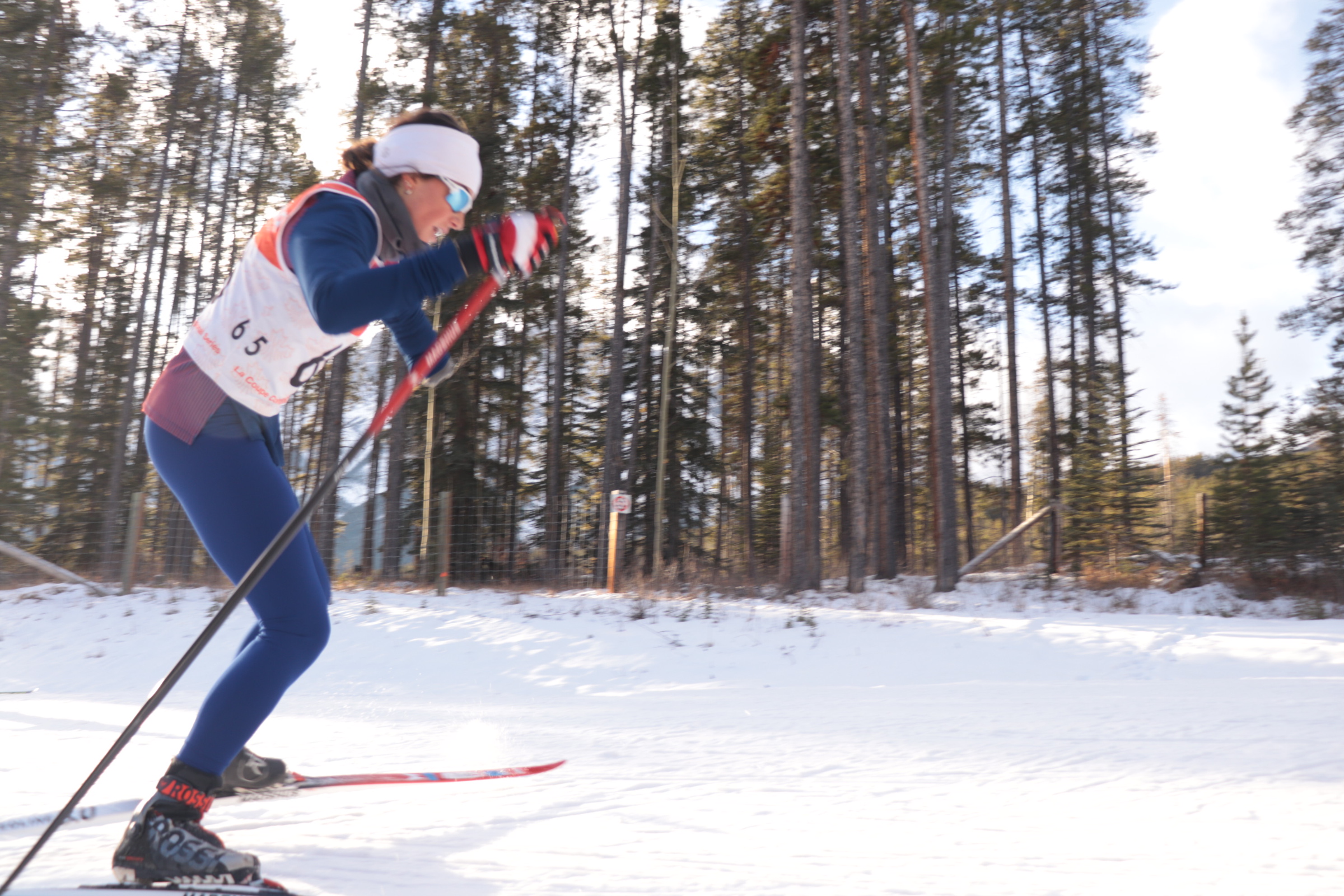 Shea's teammate, Dani Aravich, is another Paralympian competing in Beijing with ties to Utah. Originally from Boise, Idaho, Aravich moved to Utah after graduating from Butler University in Indianapolis, Indiana, where she was a collegiate runner competing in cross country and track and field.
Aravich was born without her left hand and forearm. Initially, her aspirations for the Paralympic Games only included the summer edition. But while she was training full-time for the 2020 Tokyo Paralympic Games, she was introduced to one of the developmental coaches for the U.S.A. Paralympic Nordic Skiing Team.
"I was invited to a ski clinic in Colorado in December 2019," Aravich said. "I decided to go, not thinking much of it, but by the end of the camp I realized I really enjoy skiing and I wanted to get good at it."
A few weeks after the clinic in Colorado, Aravich was invited to compete at the Nordic Skiing National Championships, held at Soldier Hollow.
"Even though I was new to skiing, I decided to compete," Aravich said. "That's when I met Tanja Kari."
Just as she did with Shea, Kari worked with Aravich on her skiing, coaching her on the basics.
"Tanja and I would meet up once a week to go skiing, and she would help me with my technique," Aravich said. "It was really refreshing. She was the first person with one arm that I saw ski."
Aravich continued to ski with Kari and also participated in the TRAILS program at U of U Health. When the 2020 Tokyo Paralympic Games were delayed, Aravich took advantage of the extra training time, focusing on both track and field and skiing.
"I joined the club biathlon team at Soldier Hollow and was practicing with them, while also training for track and field," Aravich said. "I was then invited to go up to Bozeman more permanently and started training more for skiing, along with running."
Aravich was selected for the 2020 Tokyo U.S. Paralympic Track and Field team, competing in the individual 400-meter run.
Now, just a year later, Aravich is heading off to compete in the individual biathlon and cross-country skiing events at the 2022 Paralympic Games. While she is just getting to know her new sport, Aravich is excited for what the future holds.
"I've had to progress extremely fast to get to the level I'm at with skiing, and I'm very grateful for that," Aravich said. "They say it takes about four years to truly learn to cross-country ski, so it's a milestone for me just to have qualified for the games this year."
And when it comes to bringing home the gold, silver, or bronze, both Shea and Aravich don't see that as a goal for the 2022 Games.
"Both Drew and I see Beijing as a stepping stone in a longer-term career," Aravich said. "With our ages and the relatively short amount of time we have spent skiing, we both know there are many more years of competition—and Paralympic Games—to come. We have already had some pretty amazing success and know there is an even brighter future ahead."
For Kari, she couldn't be happier to see both Aravich and Shea succeed.
"When I meet with young athletes like Dani and Drew, I find amazing potential," Kari said. "They commit to it and they love what they do. It doesn't mean it feels good every day. It should feel awful some days and easy other days. Overall, if you fall in love with what you do—even when it's challenging—that's when you see amazing results."