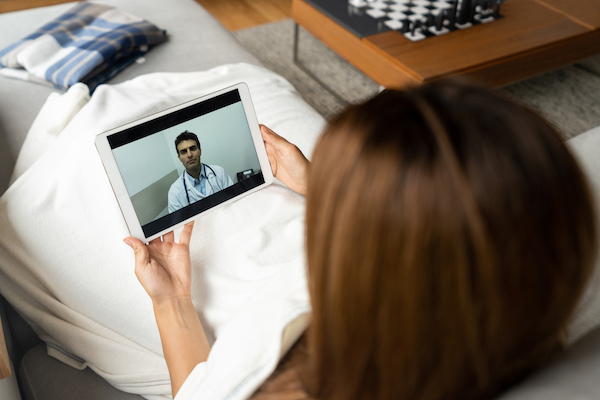 The COVID-19 pandemic has created a lot of uncertainty about the wellness and safety of our communities. University of Utah Health encourages patients who are anxious about seeking care because of COVID-19 risks to not delay a doctor's visit, which could ultimately make things worse in the future. At U of U Health, patients have the option to be seen by a physician in person or virtually.
Virtual Care
A virtual visit allows a patient to get care from the comfort of their home. All that's needed is a phone, tablet, or computer with a reliable internet connection. Patients can communicate and visit with their physician through a conversation. An option for secure live video allows patients to be evaluated with little to no equipment.
With virtual care, physicians and patients interact like they are in an office setting. Patients can describe what's going on and explain how they are feeling. Physicans can examine patients for things they can see such as a rash or pink eye. Virtual care can also be used for behavioral health issues like depression, anxiety, and ADHD. It can be helpful for follow-up visits, reviewing test or lab results, and the management of diabetes, chronic illness, and pain.
Pediatric care via virtual visit can come in good use for follow-up visits, medication management, and meet-and-greets between parents and pediatricians. Parents can use this opportunity to talk about any cold, flu, or other symptoms their child is experiencing. This option is welcomed if parents feel more comfortable seeking care from their own home environment.
The best thing about a virtual visit is the convenience. "This option is great for older adults who may depend on a ride, patients who travel long distances, patients who have small kids, or patients who recently gave birth," says Caroline Milne, MD, a general internist, vice chair for education, and director of the Internal Medicine Training Program at U of U Health. However, not all care can be done virtually. If a provider cannot diagnose a condition through a virtual visit, a patient may be asked to be seen in-person.
Other virtual care services at U of U Health include:
Virtual Urgent Care gets you the care you need, where and when you need it. Patients can speak with an urgent care provider if they don't want to travel to a doctor's office. Virtual urgent care should be used for conditions that aren't life-threatening.
Primary Care providers can speak with patients on a secure video chat about children visits, wellness visits, cold, flu, and other symptoms, medications, etc.
Virtual Prenatal Care includes regular checkups with doctors to make sure both the mother and baby are healthy. Virtual care is best for women with low-risk pregnancies.
Speciality Virtual Care connects patients with a specialist who can monitor after-surgery recovery, go over x-rays or test results, provide an opportunity to ask questions, and more.
In-Person Visits
All primary care and speciality services are available for in-person appointments. If your needs can't be met through a virtual visit, or if you prefer in-person visits, you can make an appointment to see a provider at one of our locations.
Most patients who need to be physically examined will need to be seen in-person. This allows providers to use medical equipent to help find a diagnosis. An initial visit with a provider is also recommended in an office setting when a patient needs a physical exam and more face-to-face interaction. "We are always happy to see patients in person," says Rachel Hess, MD, MS, a general internist and chief of the Division of Health System Innovation & Research at U of U Health. "This allows us to get to know our patients and to better establish a trusted relationship."
In-person visits are recommended as the most comprehensive way to get care for children. It's best for children to be seen for wellness visits, acute sickness, and rashes. Examining a child and getting vitals are sometimes critical in order for a diagnosis.
U of U Health is taking extra precautions during the COVID-19 pandemic to ensure we can continue to provide the best care in a safe environment. The health of our patients, caregivers, families, and visitors is our top priority at U of U Health.
Here are some ways we are keeping you safe:
Face coverings must be worn at all times inside all U of U Health facilities.
Extra disinfection practices are in place in common frequently touched areas.
Physical distancing guidelines are in place throughout all phases of care during your stay.
To help reduce overall exposure, limited visiting guidelines are in place.
If you have a problem that requires immediate attention, you can visit one of U of U Health's urgent care locations. An appointment is not needed for a visit.