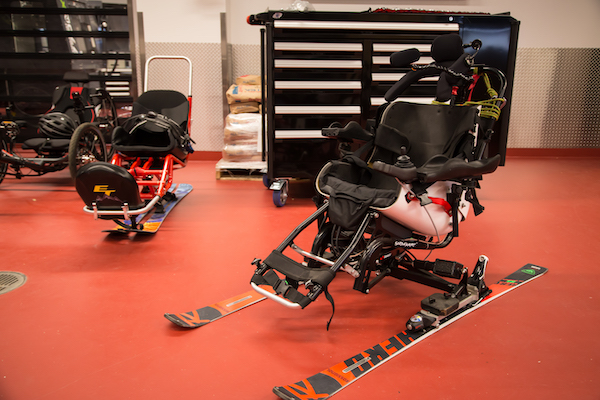 Exercising in the winter can be challenging, especially when you have a physical disability. But finding year-round activities for adults with disabilities is important. Staying active is good for your physical health—and it also boosts your mental health during winter.
"During the pandemic, it's become evident how much inactivity and social isolation affect mental health," says Tanja Kari, TRAILS (Technology Recreation Access Independence Lifestyle Sports) adaptive sports program director at Craig H. Neilsen Rehabilitation Hospital. "Those are issues that people with physical disabilities face every day, pandemic or not, because they have more challenges to navigate when getting out and being active."
Finding and participating in activities for adults with disabilitiesfrom adaptive sports programs to other community recreation opportunities or exercising at homemay take some effort, Kari says, but it's worth it. Physical activity makes you sleep better, improves overall health, lessens anxiety and depression, and keeps you mentally sharp.
Tips for Staying Active in the Winter with a Disability
Learn ways to work around common barriers to exercising in the winter and reap the benefits with these tips.
1. Work Out at Home
"Some people just aren't winter people and they hibernate all season long," Kari says. "That's fine as long as you find ways to stay engaged in life, socialize, and take care of your physical and mental health."
If you need to avoid the cold by exercising at home with adaptive equipment, TRAILS lets you borrow equipment like stationary bikes (and delivers them to you) so you can do spin classes at home.
Check with your local adaptive sports program to see if they offer a similar lending program. Move United is one nationwide source for tracking down adaptive sports programs, Kari says.
2. Consider Community Recreation
Community recreation centers and indoor pools typically provide access for people with disabilities, including accessible entryways and pool lifts to get in and out of the water. Taking advantage of these resources for indoor winter exercise is a great way to stay fit. Some individuals might be able to exercise independently. Others may require personal caregiver support.
Check out your city's parks and recreation department website or call them to ask if they have accessible, adaptive programming available.
3. Look Into Adaptive Sports Programs
Adaptive sports programs provide fun activities for adults with disabilities. You can compete in organized sports or enjoy outdoor recreation through these programs. For example, TRAILS offers free indoor and outdoor activities multiple times a week, including alpine and Nordic skiing. In non-pandemic winters, indoor shooting, swimming, and spin classes are offered too. Caregivers are encouraged to participate in activities as well.
"People with complex physical disabilities—even those with no use of their upper bodies at all—can take part in independent recreation with TRAILS," Kari says. "TetraSki and TetraWatercraft—adaptive skis and watercraft designed with the University of Utah Rehabilitation Research and Development Team—have unleashed possibilities for independent, adaptive recreation providing more opportunities for individuals with complex physical disabilities. So, for example, instead of just going along for a completely dependent, assisted ride, the skier now decides how the skis turn."
Search online for an adaptive sports program near you. These programs offer a variety of activities.
4. Find Accessible Transportation
A big hurdle for people with disabilities is securing transportation to activities. One option may be public transportation. The Americans with Disabilities Act (ADA) requires public buses and trains to provide paratransit service with chair lifts and ramps. Transportation authorities may provide paratransit service as a part of their regular mass transit operations or as a separate service. The ADA rules guarantee that all people have a means of transportation.
Some services help you from your door to the vehicle to your destination's door. Others provide curb-to-curb service. Check with your local public transportation agency to see how their service works. You can also reach out to other accessible transportation companies or see if others with disabilities in your community can help with carpooling.
With some research and some planning, you can maintain an active lifestyle in the winter. Staying fit, connecting with others, and doing things you love will help you feel good—inside and out.