2024-2025 Administrative Fellowship: Hospitals & Clinics
University of Utah Health is offering a one-year administrative fellowship that will begin in early summer 2024. This fellowship is designed to cultivate leaders in the field of academic health care by fostering close working relationships between the fellow and senior executives while exposing you to a diverse array of operational activities.
The program's preceptor is Dan Lundergan, CEO of U of U Health. With Dan's guidance, the administrative fellow will participate in a wide array of projects and rotations during their fellowship. The projects and rotations are at the fellow's preference and the preceptor's discretion.
Areas of Opportunity
The fellowship at the U of U Health is tailored to the interests of the candidate selected. Areas of opportunity for project work include, but are not limited to:
Operations
Finance
Strategic planning
New business development
Ambulatory services
Quality improvement
Academic and community physician management
Financial and performance analysis
Organizational development
Telehealth strategies
Health insurance operations
Employee relations
U of U Health is also offering a Medical Group Fellowship for the 2024–25 year.
Candidate Qualities
Candidates should be currently enrolled in or have recently completed a MHA/MBA/MHSA/MPH/MPA accredited graduate program and should exhibit the following qualities:
Ability to manage multiple successful projects and meet deadlines
Excellent written and verbal communication skills
Possess self-motivation, teamwork skills, and emotional intelligence
Interest in management and operations of academic medical centers
Required Application Materials
Applicants should prepare the following application materials. Materials should be submitted to the online application portal through NAFCAS.
Resume and cover letter
Personal statement of interest in pursuing an administrative fellowship at U of U Health (one page limit)
Three letters of recommendation (at least one from a current or past employer)
Official graduate school transcript from an accredited program
If you have any questions about the fellowship and/or the application process please contact our current fellow, Timothy Clawson, at administrative.fellowship@hsc.utah.edu.
Application Submission Dates
The NAFCAS application deadline is September 29, 2023.
Timeline
2024
Applications due September 29
Phone Interviews: early/mid-October 2023
On-site Interviews: mid/late-October 2023
2023
June/July: start of administrative fellowship
Informational Webinars
Current fellows Timothy Clawson, MHA, and Rachael Abney, MHA, will present on the fellowships offered by U of U Health, followed by a Q&A session.
August 21, 2023 at 4–5pm MDT
September 7, 2023 at 11am–noon MDT
The program provides the fellow an opportunity to complete project work and rotations throughout the year to enhance and develop communications, project management, organizational, and leadership skills.
Pay & Benefits
Administrative fellows receive a salary competitive with leading administrative fellowship programs across the nation along with a competitive benefits package. The administrative fellow also receives financial support to attend two conferences of their choice over the course of the fellowship year.
Selected Projects
Selected Projects Completed by Previous University of Utah Health Administrative Fellows
U of U Health Patient Flow Analysis and Implementation
U of U Health Operational Strategy Planning Taskforce
Operational Budget Oversight for U of U Health Executive Offices
Project Lead for Annual Be Well Utah Community Event
Physician Orientation and Leadership Development Institute Curriculum
Business Plan for Community Clinics Birthing Suite
Utah Medicaid Expansion Advocacy
Development of U of U Health Tele-Medicine Department
DNV GL Corrective Action Taskforce
U of U Health Price Transparency Analysis
Social Media Residency
Comprehensive Diabetes Market Analysis
Operational Plan for New Community Clinic Site
Financial Modeling for Expansion of Specialty Programs
One of the most valuable experiences I gained during my fellowship was the opportunity to be mentored by U of U health executives who were actively engaged mentors over the course of the year. I was integrated into the senior leadership team and given opportunities to work on current projects valuable to the organization.
Current & Previous Fellows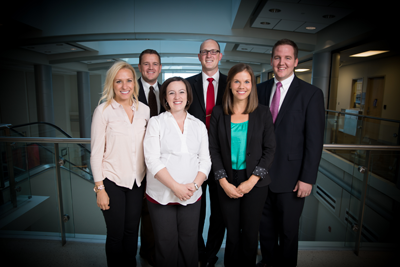 Current University of Utah Health Administrative Fellow
Timothy (TJ) Clawson Jr.
2023–2024

University of Utah graduate
Previous U of U Health Administrative Fellows & Current Professional Positions
Joachim Fosu
2022-2023 Idaho State University graduate
Cassandra Taft, MBA, MHA
2021-2022
Weber State University graduate
Manager for Strategic Integration at University of Utah Health
Cody Williams, MHA
2020–2021
Ohio State University graduate
Population Health Project Manager at Castell, an Intermountain Healthcare Company
Brynn Harris, MPH
2019–2020
University of Texas
Sr. Projects & Operations Manager for the CEO, University of Utah Health
Mark Shahata, MHA
2018-2019
University of Utah graduate
Director of Business Operations, University of Utah Health
Phillip Waite, MBA, MHA
2017–2018
University of Utah
Assistant Vice President, Biorepository Operations, Intermountain Healthcare
Melanie Sottile, MPH
2016–2017
Harvard TH Chan School of Public Health graduate
Program Director, Enterprise Strategy, Stanford Medicine
Marta Bahriy, MS-HSM
2015–2016
Rush University graduate
Senior Director of Operations, The Family Institute at Northwestern University
Joe Vance, MHA
2014–2015
University of Minnesota graduate
Senior Director, Community Physician Group at University of Utah Health
Juliana Briscoe, RD, MHA, MPH
2013–2014
University of Utah graduate
Senior Advisor, Office of Canyons Region President, Intermountain Healthcare
Nathan Gladwell, RN, MHA
2012–2013
University of Minnesota graduate
Senior Director, Virtual Care, University of Utah Health
Anna Rogers, MHA
2011–2012
University of North Carolina graduate
Senior Director, Department of PM&R and Craig H. Neilsen Rehabilitation Hospital at University of Utah Health
Michael Bennett, MBA/MHA
2010–2011
University of Washington graduate
Administrator (VP Level) Revenue Cycle & Patient Financial Management at St. Luke's Health System
Janelle Robinson, MBA, MHA
2009–2010
University of Utah graduate
Behavioral Health Service Line Director at Intermountain Healthcare
Josh Dean, MBA, MHA
2009–2010
Baylor University graduate
Senior Group Practice Manager, Hill Air Force Base
Jared Amerson, MHA
2008–2009
University of Florida graduate
Chief Operating Officer at Providence Saint John's Health Center