For Evaluation and Performance Improvement
The amputee program within our Sugar House Therapy Services helps patients regain motor skills and use their muscles after an amputation. Using therapy in our outpatient clinic, we strive to help patients adjust to living with an amputation.
We start therapy as soon as patients are discharged from the hospital. We support patients during the process of getting a prosthetic, and then focus on helping patients learn to use their prosthetic device.
We work closely with patients to set specific goals that meet their recovery needs.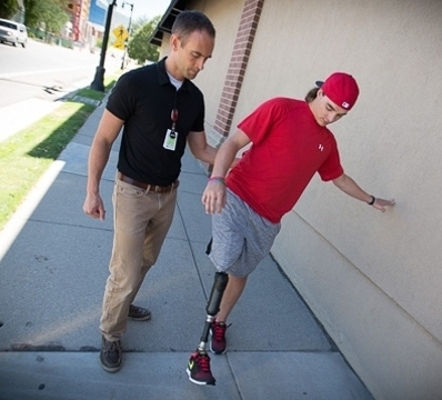 Unique Recovery Tools for Amputees
We offer unique tools to help you adjust to your prosthetic quickly: 
Our overhead track system helps patients practice challenging balance activities by using a harness.
Our Alter-G antigravity treadmill helps patients practice walking without having to hold the full weight of their body.
Our Drive Rehab Program prepares amputees to drive using a special vehicle adapted for drivers who have injuries.
We also offer a monthly amputee support group called Sky's the Limb-It. Our support group helps amputees at any stage of their recovery adjust to living with an amputation and is designed for people with amputations, family members, and caregivers.
We feature a different speaker every month.
Date & Time: Tuesday, October 22 at 7 pm
Location: Sugar House Health Center, 1136 E. Wilmington Avenue, Salt Lake City, UT 84106
We will meet on the second floor.
For November and December, we will have a combined meeting.
Date & Time: Thursday, December 12 at 6 pm
Location: 1280 East Stringham Avenue, Salt Lake City, UT 84106 - Third Floor Conference Room
Starting in January, our meetings will occur on:
the fourth Tuesday of every month at 7 pm (no meetings in July).
Location: 1280 East Stringham Avenue, Salt Lake City, UT 84106
Please email Spencer Thompson at spencer.thompson@hsc.utah.edu for more information as some dates and times are subject to change.
Our physical therapists are part of the interdisciplinary amputee clinic at University of Utah Hospital. Our team includes:
a physician,
a prosthetist (a provider who specializes in helping patients use prosthetic devices),
and a physical therapist.
We work closely with your prosthetist and physician, ensuring you receive the best care.
Community-Based Research
Our therapists and clinicians participate in a number of community-based research projects to make living with an amputation easier.