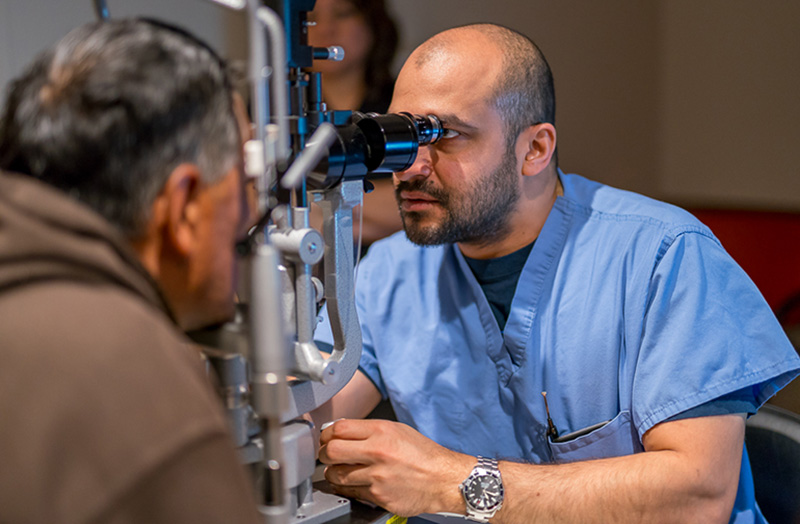 The John A. Moran Eye Center's Global Outreach Division has expanded its donor-funded local care for uninsured and under-insured Utahns to patients with diabetes and other sight-threatening retinal conditions.
The division held its first Hope in Sight Retina Clinic at the Midvalley Health Center on Saturday, January 16, treating 13 patients. Now slated for the second Saturday of each month, the clinic serves patients referred by Moran physicians who volunteer at community health centers, including the Maliheh and Fourth Street clinics in Salt Lake City and the People's Health Clinic in Park City.
The outreach team expects as many as 30 patients for each clinic, which offers highly specialized treatments and care.
Why Retina Care?
The retina, the light-sensitive tissue at the back of the eye, is essential to good vision. It is also susceptible to many issues that may result in vision loss, including retinal detachments and macular edema. The majority of the new clinic's patients have diabetes that causes potentially blinding diabetic retinopathy.
According to the National Eye Institute, diabetic retinopathy is the most common diabetic eye disease and a leading cause of blindness in American adults. It results in changes in the blood vessels of the retina. In some people with diabetic retinopathy, blood vessels may swell and leak fluid. In others, abnormal new blood vessels grow on the surface of the retina.
Early detection, timely treatment, and follow-up care may help reduce the severity of the disease. However, people with diabetes who cannot get regular eye exams may not even know they have the disease, as the damage may happen before they experience blurry vision or excessive floating spots in their visual field. They may eventually lose central or side sight.
Monitoring and Injections Can Change Lives
Retinal specialist Akbar Shakoor, MD, along with retinal fellows Wen Fang Hu, MD; Hong-Gam Le, MD; Nikko Ronquillo, MD, PhD; and Joseph Simonett, MD, will rotate through the monthly clinic to start. Other specialists, including Paul S. Bernstein, MD, PhD and Marissa B. Larochelle, MD, will soon join the effort.
"Once the damage has begun, the goal is to monitor it, stabilize vision and slow the loss with injections or laser treatments," explains Shakoor. "The patients referred from our local outreach clinics have often missed exams and treatments, and their vision has suffered. In turn, they risk losing their independence, their jobs, the ability to drive. These clinics can make a real difference."
Physicians and fellows at the retina clinic can take images of the eyes with equipment that allows them to see the retina and, when needed, plan a series of injections into the eye to stabilize vision.
Ongoing Need for Vision Care in Utah
During the COVID-19 pandemic, Moran's Outreach Division continues to assist people in need safely.
Since early 2020, the Division has provided care for more than 600 people in need in Utah and on the Navajo Nation through programs that provide no-cost cataract surgery and corneal transplants, eye exams, and eyeglasses.
In response to the ever-growing need for more coordinated care in Utah, the Outreach team is collaborating with statewide agencies to conduct Utah's first-ever ophthalmic needs assessment to better understand the state's vision care demands and develop plans to address them.