Why Choose Us for Eye Cancer Treatment
The Moran Eye Center, working in collaboration with Huntsman Cancer Institute and Intermountain Primary Children's Hospital, uses state-of-the-art diagnostics and treatments.
Moran is one of only a few centers nationwide that provide dedicated, comprehensive care for adults and children affected by eye cancer, including the Utah Retinoblastoma Program. The ocular oncology services allow our patients in Utah and the surrounding region to receive advanced, coordinated care close to home. Huntsman Cancer Institute is the region's only National Cancer Institute-designated Comprehensive Cancer Center, with unique resources to support eye cancer care.
Treatment for ocular cancers requires a multi-disciplinary care team, which might include specialists in oculoplastics, medical oncology, radiation oncology, interventional radiology, dermatology, and clinical social work. Our teams meet and collaborate frequently in order to optimize a patient's individual care.
Diagnostic tools and treatments available through the service include minimally invasive biopsies; ultra-high-resolution imaging and ultrasonography; targeted radiation and advanced chemotherapy options; genetic counselors and a full array of genetic testing; and excellent eye prosthesis options.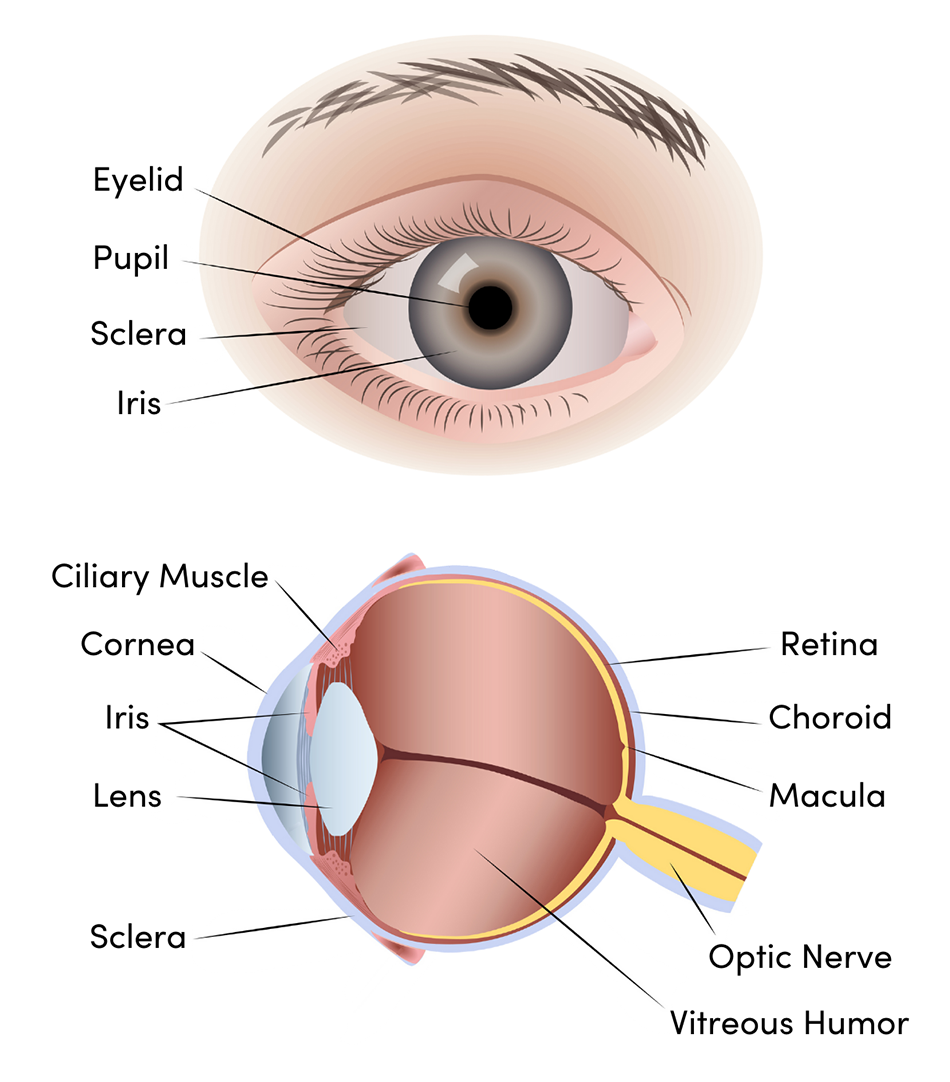 Any cancer that starts in or around the eye is called eye cancer. Cancer starts when cells mutate. Ocular oncologists specialize in treating eye cancer.
Eye Cancer Types
Different types of cancer start in different parts of the eye. Your eye has three main parts: the eyeball; the orbit, tissues surrounding the eye; and structures such as the eyelids and tear glands.
Here are some examples of eye cancers:
Intraocular cancers:
Retinoblastoma, the most common eye cancer in children
Cancers on the surface of the eye
Benign tumors
Blurry vision or sudden loss of vision
Floaters in your eye (spots or squiggles that drift in your field of vision) or flashes of light
A growing dark spot on your iris, the colored part of the eye
Pupil changes in size or shape
Eyeball changes position within its socket
Bulging eyeballs
These symptoms may not be due to cancer. They could be from a different condition. A physician can evaluate these symptoms. Patients with eye cancer rarely feel pain, unless the tumor has grown outside the eyeball.
There is no exact cause, but certain types of characteristics have been linked with eye cancer.
Race/ethnicity
Eye color
Age and gender
Moles
Family history of cancer
Inherited conditions
Treatments depend on the type and stage of cancer and tumor location. Here are some examples of treatments:
Meet Moran's Eye Cancer Specialists
Retinoblastoma Information for Children and Families
From Daisy to Mina—New Book Helps Families Dealing with a Rare Eye Cancer
Daisy Callister's experience with retinoblastoma inspired "Mina and Her New Eye," a new children's book created by the Patient Support Program at the Moran Eye Center.