When 71-year-old Utah native Tom Stover had an aortic aneurysm on January 1, 2021, he had emergency surgery in Washington state, where he lives.
After recovering from surgery, Stover received a clean bill of health from his doctor.
"They kept telling me I was just fine, but I knew something wasn't right," Stover said.
Stover's doctors soon discovered another aneurysm in his aortic wall. His doctors, while confident about the diagnosis, weren't confident Stover would survive the necessary surgery.
Stover, a long-time fan of University of Utah Health, knew where he would go for a second opinion.
"About eight years ago, I saw an ear, nose and throat specialist from the University of Utah and had an amazing experience," Stover said. "I fell in love with the doctors and the entire health care system."
Stover began researching potential U of U Health providers and found Claire Griffin, MD. Griffin is an assistant professor of vascular surgery and co-directs the Aortic Disease Program with fellow surgeon Jason Glotzbach, MD.
"Once I found Dr. Griffin online and started reading about her, I thought to myself, 'Ya know, I think this is where I want to go, and who I need to see'," Stover said.
Stover reached out to Griffin's office to discuss the possibility of setting up a meeting. Because Griffin isn't licensed to practice medicine in Washington state, she couldn't administer care to Stover. She could, however, connect with Stover and learn more about his health care journey.
"We did a Zoom call, and I was just really impressed with her," Stover said. "She is a busy lady with two very young children and she still took the time to talk with me about my case—before I was even her patient."
After becoming acquainted with Griffin, Stover made his decision: he would travel to Utah to receive treatment from Griffin and the U of U Health Aortic Disease Program.
Being an out-of-state patient can be tricky, requiring Stover and his family to travel long distances before and after appointments. Fortunately, the Aortic Disease Program is part of the Destination Care initiative. This program works closely with clinical staff to help lighten the load for people like Stover by providing seamless, coordinated care for traveling patients to ensure they get the most out of every trip they make to U of U Health. This extra support allowed Stover to focus his energy on his health instead of worrying about logistics.
At his appointment, Griffin discovered the same thing Stover's doctors had: Stover was suffering from a second aortic aneurysm.
Aortic aneurysms can be caused by a variety of things, but as in Stover's case, a dissection as the underlying cause with associated rapid growth is particularly concerning. An aortic dissection allows blood to get into the layers of the aortic wall, destabilizing the entire structure with potentially fatal consequences.
On October 21, 2021, Stover and Griffin met in person for the first time at the Cardiovascular Center at University of Utah Hospital. This was also the same day as Stover's aortic repair surgery. Because of the seriousness of the surgery, Stover's wife and their three daughters also traveled to Utah to offer support.
"When you know that your life is on the line and you meet people who are so talented and concerned, you automatically get an attitude like, 'This is gonna work, this is gonna be good'," Stover said. "And if it doesn't, it's not because they didn't do their best."
Griffin and her team performed Stover's aortic repair surgery. Just four days later, on October 25, Stover was released from the hospital and traveled back home to Washington.
"Everyone was just amazing," Stover said. "The care I got was amazing."
In the six months since his surgery, Stover continues to receive follow-up care from Griffin as he works toward a full recovery. In addition, Stover sees a primary care provider in Washington state.
"I got to see Tom in April of this year," Griffin said. "And six months out from the operation he is living large as is fitting for his personality. He and his wife are definitely really special people."
Stover is grateful to be back to many of his hobbies. Although he isn't yet a full year into his recovery, he is doing well.
"I feel like a million bucks," Stover said. "When you have this kind of surgery, it's a long healing process. I'm back to doing just about everything I love, but it's going to take a year before everything on the inside really heals."
In general, when patients undergo an aneurysm repair, they return for CT scans at one month, six months, and a year out from surgery. Once the patient is cleared at the year mark, they are then asked to return for a yearly CT scan. An aneurysm can grow in several ways, so it needs to be monitored over time to watch for any concerning changes.
As for Stover, his CT scans have showed no reasons for concern. He will have another CT scan in October, and at that point his doctors will decide if he can go a year between scans going forward.
No matter what, Stover is grateful to Griffin and the medical team who continue to take care of him.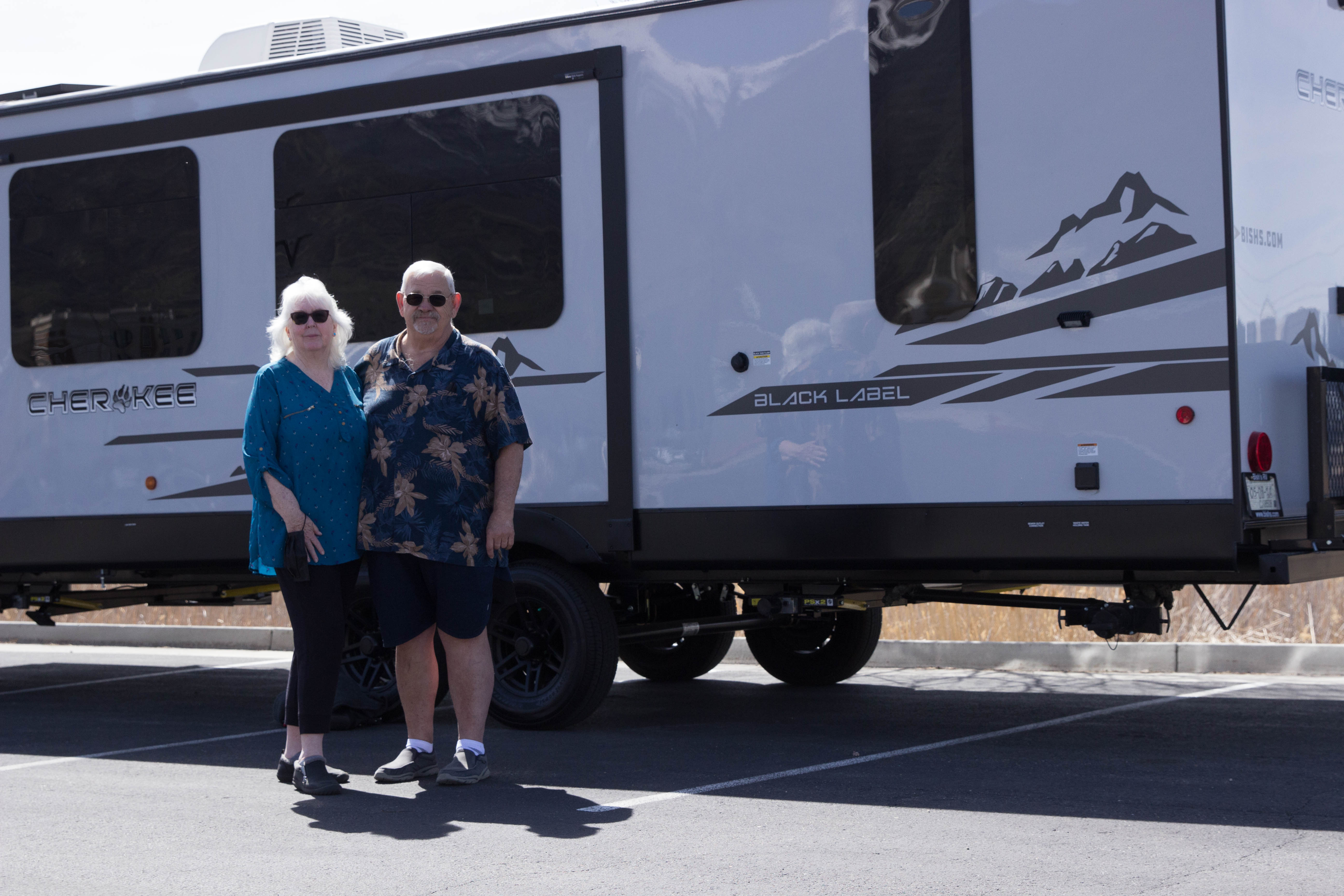 "When you live through something like that, it makes you really appreciate what the medical team did to save your life," Stover said. "You want to live every day because they worked so hard to keep you here. My wife and I try to live every day we can. You never can tell when it's not gonna be here, and we've had some close calls this last year and a half."
Stover and his wife plan to start traveling again soon, visiting his three daughters who live in various states across the western region. As he continues to settle into his post-surgery life, he doesn't go a day without thinking about his positive experience at U of U Health.
"In order to go to medical school, you have to be an amazing, talented person," Stover said. "But not everyone with an MD is an exceptionally talented doctor. I'm just grateful I was able to find Dr. Griffin and that she was willing to help me. It's as much her story and the hospital's. I'm just a little blip, and we are just so blessed that we got to meet her and all the other amazing people at U of U Health."