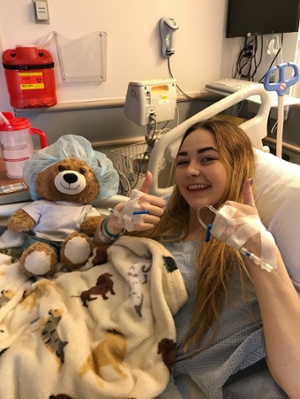 Tylar Siller has performed every dance move you can think of. Coming from a family of dancers, she did all kinds of dance, from hip-hop and tap dance to jazz and ballet. In high school, she was part of Westlake's Dance Company, and in college she majored in Dance Education at Southern Utah University and Utah Valley University.
As a dancer, Tylar always got regular X-rays, but her scans showed no abnormalities. Since she had a condition called adult hip dysplasia, the symptoms only began to show later in life.
Around the age of 15, she began to experience pain in the knees, constantly had on braces and kept it wrapped, joints sometimes popped and clicked, but she threw it in under the rug.
"I'm a dancer, so I thought 'it's supposed to happen'," she says. She thought her dance history put too much pressure on the body and led to the backlash. Her mom, being a dancer herself, experienced the same kind of problems, so she Tylar suspected it might be genetic.
During a yoga and Pilates class, while holding child's pose with her knees to her chest, Tylar felt her hip snap. She could move only her upper torso but was completely numbed with pain in her lower body. "There was no reason that the pose should have caused this," Tylar says. "Sitting there I was locked, and the pain felt like somebody stabbed my hip with a screwdriver and kept turning it." Her friend had to carry her out of class and take her back home.
No amount of compression (wrapping the injured area with an elastic bandage) and elevation (raising the area above heart level to reduce swelling), or Tylenol could alleviate the deep aching in her hip region. Tylar decided to go see her specialist in Cedar City, and the doctor suspected she had a tear in her labrum in a spot that normally doesn't tear. This just didn't seem to make sense to her.
After that, she visited a sports doctor, and tried physical therapy, yet nothing seemed to curb the pain. None of these answers seemed right to her, and she was adamant on getting to the root of the cause.
"I was at the end of my rope, I was freaking out," she says. "no one knew what was wrong with me."
Soon after, she met Chris Peters, MD, an orthopedic specialist at University of Utah Health. Within seconds of looking at her X-ray scans, he knew exactly what was going on. Her scan showed a bilateral acetabular retroversion – a particular form of hip dysplasia that is characterized by abnormal posterolateral orientation of the acetabulum. He immediately suggested she get hip surgery at the University Orthopedic Center.
"I just remember breaking down into tears and being so grateful to finally have an answer," Tylar says.
More excited than nervous for her two surgeries that were scheduled six months apart, Tylar eagerly collected testimonies from her friends who went similar procedures, which doctors described as one of the hardest hip surgeries a patient can go through. Once her time arrived, everything went according to plan. Waking up that morning after surgery in early spring 2017, the pain in Tylar's hip eased substantially, just like the melting of ice after a harsh winter.
Tylar's doctors advised her to take things easy before starting to walk, but she was eager to get back on her feet and start dancing again. On crutches for six weeks, she had follow-up appointments to check on her bone growth, and was given a strict medicinal regimen to follow. "At one point, I was taking up to eight different pills a day. I couldn't have done this without my mom."
Going through the ordeal brought Tylar and her family closer for another reason: her condition is a genetic one typically passed down through generations. After meeting with Peters, Tylar found out that all of her sisters, her mother, her grandmother, and her aunt had the condition. "It is scary, but don't be afraid to take that risk," Tylar says of searching for the right answer to her previously unknown diagnosis. "It's going to be better for you in the long run."